Wavves being 'sued' by Disney, played Bowery Ballroom before puking @ Bruar Falls (pics & setlist), playing MHOW
"Just remembered I threw up at bruar falls last night." - WAVVES
"Monday night at New York City's Bowery Ballroom, the Wavves founder and frontman announced he'd just been "mildly sued" by the Walt Disney Company, which was less than psyched about seeing a song called 'Mickey Mouse' listed on his band's latest album.

Williams said he'd agreed to modify future pressings of 'King of the Beach,' out today on CD and vinyl, and replace the offending track with an unreleased B-side. He then offered a succinct legal critique of the plaintiff's case.

"Walt Disney was a Nazi," Williams said. "You go [to Disney World], you feel Nazi vibes. It's disgusting!"

The outburst was one of many quotable moments of the concert, and throughout the evening, Williams and drummer Billy Hayes spent nearly as much time joking about booze and weed as they did playing actual songs. With the presence of soft-spoken metal-dude bassist Stephen Pope, Wavves was like a Kevin Smith movie come to life: two Jays and a Silent Bob." [Spinner]
The night began with a 30 minute set by Total Slacker who took the stage at 8:15. They were followed by The Smith Westerns who also played a 30 minute set as the crowd quickly began to fill the 550+ person venue.
Wavves began their set at 10:20 p.m. and immediately after walking on stage commented on the thick smell of drugs in the air, saying, "It smells like pot out here. It smells like a lot of pot." Throughout the course of the 14 song performance, the rambunctious audience thrashed into each other and danced wildly. The level of audience interaction was much like it was at Wavves' recent show at Knitting Factory- fans freely jumped on and off stage, and bassist Stephen Pope even offered an audience member a swig of whiskey after asking, "Are you cool? You can have some if you're cool." The band finished up their set by 11:20 p.m.
They then headed to Bruar Falls for puking, peeing in garbage cans, sparring with Black Lips, playing video games, etc... More pictures and Wavves' setlist from Bowery Ballroom below...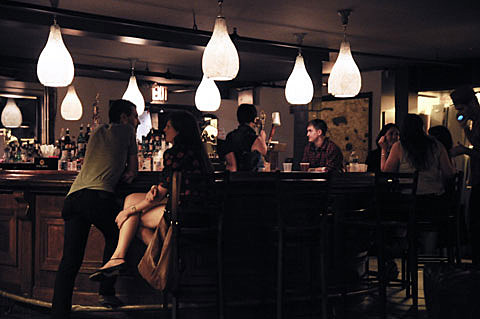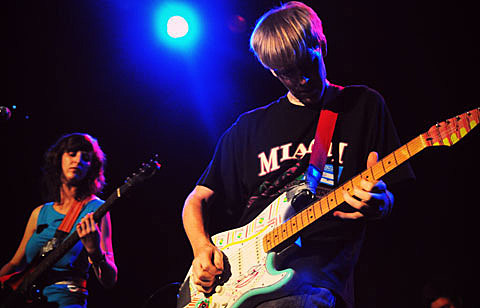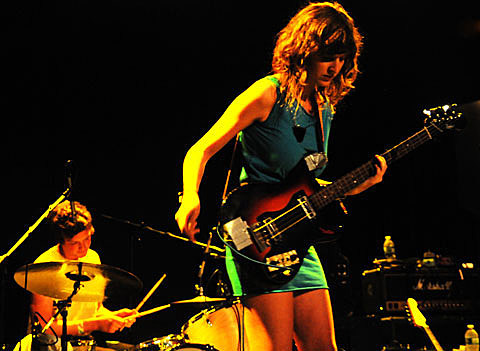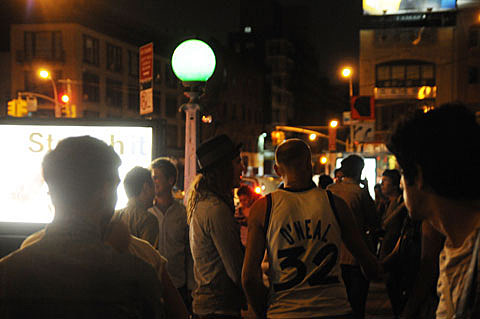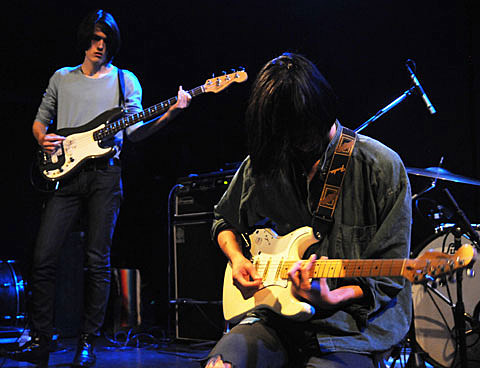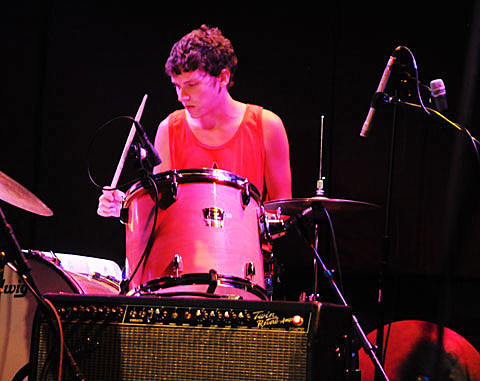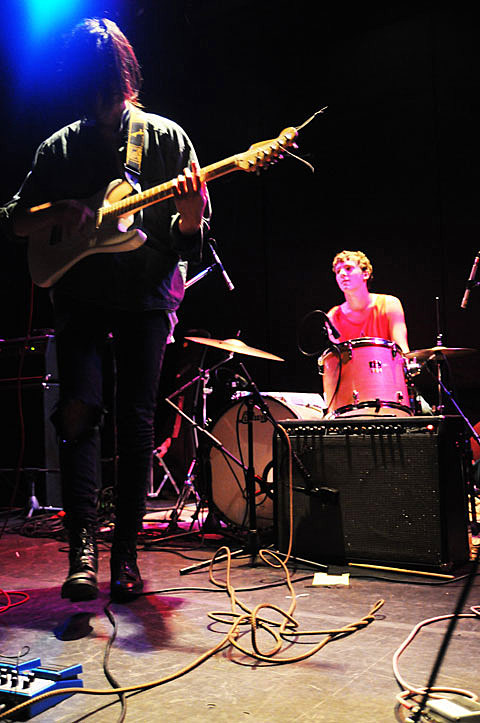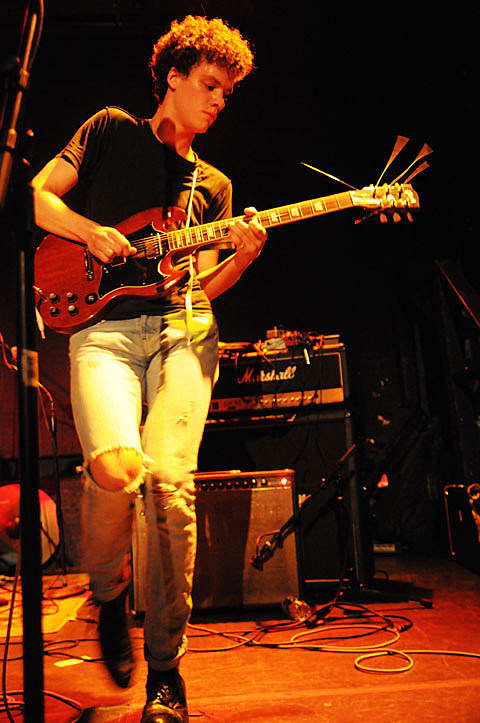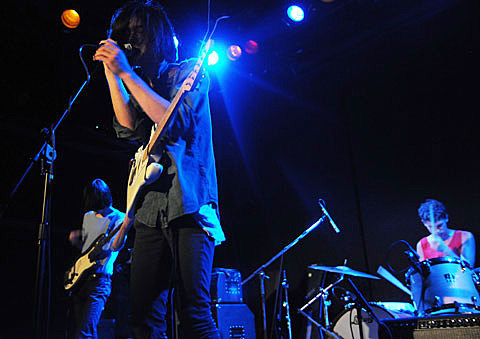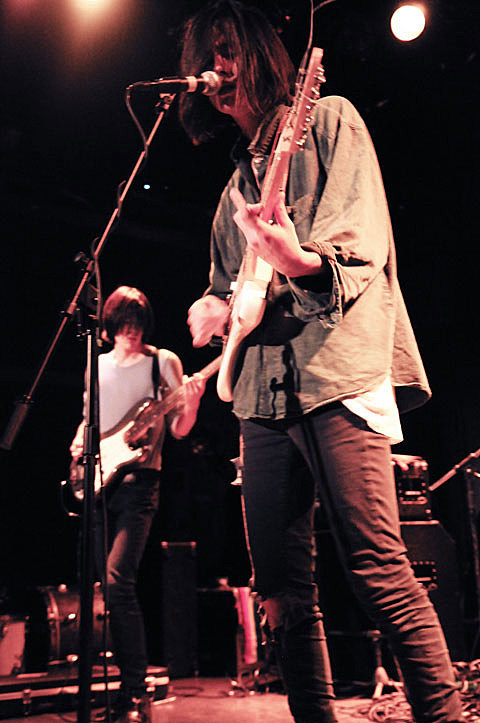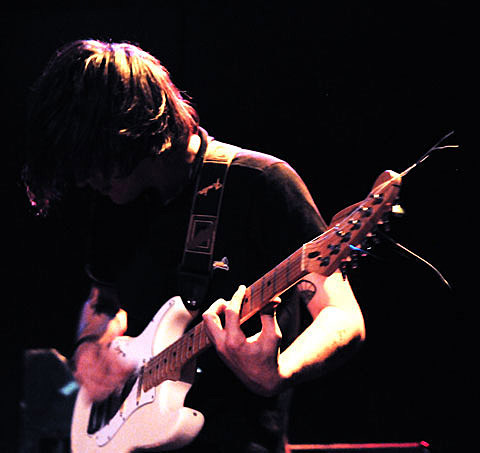 Wavves SETLIST:
Friends Were Gone
Kings of the Beach
Idiot
Wavves
Green Eyes
Take on the World
Beach Demon
Super Soaker
Weed Demon
Post Acid
So Bored
Linus Spacehead
???
No Hope Kids