Weedeater, Black Tusk, the Gates of Slumber & Struck by Lightning played The Studio @ Webster Hall – pics & video
Maybe the photographer had some of that sizzurp too...

Sadly I missed Struck By Lightning, who by all accounts ripped the place to shreds [BBG's note: I was a fan of their LP, but live is where they excel. Crusty, and killer charging metal/punk ala Motorhead meets His Hero is Gone]. I caught The Gates of Slumber's solid but reserved take on the classic/proto-doom sound, leaning heavily on material from last year's Hymns of Blood and Thunder. For me though, the show really kicked into high gear with Black Tusk. Mind-blowingly fun in that increasingly popular, old dirty metal way, their mix of punk beats, stoner riffs and metal bravado sent hair flying all over the place. Their new album, Taste The Sin, hits shelves in late May.
Weedeater took the stage in true, drunken form for a performance that blew their Charleston show out of the water. Between fellating the microphone, sipping Robitussin (evidence below) and puking in the trashcan (I think), 'Dixie' Dave's rasp, rumbling bass and cross-eyed stare basically define "sludge". Chugging doom riffs and rolling drums filled out the thick, muddled sound as the band banged out a good mix of old and new(er) material. They are finishing up a US tour, then spending the summer in Europe. Hopefully Dave can keep most his appendages intact (he shot off his toe earlier this year) and we'll see them back here soon.
Tons of pictures and video from the show continue below...

--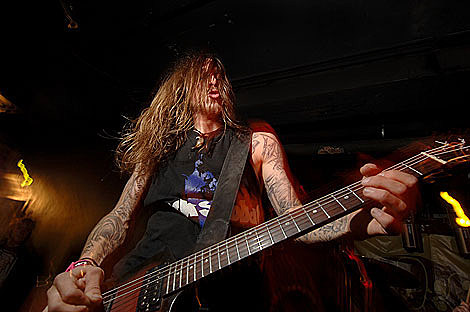 The Gates of Slumber @ Webster Hall 4/10/10

Black Tusk @ Webster Hall. 4/10/10

Black Tusk @ Webster Hall. 4/10/10

Weedeater @ Webster Hall 4/10/10

Weedeater @ Webster Hall 4/10/10

Weedeater - "Monkey Junction" @ Webster Hall 4/10/10

Weedeater - "Gimme Back My Bullets" @ Webster Hall 4/10/10

Weedeater - "Time Served" @ Webster Hall Basement. 4/10/10

Weedeater - "God Luck and Good Speed" @ Webster Hall. 4/10/10