Weekend / Disappears tour adds NYC date; Leverage Models playing NYC LP release show ++ more pics from MHOW
photos by P Squared Photography
Weekend / Leverage Models @ Music Hall of Williamsburg - 8/16/2013

Medicine played their first NYC show in nearly two decades over last Friday (8/16), with support from Weekend and Leverage Models. We already posted one set of pictures and a review from that show, and now we have another that are in this post.
Weekend's tour with Disappears recently added a few more shows, including the NYC stop which happens October 22 at Glasslands with Nothing opening the evening. Tickets for that show are on sale now. Updated dates are listed below. Disappears new album, Era, is out next week on Kranky.
Leverage Models, meanwhile, will release their full-length debut on October 1 via Hometapes. Their record release show also happens at Glasslands on October 3. They've gathered pretty great support, too, from Maria Minerva, Butterclock and Tippy Toes. Tickets for that show are on sale now.
Updated dates for Weekend are listed, along with more pics from the Medicine/Weekend/Leverage Models show, below.

---
Leverage Models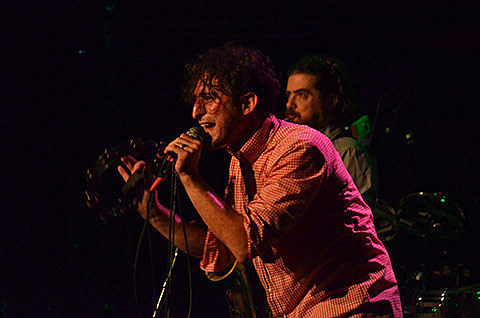 Weekend
Medicine
Weekend - 2013 Tour Dates
Wed Sep 04, 2013 Pittsburgh , PA Brillobox w Dead Leaf Echo, Nevada Mountains
Thu Sep 05, 2013 Ferndale, MI The Loving Touch Oblisk
Fri Sep 06, 2013 Milwaukee, WI Cactus Club w Disappears, Circles
Sat Sep 07, 2013 Minneapolis, MN 7th St. Entry w Disappears, Teenage Stranger
Sun Sep 08, 2013 Lincoln, NE Bourbon Theatre (Rye Room) w Disappears, Eli Mardock
Mon Sep 09, 2013 Denver, CO Hi Dive w Disappears, Hollow Talk
Thu Sep 12, 2013 San Francisco, CA The Chapel w Disappears, Wymond Miles
Sat Sep 14, 2013 San Diego, CA San Diego Music Thing w Disappears, Soft Metals
Sun Sep 15, 2013 Los Angeles, CA The Echo w Disappears, Cold Showers
Wed Sep 18, 2013 Austin, TX Red 7 w Disappears, The Young
Thu Sep 19, 2013 Lawrence, KS Replay Lounge w Disappears
Fri Sep 20, 2013 Chicago, IL Empty Bottle w Disappears, Outside World
Sat Sep 21, 2013 St. Louis, MO Off Broadway Stagnant Pools
Sun Sep 22, 2013 Cleveland, OH Beachland Tavern w Stagnant Pools, Next New Nothings
Tue Sep 24, 2013 Columbus, OH Double Happiness w Stagnant Pools
Wed Sep 25, 2013 Nashville, TN The High Watt Future Unlimited
Thu Sep 26, 2013 Atlanta, GA 529 Hollow Stars, Mood Rings
Fri Sep 27, 2013 Richmond, VA Strange Matter White Laces, Big No
Sat Sep 28, 2013 Chapel Hill, NC Local 506 White Laces
Sat Oct 19, 2013 Baltimore, MD The Ottobar w Disappears
Sun Oct 20, 2013 Philadelphia, PA Johnny Brenda's w Disappears, Nothing
Tue Oct 22, 2013 Brooklyn, NY Glasslands Gallery w Disappears, Nothing
Wed Oct 23, 2013 Boston, MA Church w Disappears, Nothing
Thu Oct 24, 2013 Montreal, QC Il Motore w Disappears, Aim Low
Fri Oct 25, 2013 Toronto, ON The Garrison w Disappears, Aim Low
Sat Oct 26, 2013 Rochester, NY Bug Jar