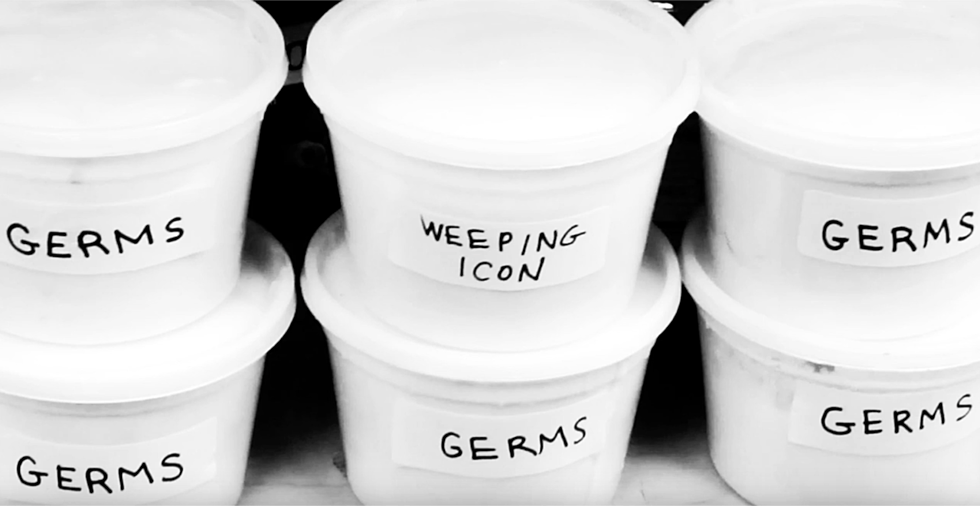 Weeping Icon made a video for "Germs," playing shows w/ Horrors, Protomartyr, more
Brooklyn band Weeping Icon's debut, Eyeball Under, is getting its vinyl release this week (it came out digitally earlier this summer) and in anticipation of that the band have made a video for "Germs." A dark, snarling, psychedelic track with a careening momentum, "Germs" is matched with a video full of coursing blood, sweaty beards, eggs (that probably have not been kept at a proper temperature!), and some garmonbozia-looking ooze. Germs! Watch that, and stream Eyeball Under in full, below.
Weeping Icon have two Brooklyn shows this week: opening for The Horrors tonight (9/19) at Rough Trade (tickets), and an album release show at Secret Project Robot on Wednesday (9/20) with Chat Logs, Heaven's Gate, and Brandy (ex-Pampers).
After those shows, Weeping Icon head out on tour, hitting dates in the Midwest, and Canada before heading back home where they'll open for Protomartyr and Flasher at Music Hall of Williamsburg on 10/28 (tickets).
All tour dates, which include a few other shows in the NYC area, are listed below.
Weeping Icon - 2017 Tour Dates
09.18 - Brooklyn, NY @ Rough Trade w/ The Horrors
09.20 - Brooklyn, NY @ Secret Project Robot
09.22 - Sept 22 - New Paltz, NY @ My Life in the Bush of Ghosts
09.24 - Toronto, ON @The Baby G
09.26 - Detroit, MI @ Ghost Light
09.27 - Chicago, IL @ Situations
09.28 - Kansas City, MO @ The Blind Tiger
09.29 - St Louis, MO @ The Sinkhole
09.30 - Nashville, TN @ Drkmttr
10.02 - Pittsburgh, PA @ The Rock Room
10.03 - Philadelphia, PA @ A House
10.04 - Montclair, NJ @ The Meatlocker
10.05 - Annandale on Hudson, NY @ Bard College
10.06 - Saratoga Springs, NY @ One Caroline
10.07 - Belchertown, MA @ Cold Spring Hollow
10.28 - Brooklyn, NY @ Music Hall of Williamsburg w/ Protomartyr