Weezer & the Flaming Lips played 'side by side' @ PNC Bank Arts Center (pics, video & setlist)
photos by Toby Tenenbaum
The Flaming Lips and Weezer played side-by-side sets at PNC Banks Arts Center last night (7/28) with an opening set from Yeasayer (who we missed). Pictures from the NJ show are in this post.
As mentioned, Rivers Cuomo was quoted in a recent press release saying, "I asked Wayne if he has an extra bubble I could ride in." He wasn't joking! Toby Tenenbaum, who shot the show, writes:

The special intro comprised the two lead singers from Flaming Lips and Weezer (Wayne Coyne and River Cuomo) pulling one of the most original stunts I had ever seen. They were both inside their own inflatable balloon and used it to crowd-walk/surf over the heads of the crowd. It was truly awesome and unique.
As the two frontmen rolled around the audience in the space balls, the remaining band members on stage played a rendition of Sabbath's "Sweet Leaf." Check out a video of all of that happening below.
The two bands then alternated every few songs. To quote Toby again, "With the average song length for FL being about 6 minutes per song and for Weezer its the standard 3 minutes per song it felt that Weezer were simply playing intermittently between a Flaming Lips show. One high point for Weezer was the Radiohead Paranoid Android cover." The bands also played together at the end of the show. The full setlist and other videos are also below.
All three bands will play again tonight (7/29) at Jones Beach Theater in Long Island. Tickets are still available. Stay tuned for pictures and a review from that show too, and congrats to all the BV contest winners that were/are in attendance.
More pictures, the video and the NJ setlist below...

--
Flaming Lips / Weezer, Wayne / Rivers - SPACE BALLS! Holmdel, NJ 2011-07-28

The Flaming Lips + Weezer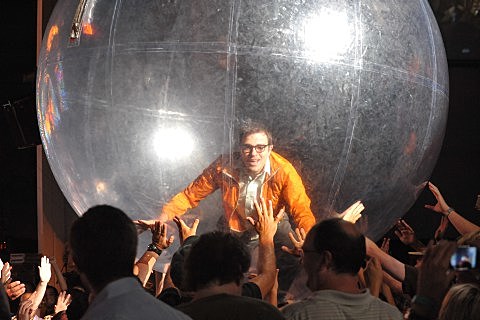 The Flaming Lips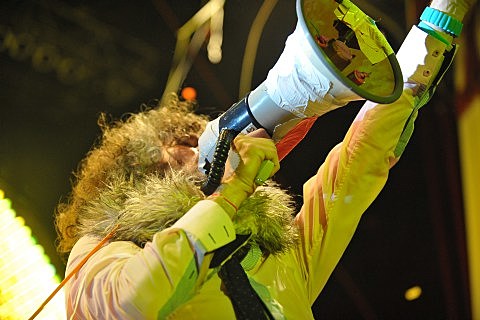 Weezer
Wayne and Rivers in Space Balls

Flaming Lips AND Weezer doing She Don't Use Jelly!

Weezer/Flaming Lips Setlist:

The Flaming Lips and Weezer
Space Bubble Intro
Sweet Leaf (Black Sabbath cover)
The Flaming Lips
Worm Mountain
Silver Trembling Hands
Yeah Yeah Yeah Song
Weezer
Hash Pipe
El Scorcho
Perfect Situation
The Flaming Lips
Is David Bowie Dying?
See The Leaves
Laser Hands Jam
Weezer
My Name is Jonas
Susanne
The Good Life
The Flaming Lips
Yoshimi Battles the Pink Robots Pt. 1
Ego's Last Stand
Pompeii am Götterdämmerung
Weezer
Island in the Sun
You Gave Your Love to Me Softly
Paranoid Android (Radiohead cover)
The Flaming Lips
What Is The Light?
The Observer (Extended Jam)
Weezer
Pork and Beans
Tired of Sex
Say It Ain't So
(If You're Wondering If I Want You To) I Want You To
The Flaming Lips
Do You Realize??
Weezer
Buddy Holly
Only in Dreams
Weezer and The Flaming Lips
She Don't Use Jelly
Undone - The Sweater Song