What's going on Friday? (Pretty & Nice, Jim Noir)
Pretty & Nice @ Emo's, SXSW 2008 (Bandepart.FM)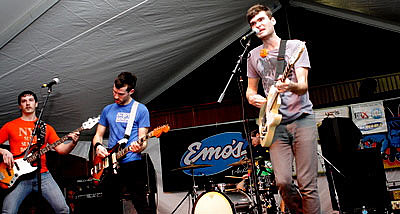 Tilly & the Wall, SXSW 2008 (linoleum jet)

Sons & Daughters @ Free Yr Radio stage, SXSW 2008 (Chromewaves)

Bodies of Water @ the Mohawk, SXSW 2008 (chasingfun)

Jim Noir, SXSW 2008 (Sarah Pants)

* Jim Noir at Sound Fix (7pm)
* The Ting Tings are at Le Royale
* Modeselektor is playing Studio B
* The Living Room keeps celebrating
* Tilly & The Wall is playing Knitting Factory
* The Shackletons are playing Canal Room
* God is an Astronaut is playing Knitting Factory
* Pretty & Nice and Exit Clov are playing Trash Bar
* The Budos Band & Sweet Divines play Maxwell's
* The Octagon and Ford & Fitzroy are at the Red Door
* Sons and Daughters, Bodies of Water & The Brunettes play MHOW
* The Most Serene Republic, Miracle Fortress & Liam Finn play Mercury Lounge
Pretty and Nice is Sub Pop offshoot Hardly Art's latest signing. They're also from Boston. They're playing Trash Bar tonight with Exit Clov who they're also touring with, and they're playing Junkyard Palace in New Brunswick on March 32rd.
Jim Noir is in town from the UK. He took part in the Living Room 10th Anniversary celebration last night, and he's playing a last minute free show at Sound Fix tonight at 7pm - right before the Cassettes Won't Listen/Diggs show.
MusicSnobbery announced that he's throwing a show to celebrate his 3rd anniversary (not tonight). The Teeth, Salt & Samovar, and La Laque are all playing the April 10th show at Maxwell's.
Heartonastick is listing 53 reasons to hate Vampire Weekend. Check out Part 1.
What else?