What's going on Sunday? (Laura Marling, Depeche Mode, Holy Smokes! fest, Spy Music Fest, Jason Bartell & more)
Laura Marling at Prospect Park in 2012 (more by Jessica Amaya)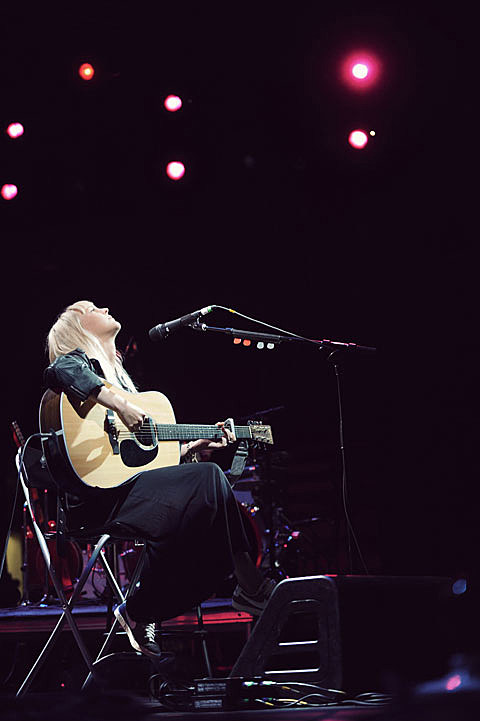 Browse our full NYC show calendar for all of tonight's shows. Here are some highlights...
Depeche Mode, Bat For Lashes @ Jones Beach
The most popular synthpop band of all time with enough hits to fill a setlist, Depeche Mode will probably play too many new songs for your liking, but you'll forget all about that by the time they get to "Personal Jesus" and "Never Let Me Down Again." Openminded attendees should get there early for Bat for Lashes.
Laura Marling @ Music Hall of Williamsburg
British folk singer Laura Marling's music may be highly indebted to the genre's early '70s period, but it's some of the most genuine material in that style being written today. Tonight she begins her two-night run at Music Hall of Williamsburg (both sold out), and on Wednesday she'll play a free show at Brooklyn's St. Ann's Church.
Jason Bartell (of Fang Island), Xander Duell, James Thomas Marsh @ Union Pool (FREE)
The full Fang Island band will be here in October when their tour with Tera Melos hits Bowery Ballroom, but if you can't wait that long for your dose of noodly shredding, you can catch singer/guitarist Jason Bartell playing a free show at Union Pool today. 5 PM start.
The Gaslight Anthem, The Sidekicks @ The Paramount
The Gaslight Anthem were last in NYC for three shows in July, and The Sidekicks were just here last week, but if you head to Long Island tonight, you'll get a chance to see these two punky bands play together.
Goapele @ S.O.B.'s
Oakland neo-soul singer Goapele, who has collaborated with Hieroglyphics and Mos Def, among others, will be making her way to NYC tonight to headline a show at SOB's.
Har Mar Superstar, Basic Vacation, Misun @ Brooklyn Bowl
Entertaining goofball Har Mar Superstar can turn any place into a sweaty party, given his ability to mimic '80s R&B and funk... he can breakdance too. Tonight he's joined by Basic Vacation, Misun, and a ton of DJs.
Glenn Tilbrook @ City Winery
One half of one of the best songwriting teams of the last 35 years, Squeeze's Glen Tilbrook will pull from that deep cannon of catchy tunes tonight. Funny guy too.
Holy Smokes! Fest @ Silent Barn
The folks at Bushwick Daily put together this all-day festival featuring over 20 bands (Raccoon Fighter, The Can't Tells, Cosmonaut among them), art installations and an open beer bar from 2 - 4 PM.
Spy Music Fest @ 285 Kent
The Spy Music Festival is back for a third year of experimental sounds. Tonight's event features Mystical Weapons (aka Sean Lennon and Greg Saunier of Deerhoof), Ava Luna, and more.
Hannibal Buress does his weekly comedy night at Knitting Factory.
For all of tonight's shows, and tomorrow's, check out our full NYC show calendar.
For laughs, check out the NYC Comedy calendar too.
-------------
---
Follow @BrooklynVegan on Twitter.
Follow @bvChicago for just Chicago stuff.
Also follow @bvAustin for just Austin stuff.
Be our friend on Facebook too, and BV Austin's friend on Facebook and BV Chicago's friend on Facebook.
Follow BrooklynVegan on instagram.
What else?