What's going on Friday? (Blood Orange, High on Fire, PAWS, Quilt, Blondes, Protomartyr, Radiator Hospital & more)
Blood Orange @ Bowery Ballroom, 2011 (more by Ryan Barkan)

High on Fire @ Bowery Ballroom, 2012 (more by Fred Pessaro)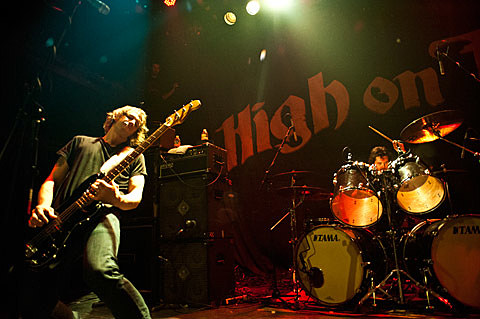 Browse our full NYC show calendar for all of tonight's shows. Here are some highlights...
Blood Orange @ 285 Kent Avenue
Having spent the last couple years writing well-liked songs for other people (Sky Ferreira, Solange), Dev Hynes has upped his game for his second Blood Orange album which is loaded with hooky, slinky/sulty dance jams. Tonight's sold-out show promises "special guests" and Dev knows a few people. Wonder who's showing up?
Quilt, LODRO, Happy Jawbone Family Band @ Baby's All Right
This is a great bill for fans of psychedelia, with Quilt who recall the Haight-Asbury/Summer of Love sound, the sleazy blues of LODRO, and the freaky psych of Happy Jawbone Family Band.
Tragedy, Guns N Hoses, Satanicide @ Brooklyn Night Bazaar
Brooklyn Night Bazaar gets a little silly tonight, with some high-concept novelty rawk: Tragedy do hair-metal versions of Beegees' songs; the all-girl Guns N Hoses; and Satanicide aim to take you back to the spandex days of '80s New Jersey. Free.
Degreaser, Drunk Tiger, Bully, Nervosas @ Cake Shop
It's a multi-state bill, with Nashville's punky garage poppers Bully; Washington DC's sneery, swaggering Drunk Tiger; and Columbus, OH's Nervosas. Sludgy locals Degreaser round out the night.
Gringo Star, Ski Lodge, Princess Music @ Cameo Gallery
Atlanta garage rock band Gringo Star recently released Floating Out To See which you can stream in full below. Ski Lodge, whose debut album is quite good, open.
PC Worship, Protomartyr, Aykroyd, Future Punx @ Death By Audio
They're probably nice guys but Detroit band Protomartyr sound a little louche (in a good way) on their attitude-filled recordings, a couple of which you can stream below. (Worth a listen for sure.) Get there early for ace modern '80s new wave band Future Punx who are a lot of fun live.
PAWS, Little Big League, TOONs @ Glasslands
This is an excellent double bill for fans of indie rock that rocks. Fuzz rock trio PAWS are like Scotland's answer to Japandroids, and Philly's Little Big League make math rock-tinged indie and singer Michelle Zauner's powerful pipes are no small part of their sound.
'Revenge of the Mekons' @ SVA Theatre (9:45 PM)
Part of the Doc NYC film festival, Revenge is a career-spanning look at this legendary band who began as punks and have since tackled pretty much every genre under the sun. Tickets are still available.
High on Fire, Kvelertak, Doomriders @ Webster Hall
Fans of the punky side of stoner metal should not miss this show. Headlining is High On Fire, Matt Pike's (of Sleep) other band who are a bit faster and more rockin' than his other project, Norway's ultra-heavy descendants of true-blue rock 'n' roll Kvelertak, and Converge's party metal spinoff Doomriders.
A Wilhelm Scream, Single Mothers, Lugosi, The Reveling @ The Studio at Webster Hall
Melodic hardcore mainstays A Wilhelm Scream are out supporting their new record Partycrasher, but this tour most excites us because it's NYC's first chance in a while to catch Canada's rude, literate punks Single Mothers. They've only got two quick EPs to their name, but they're both super promising and they've got a hell of a live show too.
Flamin' Groovies, The Sonics, Daddy Long Legs @ Warsaw
Powerpop legends Flamin' Groovies are back with guitarist Chris Wilson and a barrelful of good time, hook-filled classics. They were a lot of fun the last time they were through NYC.
Chumped, Radiator Hospital, Living Room, The Ambulars, Billy Liar, Outta Gas @ Suburbia
This is an excellent night of fuzzy, lo-fi pop punk with the deceptively sugary Chumped (for whom its an EP release party), the heart-on-your-sleeve songs of Radiator Hospital, the sharp-edged pop of The Ambulars, and more at Brooklyn's cozy DIY spot Suburbia.
And So I Watch You From Afar, TTNG, Mylets @ Knitting Factory
This all-Sargent House bill should appeal to fans of rock that either has the "math" or "post" prefix attached to it, aka the kind of stuff that Sargent House has been known to be worthy providers of.
Blondes, RROSE, The Tin Man, Kondaktor, Bryan Kasenic, Kim Ann Foxman, Mike Servito, Wrecked @ Output
NYC dance duo Blondes surprised fans over the summer by streaming their new album in full the same day they announced it. They haven't been up to as much lately, but tonight they play this one-off in their hometown.
Excepter, Eraas, Soviet Soviet, Felte (DJ Set) @ Saint Vitus
This is the second of two NYC shows for Brooklyn post-punks Eraas and Italian post-punks Soviet Soviet this week. Also on the bill: local noise generators Excepter.
Macklemore & Ryan Lewis, Talib Kweli, Big K.R.I.T. @ Theater at Madison Square Garden
We're not super into the headliner, but the openers on this tour, which hits the Theatre at MSG for three consecutive nights this week, are always worth seeing. Talib really needs no introduction, having been a mainstay in NYC rap since the '90s, and Big K.R.I.T. is one of the finest newer rappers keeping the dirty south alive and dirty. This is night 3.
Eli Paperboy Reed @ Union Pool
With a new album out soon, Eli Paperboy Reed will be premiering a lot of fresh material at two intimate shows at Union Pool, tonight being the second.
Black Uhuru @ B.B. King Blues Club
Guess who's coming to dinner? It's dub reggae legends Black Uhuru who are now in their 41st year as a band.
FYI: The L train will not run between Manhattan and Brooklyn starting at 11:30 PM tonight and won't resume till Monday morning.
For all of tonight's shows, and tomorrow's, check out our full NYC show calendar.
For laughs, check out the NYC Comedy calendar too.
-------------
---
Follow @BrooklynVegan on Twitter.
Follow @bvChicago for just Chicago stuff.
Also follow @bvAustin for just Austin stuff.
Be our friend on Facebook too, and BV Austin's friend on Facebook and BV Chicago's friend on Facebook.
Follow BrooklynVegan on instagram.
What else?

---