What's going on Saturday? (Luscious Jackson, Cyndi Lauper, Soupcans, Real Estate, Machinedrum, Rock Lottery & more)
Anna Von Hausswolff at Glasslands in July (more by Amanda Hatfield)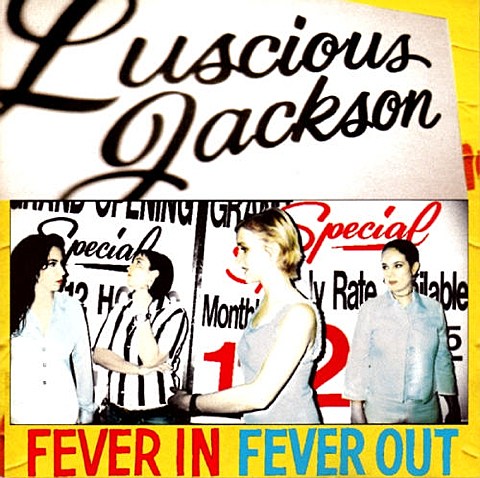 Browse our full NYC show calendar for all of tonight's shows. Here are some highlights...
Luscious Jackson, All Night Chemists, ADW Young @ Webster Hall
Funky '90s band -- and Beastie Boys pals -- Luscious Jackson are back in action with a new album, their first in 14 years. Expect Clinton-era classics like "Naked Eye" too.
Real Estate, Bare Mutants, Free Time, Turnip King @ Baby's All Right
Get a taste of Real Estate's new album tonight at this newish, smallish Williamsburg club. It's actually a great bill all-around, with Chicago's Bare Mutants (featuring members of Ponys and The 1900s), plus Australian ex-pats Free Time and locals Turnip King.
Cyndi Lauper, P!NK, Nelly Furtado, The Hives, Ingrid Michaelson, Matt & Kim, Big Freedia & more @ Beacon Theater
It's Cyndi Lauper's 'Home for the Holidays' show and since girls just wanna have fun, she's invited a huge variety of friends to join her including some pop stars, the always-energetic Hives, and the also always-energetic (but in a much different way) Big Freedia, plus Matt & Kim and many more.
Au Revoir Simone, Spires, Splashh, Grooms @ Brooklyn Night Bazaar
This weekend's Brooklyn Night Bazaar shows are curated by Kanine Records, who offer up a good bill tonight, with sythpop trio Au Revoir Simone, paisley janglers Spires, UK act Splashh (in shrunken form) and noisemakers Grooms.
Chuck Strangers, Fresh Daily (Beat Haus) @ Converse Rubber Tracks
Joey Bada$$ isn't the only talented member of the Pro Era crew. Chuck Strangers is a key member of the group too and you can catch him on his own at Converse Rubber Tracks tonight.
Ballroom, The Soupcans, The Estrogen Highs, Chat Logs, Melk Belly @ Death By Audio
Toronto's The Soupcans make speedy post-hardcore filled with all the anger, sarcasm, and weirdness you need. They're in NYC for two shows this weekend, both of which should get pretty intense. This is the second.
The Deer Tracks, Ice Choir, Late Guest at the Party @ Glasslands
Swedish electronic duo The Deer Tracks headline tonight's show, but we also like Ice Choir -- aka Pains drummer Kurt Feldman's band that owes most of its sound to Scritti Politti.
Rock Lottery @ Knitting Factory
Members of Quicksand, Afghan Whigs, DIIV, A Place to Bury Strangers, Dresden Dolls, Antibalas, Sannhet and more will be formed into new bands this morning where they'll then spend the day writing original material to perform tonight. All proceeds are for charity and is always a lot of fun.
Machinedrum (Vapor City Live), Om Unit, Nick Hook, Body Language (DJ set), Angelica Bess @ Music Hall of Williamsburg
Machinedrum is one half of Sepalcure, and also an excellent artist on his own. Tonight he celebrates his new Vapor City album with a very solid list of openers joining him.
Las Rosas, Grand Resort, Slowdance @ Radio Bushwick
Here's a good trio of bands, and a good reason to check out this new Bushwick music venue.
Revenge, Mausoleum, Engorge, Mutilation Rites @ Saint Vitus
Canadian war metal band Revenge descends upon NYC for a two-night stand at Saint Vitus this weekend. Local black metal band Mutilation Rites kick things off, and they're great too.
Moistboyz (feat. Dickie & Mickie Moist/Dean Ween), Gibby Haynes (DJ) @ Stage 48
Ween is done, but Dean Ween is continuing to provide weirdo rock with his band Moistboyz. And speaking of weirdo rock, Gibby Haynes of the Butthole Surfers is DJing, and something tells me if anyone is sure to turn a DJ set into something much more memorable, it's Gibby Haynes.
Spacehog, Sponge, Lionize, Trapper Schoepp & The Shades @ Marlin Room at Webster Hall
Glam rockers Spacehog and grunge rockers Sponge on the same bill -- is this 1997?
Lupe Fiasco @ The Wellmont Theatre
Lupe Fiasco plans to release his new album Tetsuo and Youth in early 2014 (so, in non-rap speak, basically whenever), but until then he'll be doing some shows, including four nights in the NYC-area this month. This is the first.
Anna von Hausswolff, Noveller @ The Mercury Lounge
Master of the church organ, AvH will bring her cathedral vibes -- and otherworldly voice -- to Mercury Lounge, her second NYC show this weekend with Noveller.
Goblin, Zombi @ Starland Ballroom
Italian prog legends Goblin finally went on their first North American tour earlier this year, but they've got more dates before the year ends, including tonight's NJ show and tomorrow's NYC show, both of which are with experimental duo Zombi.
Champagne Jerry w/ Ad-Rock @ Joe's Pub
Rapper/performance artist Champagne Jerry has ties to other Joe's Pub regulars like Bridget Everett and Carmine Covelli, and he'll playing one show a month there during the rollout process of his upcoming album. Tonight's show is also special because Beastie Boy Ad-Rock, who appears on CJ's recent single, will be in the house.
Pink Floyd Laser Spectacular @ The Capitol Theatre
Via LaserSpectular.com: "After 25 years of touring,Paramount's LaserSpectacular has become a cult classic, presenting the music of Pink Floyd, as you have never seen it before. Surrounded by 50,000 watts of concert quality sound, Pink Floyd's musical legacy continues as the band's concept music captures the imagination and carries listeners away on a mind-expanding journey driven by cutting-edge effects. Colorful lasers and lighting effects parallel the sonic journey as the senses are confronted with an array of glowing visual displays choreographed to the soundtrack during the 2-hour-and-20-minute show."
Deidre & The Dark @ The Gutter
Diedra just played MHOW last night with her band Savoir Adore, and tonight her solo project plays the back room at The Gutter.
For all of tonight's shows, and tomorrow's, check out our full NYC show calendar.
For laughs, check out the NYC Comedy calendar too.
-------------
---
Follow @BrooklynVegan on Twitter.
Follow @bvChicago for just Chicago stuff.
Also follow @bvAustin for just Austin stuff.
Be our friend on Facebook too, and BV Austin's friend on Facebook and BV Chicago's friend on Facebook.
Follow BrooklynVegan on instagram.
What else?