What's going on Tuesday? (Roky Erickson, Black Angels, Kins, Pharmakon, Vic Mensa, Casket Girls, Robert Ellis & more)
LINDSEY BEST
Roky Erickson @ Chicago's Wicker Park Fest 2013 (more by Lindsay Best)

Pharmakon @ Saint Vitus 2013 (more by Fred Pessaro)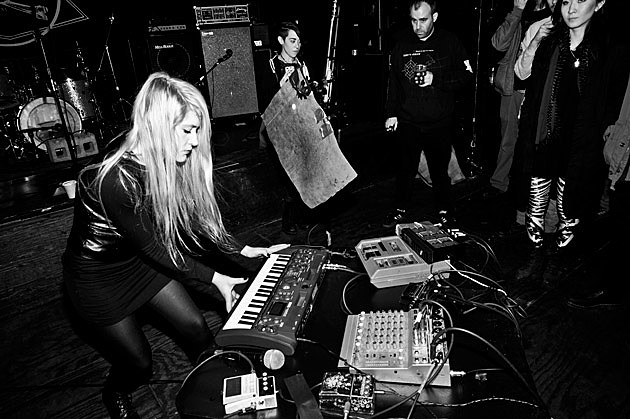 You can browse our full NYC show calendar for all of tonight's shows, but here are some highlights...
Pharmakon, Helm, Damien Dubrovnik, Three Legged Race @ Baby's All Right
This is one of the two stops on London experimental musician Helm and Copenhagen electronic duo Damien Dubrovnik's (mem of Var, Lust for Youth) US tour, which also hits Nothing Changes tomorrow. But this one's especially exciting because NYC noise artist Pharmakon headlines the show.
Vic Mensa, Nitty Scott MC, MC Rugz D Bewler, KB Yung Hustle @ SOB's
Mensa, Nitty Scott MC, MC Rugz D Bewler, KB Yung Hustle @ SOB's
Vic Mensa came up around the same time as fellow Chicago rapper Chance the Rapper (who he also collaborates with), and if you dig Chance's style you'll most likely be into Vic too. His last NYC gig was opening for Disclosure at Terminal 5, but tonight you can see him headline his own show in a much smaller room. Solid local rapper Nitty Scott MC opens.
Casket Girls, The Stargazer Lilies @ Mercury Lounge
The "Graveface Roadshow" rolls onto its second NYC show, featuring Black Moth Super Rainbow main man Ryan Graveface's other band, Casket Girls. Fronted by Elsa and Phaedra Greene, the band's sound isn't to dissimilar to BMSR.