What's going on Thursday? (Pains, Death Cab, Ex-Cult, TEEN, Reigning Sound, Cass McCombs, Creation Records doc, more)
The Pains of Being Pure at Heart at SXSW 2014 (more by Steven Noreyko)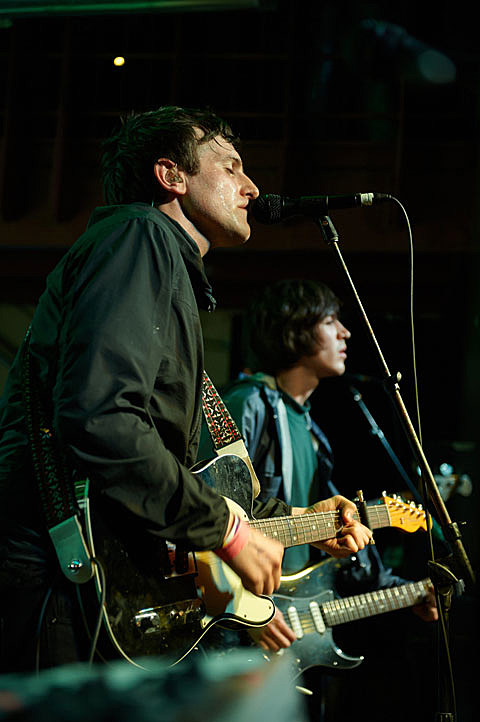 You can browse our full NYC show calendar for all of tonight's shows, but here are some highlights...
The Pains of Being Pure at Heart, Fear Of Men, Ablebody @ Bowery Ballroom
With a killer new lineup of the band and an enjoyable new album, dare we say Pains are better than ever? This tour -- with terrific UK band Fear of Men and Ablebody (who are also in TPOBPAH lineup -- is a can't miss for indiepop fans.
Death Cab For Cutie, Hamilton Leithauser @ Capitol Theatre
It's been a while since Death Cab went on a proper tour but they'll remedy that by kicking off a short Northeast run tonight. This one's just outside of NYC and also includes Walkmen frontman Hamilton Leithauser, which should make for a good double bill of two artists who put out some of the more memorable indie songs of the 2000s.
TEEN, Icewater @ Baby's All Right
Teen's second album take's the band formerly dronepop sound and drags it into '90s R&B territory. Tonight's the record release show for that LP.
Reigning Sound, Nude Beach @ Brooklyn Bowl
Reigning Sound, the Memphis garage rock band led by Greg Oblivian, signed to Merge back in 2012 and they're now set to release their first album for the label, Shattered, which comes out on July 15. Expect new songs tonight.
Ex-Cult, Pampers @ Mercury Lounge
Speaking of Memphis, that city's ragers Ex-Cult just released their new album, Midnight Passenger, that balances sneering rippers with a few moody extended jams. This is their first of two NYC shows this weekend, tonight with Brooklyn "thug pop" band Pampers (who are great).
Cass McCombs, Endless Boogie @ MHOW
Cass McCombs released a whopper of a double album last year -- the acclaimed Big Wheel and Others and between that and the two albums he released in 2012 (not to mention all his other albums), he's got a lot choose from. Prediction: he plays at least a few brand-new songs tonight.
Sierra Leone's Refugee All Stars, Okayafrica Electrafique, Chief Boima, DJ Underdog @ Brooklyn Bridge Park
To quote Wikipedia, Sierra Leone's Refugee All Stars is a band from Sierra Leone which was formed by a group of refugees displaced to Guinea during the Sierra Leone Civil War. This show is one of Celebrate Brooklyn's free dance parties and runs from 7-10 PM.
Manchester Orchestra, Balance and Composure, Kevin Devine @ Terminal 5
Expect an overload of massive alt-rock riffs from Manchester Orchestra and Balance & Composure tonight, and things should get a little softer (but not too much) during Kevin Devine's opening set.
Prizehog, Insect Ark, Stephen Brodsky, Colomboid @ Cake Shop
Things should get pretty dark at Cake Shop tonight with Insect Ark (former Angels of Light member Dana Schechter), Cave In singer Stephen Brodsky, and more.
Leverage Models, Weeknight, Long Arms @ Cameo Gallery
If you love Big '80s music like The Associates, ABC, and (early) Spandau Ballet, you will probably dig the widescreen sounds of Leverage Models who have a firm grasp on that, right down to the saxaphone and syn-toms.
The Golden Grass, Verma, Ecstatic Vision @ Death by Audio
Chicago's Verma intertwine elements of gothy post-punk, krautrock, Eno-esque ambience and Detroit-style burners into a heavy, groovy psych sound. Their new album on Trouble in Mind is excellent.
Simian Mobile Disco (DJ Set), BICEP, Daniel Avery, JDH & Dave P @ Output
The always-fun dance duo Simian Mobile Disco return to NYC to DJ Output's weekly Input party with their collaborator Bicep, Factory Floor's pal Daniel Avery, and FIXED regulars JDH & Dave P.
Andrew W.K. in conversation with Phillip Crandall @ Strand Bookstore
Phillip Crandall wrote the 33 1/3 series book on Andrew WK's 2001 debut, I Get Wet, and tonight he discusses it with AWK himself. Free admittance with purchase of the I Get Wet book.
'We Are the Best' screening w/ Petal War @ Trilock Fusion Center for the Arts
Though writer/director Lukas Moodysson has gone to dark places in the past (Lilya 4-Ever? Yikes) this is a sweet, funny movie about three misfit 13-year-olds who decide to start a punk band in 1982 Stockholm. If some bad language isn't a problem, it makes a good family film. This is being screened as part of Rooftop films with a live performance from the very appropriate PetalWar.
'Upside Down: The Creation Records Story' @ Videology
Part of BV editor Bill Pearis' "Sound & Vision" series at Videology, tonight features the documentary about the label that gave us The Jesus & Mary Chain, My Bloody Valentine, Oasis and many more. It's an entertaining and very rock-n-roll film (though the Scottish accents are THICK). Bill's DJing afterwards and they're giving away a pass to this year's NYC Popfest at the screening. Free.
Michael Hurley @ Union Pool
Having spent time in the '60 Greenwich Village scene with his work covered by Holy Modal Rounders and others, acclaimed folk songwriter and performer Michael Hurley has remained active and prolific into his '70s. Advance tickets of tonight's show are sold out, but a limited amount will be available at the door.
Unholy Grave, Birdflesh, Mesrine, War Master, Entrails @ Saint Vitus
Unfortunately, Excruciating Terror had to drop off this show but it's stacked regardless. Japanese grinder Unholy Grave return for their first NYC appearance since 2006, Swedish grinders Birdflesh make their first NYC appearance ever, Canada's Mesrine and Swden's Entrails both make their US debuts tonight, and the bill's rounded out by ex-Insect Warfare Bolt Thrower worshippers War Master.
Erik Friedlander @ Subculture
Avant-garde cellist and John Zorn cohort Erik Friedlander celebrates the release of his new album, Nitehawks, which features (like this show) his Bonebridge Band.
Direct Effect, The Saddest Landscape, Rescuer, Capacities @ Suburbia
It's a stacked bill of post-hardcore at Suburbia tonight with Direct Effect who have sort of a Fucked Up/Paint It Black thing going on, The Saddest Landscape and Rescuer who are both in the Touche Amore/PBTT vein, and Capacities who are the most metallic band on the bill.
LVL UP, Kite Party, Three Man Cannon, Downies @ David Blaine's The Steakhouse
Philly bands Kite Party and Three Man Cannon (ex-Tigers Jaw) are currently on tour together, and likeminded in that they're decidedly non-punk bands coming from a punk scene. Local regulars LVL UP headline and openers Downies include members of both LVL UP and Porches.
Stone Jack Jones, Coupler, LYLAS, Wooden Wand @ The Delancey
Nashville folk singer Stone Jack Jones is currently touring as a "Nashville circus" which brings him and other Nashville pals together for a unique show. Moved to The Delancey from Mercury Lounge.
UPDATE: both the Ex-Cult show and the Stone Jack Jones show at Mercury Lounge were cancelled due to a giant sinkhole outside of Katz's Deli. They may be moved to other venues, stay tuned.
UPDATE 2: Stone Jack Jones moved to The Delancey.
UPDATE 3: Ex-Cult moved to Fontana's.
For all of tonight's shows, and tomorrow's, check out our NYC concert calendar.
For laughs, check out the NYC Comedy calendar too.
-------------
---
Follow @BrooklynVegan on Twitter.
Follow @bvChicago for just Chicago stuff.
Also follow @bvAustin for just Austin stuff.
Be our friend on Facebook too, and BV Austin's friend on Facebook and BV Chicago's friend on Facebook.
Follow BrooklynVegan on instagram.
What else?