What's going on Saturday? (Mineral, Buzzcocks/Titus, Fucked Up, Evian Christ/Sophie, Fujiya & Miyagi, Papercuts, more)
Dana (distortion) Yavin
Buzzcocks at Coachella 2012 (more by Dana (distortion) Yavin)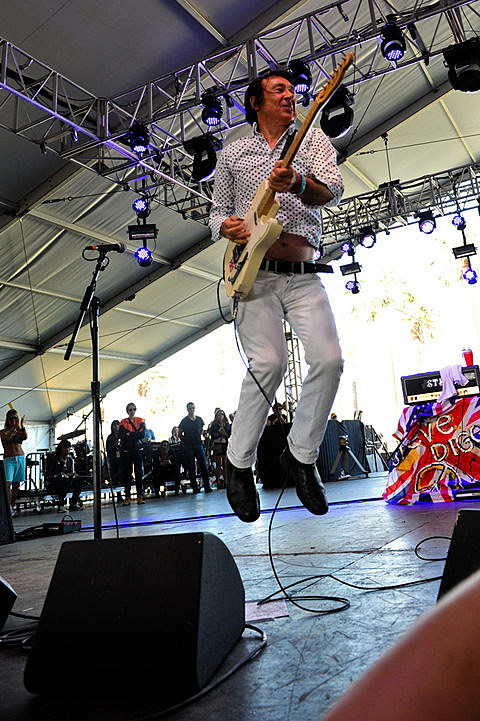 You can browse our full NYC show calendar for all of tonight's shows, but here are some highlights...
Buzzcocks, Titus Andronicus @ Webster Hall
This is an excellent generation-crossing bill for punk, with one of the best bands of the era -- no qualifiers necessary -- Buzzcocks, and one of today's finest bands in the genre, NJ's Titus Andronicus (who have headlined this venue themselves before).
Mineral, Into It. Over It. @ Bowery Ballroom
One of the most beloved bands of emo's late '90s period, Mineral, are back for their first tour in 17 years, and the first tour since the release of their slowcore-leaning classic swan song, EndSerenading. Tonight's the third of four sold-out NYC shows, all of which are opened by newer emo band Into It. Over It.
Skrillex, Evian Christ, Sophie, Lone @ MoMA PS1
It's the final Warm Up of the summer, and one of the best lineups of the season with Kanye collaborator Evian Christ, buzzy dancepop producer Sophie (best known so far for "Bipp" and "Hey QT"), and IDM raver Lone. Plus, special guests are promised. UPDATE: Skrillex is the headliner for the last Warm-Up. Not a joke. Also Forest Swords dropped off.
Evian Christ, Sophie, NGUZUNGUZU, The Deep @ 88 Palace
There's two ways you can keep the party going after Warm Up, this being one...
Lone (Live AV ft Konx-om-Pax), Aurora Halal (DJ Set), Konx-om-Pax (DJ Set) @ Glasslands
...and this being the other.
Fucked Up, Speedy Ortiz, Give @ Irving Plaza
Fucked Up may make highly ambitious punk records, but in a live setting they play like great punk bands always have: fast, loud and rowdy. Indie rockers Speedy Ortiz aren't to miss either, and DC punks Give should be a nice start to the night as well.
The Velvet Teen, Shy Hunters, Sunflower Bean @ Baby's All Right
All three of The Velvet Teen's albums are different, with the indie rock of 2002's Out of the Fierce Parade, the more ballady Elysium (2004), and the frenetic, eccentric sounding Cum Laude (2006). They haven't released a new album since that one, but they're promising that its followup will finally come out this year. Maybe we'll hear some new stuff today.
Fujiya & Miyagi, Zorch @ Brooklyn Bowl
Fujiya & Miyagi's new album, Artificial Sweetners, is their most synth-heavy yet, but otherwise keeps their brand of motorik funk pretty much intact. Their drummer for this tour is onetime Dirty on Purpose rhythm-master, Doug Marvin.
Cayetana, Chumped, Albondigas, Spirit of the Beehive @ Saint Vitus
Cayetana's great debut album comes out next week on Tiny Engines. It's a solid mix of indie rock, punk energy, and folky songwriting that Waxahatchee/Speedy Ortiz fans should find will be up their alley. See them tonight ahead of its release, and it's worth getting there in time for Brooklyn poppy punks Chumped too.
Cerebral Ballzy, Unstoppable Death Machines, Shellshag, Cutters, Sunny Gang @ Brooklyn Night Bazaar
It's another night of free music and not-free food, drinks, arcade games, shopping and more at the Brooklyn Night Bazaar. Tonight's music lineup leans towards the punk side.
BELLS≥, Wedding Dress, Jumpers, Six Acre Lake @ Cake Shop
The Mineral show isn't the only place you can see emo vets in NYC tonight. BELLS≥ (members of Jawbox) and Wedding Dress (members of Joan of Arc and Maps & Atlases) team up at Cake Shop tonight.
California X, Slothrust, Mannequin Pussy, Vomitface @ Death By Audio
California X make sludgy rock that's somewhere between Dinosaur Jr and Torche, and they really shine in a live environment. NYC punks Mannequin Pussy are worth catching too.
Sole, DJ Pain, Pictureplane, Ceschi @ Glasslands
Alt-rapper Sole and his collaborator DJ Pain team with NYC electronic producer/all around fun guy Pictureplane for this show at Glasslands tonight.
Papercuts, Olson, Rydholm and Forester, Michael Nau @ Mercury Lounge
If you dig rainy day baroque pop, Papercuts (the moniker of San Francisco's Jason Quever) do it very well and their new record, Life Among the Savages, is quite good. Opening are Ladybug Transistor offshoot Olson, Rydholm and Forester.
Sir Richard Bishop (of Sun City Girls), Tashi Dorji @ Issue Project Room
Guitar master and Sun City Girl member Richard Bishop plays tonight with Bhutanese guitarist Tashi Dorji.
Loren Connors, Aki Onda, VioletRaid, Silk Purse @ Trans-Pecos
Avant-guitar great Loren Connors has an impressive resume, having collaborated with Thurston Moore, Cat Power, Kath Bloom and others. Catch him solo tonight.
Hollis Brown, Jonny Fritz @ The Lot In Long Island City (FREE)
The Lot in Long Island City is a free, all ages music & film series and today's afternoon entertainment includes country hellraiser Jonny "Corndawg" Fritz.
Ian Hunter and The Rant Band, Wreckless Eric & Amy Rigby @ The Bell House
Mott the Hoople frontman Ian Hunter and Wreckless Eric are both on this bill, which is a pretty cool pairing, and among other things it most likely means we'll get to hear "All the Young Dudes" and "Whole Wide World" at the same show.
Modern Baseball, I Am The Avalanche, Beach Slang @ Stone Pony
Modern Baseball and Beach Slang are two Philly bands who really know how to tap into the feelings of youth (the only difference is the actual ages of the members). Tonight's their second NYC-area show of the weekend, and this one also includes grungy punks I Am the Avalanche.
Aphex Twin album listening party
Get your first chance to hear SYRO at this listening party, location TBA, if you RSVP'd in time and got picked to go.
For all of tonight's shows, and tomorrow's, check out our NYC concert calendar.
For laughs, check out the NYC Comedy calendar too.
-------------
---
Follow @BrooklynVegan on Twitter.
Follow @bvChicago for just Chicago stuff.
Also follow @bvAustin for just Austin stuff.
Be our friend on Facebook too, and BV Austin's friend on Facebook and BV Chicago's friend on Facebook.
Follow BrooklynVegan on instagram.
What else?