What's going on Saturday? (Nick Cave, King Crimson, Wu Tang, Windhand, Kayo Dot, United Waters, Untold, more)
Nick Cave at Prospect Park in July (more by PSquared)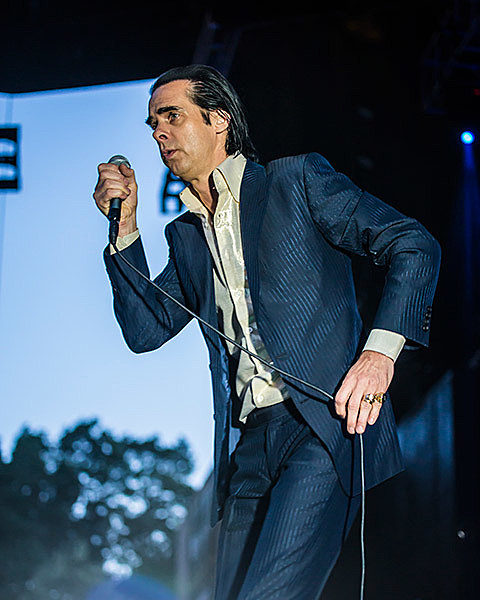 You can browse our full NYC show calendar for all of tonight's shows, but here are some highlights...
Nick Cave @ Town Hall
Nick Cave returns to NYC yet again, for another screening of his semi-documentary 20,000 Days on Earth and a solo live performance. Sold out.
King Crimson @ Best Buy Theater
Robert Fripp's legendary prog band King Crimson are back and for this tour Fripp will be joined by Gavin Harrison (drums), Bill Rieflin (drums), Pat Mastelotto (drums), Tony Levin (bass and vocals), Mel Collins (Sax, flute), and Jakko Jakszyk (guitar, vocals). Crimson's got tons of different styles throughout their long career that dates back to the late '60s, so tonight should be anything but predictable. Third of four shows.
Wu Tang Clan, The Diplomats, Bone Thugs-n-Harmony, Curren$y, Lil Kim, Dom Kennedy @ Barclays Center
It's a stacked bill at Brooklyn's Barclays Center tonight of legendary hip hop from Wu-Tang, Dipset, Bone Thugs-n-Harmony and Lil Kim, plus a couple of the better newer-comers, Curren$y and Dom Kennedy.
The Drums, Beverly, Literature @ Bowery Ballroom
The Drums new album, Encyclopedia, adds some welcome dissonance to their usual helium-fueled surf pop. Tonight's sold out show features two superior indie pop bands: Beverly and Philly's Literature. There's a Sunday matinee show at Rough Trade too.
Backwords, Wild Yaks, Dead Stars, Radical Dads @ Baby's All Right
Backwords have come a long way from their folky beginnings and the band's new album, Nest, is fairly ambitious. They celebrate its release tonight with a very solid lineup of fellow Brooklynites, including classic-style indie rockers, Radical Dads.
Windhand, All Them Witches, Ilsa, Elder @ Saint Vitus
Windhand's doom metal (like most doom metal) is indebted to other bands, especially Electric Wizard, but they've got a sense of melody that makes them genuinely catchy. Their psych-rockin' tourmates All Them Witches are worth catching as well.
Kayo Dot, Islaja, Ill Convoy @ Trans-Pecos
Art metallers Kayo Dot have an insane palette of sounds on their upcoming album, Coffins on Io (obviously), and tonight they'll bring that wacky mix of styles to life at Trans-Pecos.
Kronos Quartet, Natalie Merchant, Rhiannon Giddens, Sam Amidon, Olivia Chaney @ BAM
The "Nonesuch Records at BAM" celebration continues today with an impressive lineup leaning towards the folk side of the spectrum.
Rhett Miller @ City Winery
While his band The Old 97's just released their new album, Most Messed Up, frontman Rhett Miller is in town tonight for this solo show.
Stiff Little Fingers, The So So Glos @ Irving Plaza
Jake Burns has kept the SLF flame alive through myriad lineup changes, though original bassist Ali McMordie is now part of the lineup again. Expect burners like "Suspect Device," "Alternative Ulster" and other favorites.
Yacht, White Fang @ Mercury Lounge
Having just singed to Downtown records, Portland dance duo Yacht will be trying out new material on this tour, plus old favorites too. This is their first of three NYC shows with White Fang. Tonight is sold out.
Those Darlins, Landlady, Heat,The Dirty Nil @ Brooklyn Night Bazaar
It's another night of free music and not-free food, drinks, arcade games, shopping and more at the Brooklyn Night Bazaar. Tonight's a good lineup featuring Montreal's HEAT, Brooklyn's Landlady and Nashville's Those Darlins.
Palomar, The Oranges Band, So Cow, Overlord @ Cake Shop
Palomar have been around since the late '90s and have outlasted all sorts of other more hyped Brooklyn bands and scenes, putting out quality indie rock LP after quality indie rock LP. Tonight they play with another longrunning indie band, The Oranges Band, and Ireland's So Cow. That's a good show!
The Gooch Palms, Ed Schrader's Music Beat, New England Patriots, Mr. Transylvania @ Death By Audio
Seemingly every garagey/psych Australian band are on tour in the US right now, and tonight NYC gets Newcastle duo The Gooch Palms, their second of two shows here. DbA mainstays Ed Schrader's Music Beat are also a welcome addition to this lineup.
The Hacker, UNTOLD, Helix, Hank Jackson, Octo Octa @ 88 Palace
UK electronic musician Untold has put out tons of impressive material over the past few years, and had a hand in starting the post-dubstep movement, including an early association with James Blake. Tonight he's in NYC.
Javelin, Ejecta, The Great Void @ Glasslands
Avant-pop band Javelin team up with the Neon Indian-related and nudity-lovin' Ejecta tonight for this show at Glasslands.
The Dandy Warhols, Bonfire Beach @ Music Hall of Williamsburg
Celebrating their 20th anniversary as a band this year, snarky psych-pop band The Dandy Warhols play their second of two MHOW shows tonight.
The Cave Singers, Ghost Pal @ Rough Trade
Folk rockers The Cave Singers return to NYC for two shows this weekend, this being the second.
Avi Buffalo @ Rough Trade (2 PM, free)
After taking time off for life stuff, Avi Buffalo is back with his second album, At Best Cuckold, which is another charming, cleverly arranged dose of acoustic-y indiepop. This is a free afternoon show (2 PM) and all ages.
United Waters, Samara Lubelski @ Silent Barn
NY's United Waters (the project of ex-Mouthus member Brian Sullivan) put out their album Sunburner earlier this year on Bathetic (the label Angel Olsen used to be on), and it's 8 tracks of good pop songwriting covered by a hazy coat of lo-fi. Samara Lubelski, who played in Chelsea Light Moving with Thurston Moore and several other projects, is on the bill too.
Doom, Hard Skin, EEL, Crimson Scarlett, Kicker, Nomad @ The Wick
Brooklyn's Burning continues today with UK crust vets Doom headlining, along with Oi!-sters Hard Skin, PE-infused punks EEL, dark punks Crimson Scarlett, the Neurosis/Filth/Dystopia-related Kicker, and Brooklyn noisecore rippers Nomad.
Steely Dan @ Capitol Theatre
Donald Fagen and Walter Becker bring Steely Dan's "Jamalot Ever After" tour to The Capitol Theatre . Wear your bad sneakers if you like, but we have a feeling they don't serve pina coladas there.
The Sugarman 3, Naomi Shelton & Gospel Queens, Daptone Records (DJ set) @ The Lot In Long Island City
The Lot in Long Island City is a free, all ages music & film series and today's afternoon entertainment features classic R&B/soul.
Jonny Greenwood (of Radiohead performing the score to "There Will Be Blood") @ United Palace Theatre
Paul Thomas Anderson's 2007 film There Will Be Blood makes its "live" premiere tonight and the event includes Radiohead guitarist Jonny Greenwood performing his score along with help from the 50-piece Wordless Music Orchestra. This is night 2.
Bill Frisell @ Lincoln Center
Guitarist extraordinaire Bill Frisell, who'll soon be out playing shows with Sam Amidon, is with the Big Sur Quintet tonight, working work entirely from Woodie Gurtherie's catalog.
Dita Von Teese @ Gramercy Theatre
Burlesque star Dita Von Teese hits NYC for five nights as part of her "Burlesque: Strip Strip Hooray!" production. This is the final night.
Eugene Mirman Comedy Festival @ Bell House
The EMCF has two shows at The Bell House tonight: the always popular Pretty Good Friends, and then later one called "You Never Know Who Might Drop By." Both are sold out.
For all of tonight's shows, and tomorrow's, check out our NYC concert calendar.
For laughs, check out the NYC Comedy calendar too.
-------------
---
Follow @BrooklynVegan on Twitter.
Follow @bvChicago for just Chicago stuff.
Also follow @bvAustin for just Austin stuff.
Be our friend on Facebook too, and BV Austin's friend on Facebook and BV Chicago's friend on Facebook.
Follow BrooklynVegan on instagram.
What else?