What's going on Thursday? (Ariel Pink, Real Estate, Danny Brown, Ausmuteants, AGBPOL, Krill, Mitski, Jungle & more)
Ariel Pink at Mexican Summer 5 (more by PSquared)

Real Estate at FYF 2014 (more by Adela Loconte)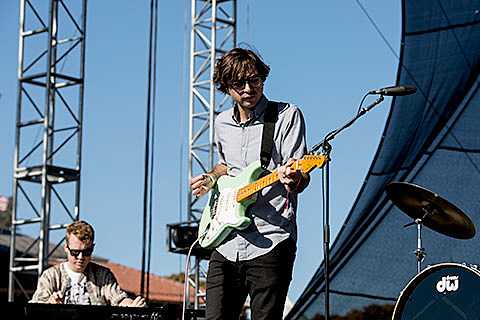 You can browse our full NYC show calendar for all of tonight's shows, but here are some highlights...
Ariel Pink, Puro Instinct @ Baby's All Right
Ariel Pink's new double album, pom pom, is eccentric even by his own out-there standards ("Dinosaur Carebears" will test the skip-button desires of many) but it also contains some wonderful pop. Hear it all (or most of it) live tonight at the late-start show with Puro Instinct as DJs.
Real Estate, Peaking Lights, Regal Degal, Tom Scharpling (DJ set) @ Terminal 5
NJ janglers Real Estate play their biggest NYC show yet, with strong support from LA dance-dub duo Peaking Lights, and Brooklyn artrockers Regal Degal. WFMU-DJ-turned-indie-rock-video-director Tom Scharpling spins tunes in between set (or something).
Hercules and Love Affair (live) @ Verboten
Hercules & Love Affair released their new album, The Feast of the Broken Heart, back in May. Guests on this one include John Grant who provides vocals on two tracks, including single "I Try To Talk To You." Tonight's an actual live set from the band, not a DJ gig.
Ausmuteants, Deaf Wish, Pampers, Degreaser @ Death By Audio
If you like your punk on the arty side and aren't against some keyboards, tonight's a killer lineup at DbA. Australian band Ausmuteans and Deaf Wish headline and Brooklyn bashers Pampers and Degreasers open.
Odesza, Hayden James, Ambassadeurs @ Bowery Ballroom
Electronic duo Odesza keep moving up in the world and this week they return to NYC for their two biggest headlining shows here so far, both of which are sold out. This is the first, MHOW tomorrow.
Jungle, Beaty Heart @ Irving Plaza
Enigmatic when it comes to press shots and music videos, UK dance act Jungle are a seven-or-eight piece band live, more than capable of bringing the grooves to the stage, even if maybe all their songs sound exactly alike.
A Great Big Pile Of Leaves, Diamond Youth, Prawn, Field Mouse @ The Studio At Webster Hall
This is the NYC stop of the Topshelf Records tour, which shows how diverse that label has really became. AGBPOL make Minus the Bear-y math pop, Diamond Youth have kind of a QOTSA-meets-Weezer thing going on, Prawn do Kinsella-style emo, and Field Mouse make shiny '90s-style alt pop.
Krill, Sorority Noise, Told Slant, Pinegrove @ Shea Stadium
Cool bill at Shea tonight with quirky indie rockers Krill, emo-y indie rockers Sorority Noise, and the emotional but not emo-y Told Slant.
LVL UP, Crying, Brunch, Mitski @ Silent Barn
A similarly-styled show to the Shea show goes down at Silent Barn with '90s-style rockers LVL UP, chiptuners Crying, ex-Krill drummer's new band Brunch, and art pop songwriter turned lo-fi ace, Mitski.
Geryon, Gates (Toronto), Oneirogen, New Firmament @ Trans-Pecos
Invisible Oranges is presenting this show that includes two of the better local metal bands, Geryon and Oneirogenm plus Toronto's Gates and ex-Extra Life band New Firmament.
Danny Brown @ Sonos Studios
Danny Brown not only makes killer rap albums but he has a super excitable live show that's partially due to his love of trap/EDM beats. You had to RSVP for this show and that's now closed.
House Party ft. Danny Brown, Just Blaze, DJ Soul, Electric Punany @ Webster Hall
After the Sonos show, Danny will join Just Blaze at his weekly House Party at Webster Hall to keep the party going late. As always, House Party starts at 10 PM.
Rakim, Slick Rick @ Stage 48
Two undeniable legends of hip hop, Rakim and Slick Rick, team up at Stage 48 tonight. Expect a show chock full of the classics.
Delta Spirit, Peter Matthew Bauer @ Music Hall of Williamsburg
The folk rockin' Delta Spirit put out a new album, Into The Wide, earlier this month and tonight they're on the third of three nights in NYC in support of it. Making this one even better, The Walkmen's Peter Matthew Bauer, who's got a solid solo record out, is opening. Like the last two, tonight's is sold out.
Letherette, Girl Unit, Eli Escobar, Cry Baby @ Output
Good lineup all around for Output's always-impressive weekly INPUT party tonight. There's NInja Tune's Letherette and Night Slugs' Girl Unit, plus solid local house producer Eli Escobar and Cry Baby of NYC's House on Mute party.
Dan'l Boone, Yellow Tears, Ligature @ Saint Vitus
Dan'l Boone have members of Royal Trux, Wolf Eyes, AIDS Wolf and more, and if you're into those bands you probably have an idea of what to expect from Dan'l Boone. Their new record came out last week on Drag City and tonight they're in NYC to celebrate with the urine-soaked Yellow Tears and Christopher Hansell's Ligature project.
Cro-Mags, Ensign, Real Cops, White Collar Crime LLC, School Drugs @ Asbury Lanes
NYC crossover vets Cro-Mags play their hometown tomorrow, but if seeing them in Asbury Park is more your thing (or you've just gotta catch them twice), here's your chance.
Chalk and Numbers, Souvenir Stand, Pale Lights, The Meaning of Life @ Cake Shop
A good evening of indiepop tonight with girl group-y Chalk & Numbers, the Felt/Lloyd Cole-esque jangle of Pale Lights and more.
Woman's Hour @ Mercury Lounge
UK band Woman's Hour make ethereal, melancholic soul and their debut album is a nice listen. UPDATE: This is actually cancelled and tomorrow's Rough Trade show appears to be also.
Black Flag were supposed to play Grand Victory tonight but that show has been cancelled.
For all of tonight's shows, and tomorrow's, check out our NYC concert calendar.
For laughs, check out the NYC Comedy calendar too.
-------------
---
Follow @BrooklynVegan on Twitter.
Follow @bvChicago for just Chicago stuff.
Also follow @bvAustin for just Austin stuff.
Be our friend on Facebook too, and BV Austin's friend on Facebook and BV Chicago's friend on Facebook.
Follow BrooklynVegan on instagram.
What else?