What's going on Friday? (Superheaven, Obnox, Lightning Bolt, Tri Angle 5, Downtown Boys, Poison the Well, more)
photo: Superheaven at Webster Hall in 2014 (more by Mimi Hong)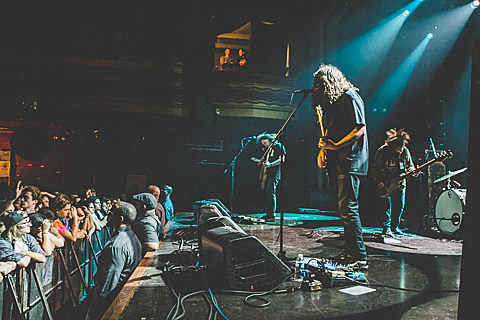 You can browse our full NYC show calendar for all of tonight's shows, but here are some highlights...
Superheaven, Diamond Youth, Rozwell Kid, Soda Bomb @ The Studio at Webster Hall (BV Presents)
Superheaven's new album Ours Is Chrome dropped last week, and if you're looking for a new band with alt-rock bangers like "Cherub Rock" and "Everlong," look no further. BrooklynVegan is proudly presenting this whole tour (with other '90s-ish band Diamond Youth and Rozwell Kid), and BV's Andrew Sacher is DJing this show.
Tri Angle Records 5th Anniversary w/ The Haxan Cloak, Evian Christ, Holy Other, Vessel, Forest Swords, Boothroyd, mssingo, Lotic, Rabit, Hanz and special guests @ 23 Wall Street (RBMA)
Tri Angle Records was initially tied to that short-lived "witch house" thing, but as that fad died the label didn't stop becoming a home for excellent forward-thinking electronic music. They've been doing it for five years now, and tonight they celebrate with a big party on Wall Street with a lot of their roster.
Crosby, Stills and Nash @ Kings Theatre
Folk rock as we know it wouldn't be the same without Crosby, Stills & Nash, who continue to inspire new groups and whose classic material still sounds timeless. Tonight's their first of two shows at Brooklyn's newly-reopened Kings Theatre.
Lightning Bolt, Zs, Dan Friel @ The Wick
Lightning Bolt returned this year with their sixth album, and it has them sounding as chaotic and noisy as ever. They continue to put on the kind of wild live shows that you just have to see to believe, and tonight's sold-out gig is a good bill all around with two other regulars in the noise/avant-garde scene, Zs and Dan Friel (ex-Parts & Labor).
Poison The Well, Code Orange @ Music Hall of Williamsburg
Poison the Well hailed from the late '90s post-hardcore scene, and they continued making forward-thinking music into the 2000s, as many bands in that style went in a more commercial direction. They broke up in 2010 but now they're back for Skate & Surf in Asbury Park this weekend and tonight's NYC show. If you're going, Code Orange are definitely not to miss.
Prinze George, Teen Commandments, Clementine & The Galaxy @ Rough Trade
NYC trio Prinze George make soulful synthpop that manages to be anthemic without relying on too much "whoa-oh"-ing. Their eponymous EP which came out back in March.
James Chance, Patrick Higgins w/ projections by Nuit Blanche, Victoria Keddie w/ live video composition by ESP TV, Lost Soul Enterprises DJs @ You Are Here Festival
Ever wanted to see a bunch of bands play inside a giant maze on the roof of the former Dia Center building? Well you're in luck, as the You Are Here Festival does just that. It's part of the SELECT Art Fair, and tonight's headlined by no wave icon James Chance.
Polaris, Rocket and the Ghost @ Highline Ballroom
Mark Mulcahy took a break from his band Miracle Legion to make music for kids show The Adventures of Pete & Pete and ended up writing another batch of great songs. Polaris never really played much back in the day so Mulcahy revived them for a few shows. See 'em while you can.
Endless Boogie, Obnox, PC Worship, Rips @ Cake Shop
Cake Shop continues its month-long 10th anniversary celebration with this "super show" featuring the perfectly named Endless Boogie, the fuzzrock soul of Obnox, arty noisemakers PC Worship and shoegazy Rips.
Yonatan Gat, Your 33 Black Angels, Jerry Paper, Andy Boay @ Aviv
The former Monotonix man is in midst of a four-week residency at DIY spot Aviv and tonight's edition is another good one with oddball Jerry Paper, Tonstartssbandht's Andy Boay and hard-to-define Your 33 Black Angels.
Chain and the Gang, Future Punx, OCDPP @ Baby's All Right
Ian Svenonius' current outfit Chain & the Gang recently released new LP, Minimal Rock n' Roll and, while it purposefully lacks production flourishes, it's got no shortage of style and attitude.  This is a good bill all-around with new wave-y Future Punx and OCDPP (aka OJ from Xray Eyeballs, Cassie Ramone and Dee Dee of Dum Dum Girls).
Breakdown Brass Band, Gedeon Luke and The People, Saun and Starr @ Brooklyn Night Bazaar
We were super bummed to hear Brooklyn Night Bazaar lost it's lease and will have to be out by the end of May. But there are still some good times left, so take in the mini golf, ping pong, beer, snacks and music. Tonight head their to see new Daptone act Saun and Starr (who used to sing backup for Sharon Jones).
Chui Wan, The Flavor Crystals @ Baby's All Right
Bejiing  band Chui Wan made their way to the US to play Levitation in Austin where their abstact, proggy stood out amongst the more traditional psych at the fest.
Matt Pond PA, Young Buffalo @ Bowery Ballroom
Matt Pond PA's been all about those tenth anniversaries lately. Last year he played Emblems in full on tour to celebrate 10 years, and this year he's doing the same for Several Arrows Later.
Downtown Boys, In School, The Homewreckers @ Palisades
Downtown Boys just released their politically-charged, saxophone-fueled debut album Full Communism on Don Giovanni. It's a really good record but this is the kind of band that's really best experienced live, which you can do at tonight's release show.
Eskimeaux, Jawbreaker Reunion, Emily Reo, Sharpless, Free Cake For Every Creature @ Shea Stadium
Eskimeaux hails from the current scene of Northeast DIY bands (as does the rest of this bill). But going by the subtle intricacies and strong pop sensibilities of her new album OK on Double Double Whammy, she sounds destined to break out of it. Tonight's the release show for that album.
Ende Tymes Festival @ Silent Barn
NYC's "festival of noise and abstract liberation" continues tonight with Work/death, Developer, Metalux, KHF, Gordon Ashworth, Don Dietrich & C. Spencer Yeh, and many more.
Matt & Kim, WATERS @ Terminal 5
Matt & Kim have come a long way from their roots playing Todd P shows, and today the poppy duo headline their second of two sold-out nights at the huge Terminal 5. The '90s rock-inspired WATERS open.
Jane's Addiction, A Place to Bury Strangers @ Starland Ballroom
Veteran alt-rock outfit Jane's Addiction are playing their 1988 major label debut, Nothing's Shocking, and if you're going, do check out longtime Brooklyn noisemakers/guitarthrowers A Place to Bury Strangers.
Psychedelic Furs, Black English @ The Paramount
It's still okay to dance like Molly Ringwald, especially when seeing Richard and Tim Butler's veteran alt-rock group trot out on the hits. "Love My Way," "Into You Like a Train," and "President Gas" still sound great.
For all of tonight's shows, and tomorrow's, check out our NYC concert calendar.
For laughs, check out the NYC Comedy calendar too.
-------------
---
Follow @BrooklynVegan on Twitter.
Follow @bvChicago for just Chicago stuff.
Also follow @bvAustin for just Austin stuff.
Be our friend on Facebook too, and BV Austin's friend on Facebook and BV Chicago's friend on Facebook.
Follow BrooklynVegan on instagram.
What else?