What's going on Friday? (Governors Ball, White Lung, Little Dragon, BC Camplight, Tyondai Braxton, Hysterese & more)
photo: White Lung at Fuji Rocks 2014 (more by Erina Uemura)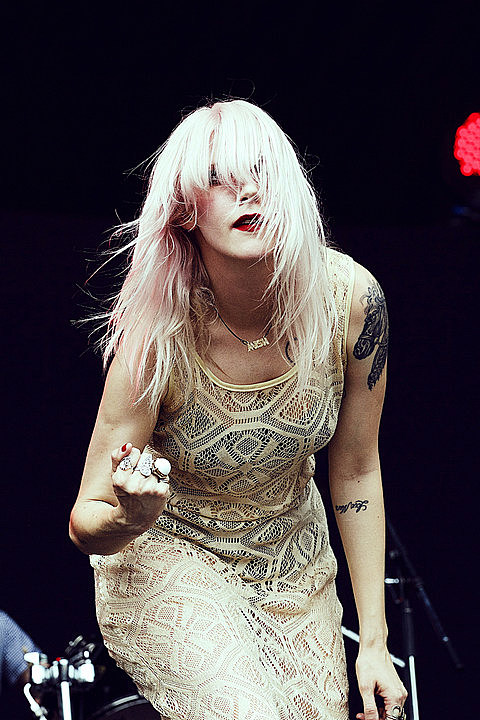 You can browse our full NYC show calendar for all of tonight's shows, but here are some highlights...
Governors Ball
It's the first day of annual three-day NYC festival Governors Ball on Randall's Island, and today's lineup is pretty solid with sets from Drake, Florence + the Machine, My Morning Jacket, St. Vincent, The Decemberists, Ratatat, Death From Above 1979, DIIV, Rae Sremmurd and more.
White Lung, Obliterations @ Knitting Factory
White Lung bring complexity and accessibility to punk without breaking the formula of short, loud, fast songs. It's some of the best stuff this genre has to offer right now. This is one of the GovBall afterparties so it's a late show (midnight) and also includes LA Southern Lord-signed hardcore band Obliterations (not to be confused with Norwegian Relapse-signed death metal band Obliteration).
Little Dragon @ Brooklyn Bowl
Yet another of the Governors Ball After Dark shows tonight, here's a chance to catch Swedish pop band Little Dragon in much smaller confines than usual, and play a few frames too. Sold out.
BC Camplight, The Rally, Tall Juan @ Rough Trade
Brian Christinzio has been making lightly psychedelic pop as BC Camplight for ten years or so, having released two albums in the late '00s. He was also in an early incarnation of The War on Drugs and played on Sharon Van Etten's Epic. He left the US for Manchester, England -- a move reflected in How to Die in the North, the first BC Camplight album in eight years, which came out via Bella Union earlier this year. Owing a little to Brian Wilson, '70s soft rock / singer-songwriters, and other influences, it's an ambitious, likeably weird record.
SBTRKT (DJ Set), Nick Hook, Dan Wender, Blacky II @ Verboten
This is still another GovBall afterparty(11 PM doors), and one that will keep you dancing all night long with SBTRKT in the DJ booth.
Atmosphere, Bishop Nehru @ Irving Plaza
Veteran alt-rap duo Atmosphere return to NYC, and making it a great double bill is promising Brooklyn newcomer Bisho Nehru. Why yes, this IS also a Governors Ball After Dark show (11:30 PM start).
People Under the Stairs @ Music Hall of Williamsburg
Giving Atmosphere some competition is another underground hip hop group, People Under the Stairs, playing their own GovBall after show at the same time at MHOW.
Jedi Mind Tricks @ Bowery Ballroom
Whether or not you decide to hit Atmosphere or People Under the Stairs later on, underground rap fans can start their night off at Bowery Ballroom for Jedi Mind Tricks. The duo of Stoupe and Vinnie Paz are back together for the first time since Stoupe left in 2011, and they put out a new album this week.
Hysterese, Pleasure Industry, The Brass @ The Place
Germany's Hysterese make what you could accurately call pop punk, but in a rawer sense, kind of like The Marked Men. They're also darker than that band, but not at the expense of hooks. Tonight's their first-ever NYC show.
Guerilla Toss, Loud Boyz, Jackie @ Roll Up Motorcycle Garage
Bushwick Open Studios is throwing a party at Roll Up Motorcycle Garage tonight which exhibits photographs, illustrations, paintings and more from several local artists. There's also live music from art punks Guerilla Toss, garage punks Loud Boyz, and Jackie. It's free, and there's free food and booze too.
The Casualties, I.R.A., Iron Force, Agitator @ Acheron
Fresh off a big NJ show opening for D.R.I., NYC street punk vets The Casualties take over their hometown tonight with this much smaller Bushwick show.
Max's Kansas City 50th Anniversary Reunion @ Bowery Electric
Legendary now-closed NYC punk venue Max's Kansas City continues its 50th anniversary celebration tonight at the current home of many '70s-era NYC punks, Bowery Electric. Tonight's lineup has The Waldos, Testors (the original lineup featuring Sonny Vincent), New York Junk, Luigi & the Wiseguys and Love Pirates, with Bill Popp & the Tapes playing in the Map Room. There's also MC Jimi Lalumia, DJ Rob Select, and cameos by Steve Dior and Tammy Faye Starlight reprising her acclaimed off-broadway performance as Nico.
Dead Stars, Pet Sun, Monograms, The Glazzies @ Cake Shop
Dead Stars are celebrating the release of their new single "Calm Punk" which is another fine example of the band's fuzzy, hooky love of '90s indie rock.
Gramercy Arms @ HiFi Bar
Led by Dambuilders frontman Dave Derby, Gramercy Arms make classic, '70s-style pop with a rotating cast of guests. 2014's The Season of Love featured Tanya Donelly, Lloyd Cole, Doug Gillard and more...so who knows who might show up for this FREE show.
Tyondai Braxton @ The Kitchen
Originally performed at the Guggenheim in 2013, Braxton's Hive1 is "part architectural installation and part ensemble performance with five musicians sitting cross-legged atop their own space-age oval pods."
The Woggles, The Swingin' Neckbreakers, Muck and the Mires, Games @ Grand Victory
Georgia garage-rock revivalists The Woggles, who've been reviving garage rock for nearly 30 years, are known for their crazed stage show and stomping tunes. They still pack a punch. Opening this bill are Brooklyn's Games who make Nerves-style powerpop.
Ian Hunter and The Rant Band, A Thousand Mothers @ The Bell House
Seventy-six and still going strong, onetime Mott the Hoople frontman brings with him over forty years of songs.
For all of tonight's shows, and tomorrow's, check out our NYC concert calendar.
For laughs, check out the NYC Comedy calendar too.
-------------
---
Follow @BrooklynVegan on Twitter.
Follow @bvChicago for just Chicago stuff.
Also follow @bvAustin for just Austin stuff.
Be our friend on Facebook too, and BV Austin's friend on Facebook and BV Chicago's friend on Facebook.
Follow BrooklynVegan on instagram.
What else?