What's going on Friday? (Neko Case, The Very Best/Heems, Paul Weller, Holydrug Couple, Ex Hex, Fred Thomas, more)
photo: Neko Case with New Pornographers @ Hammerstein 2014 (more by Chris La Putt)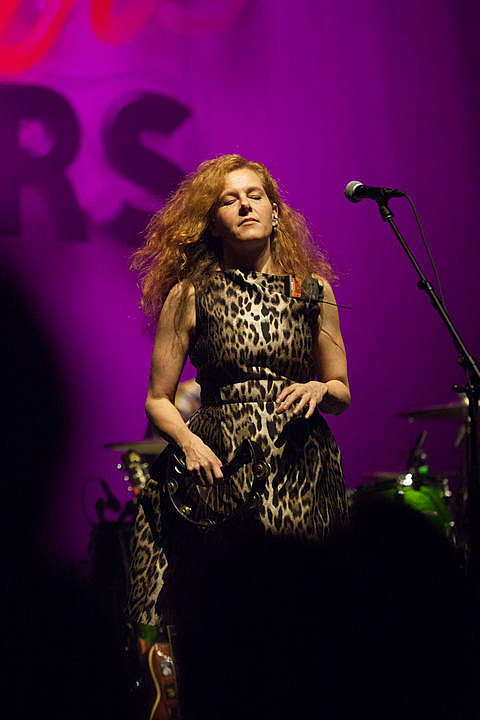 You can browse our full NYC show calendar for all of tonight's shows, but here are some highlights...
The Northside Festival's four-day takeover of North Brooklyn is in full swing today with basically every venue in Williamsburg, Greenpoint and Bushwick involved. There are lots of shows but we've highlighted our picks here -- noted by the "(Northside)" in the event name. You can browse our full NYC show calendar for all of tonight's shows.
Neko Case, Rhye, Majical Cloudz @ 50 Kent (NORTHSIDE)
It's the first of three big 50 Kent shows happening during Northside, and the artists on tonight's lineup all have ties to Canada: songwriter (and New Pornographer) Neko Case, R&B duo Rhye and, intense Montreal duo Majical Cloudz.
Paul Weller, Hannah Cohen @ Terminal 5
With nearly 30 years of songwriting under his belt, including new album Saturns Pattern, the onetime Jam and Style Council frontman has a lot of classics to choose from. He's still a diamond geezer.
Bad Religion, Plague Vendor @ Bowery Ballroom
Bad Religion are on the final night of their sold-out four-night NYC run, and this show has them playing all material from the 21st century. Epitaph-signed gothy garage punks Plague Vendor open.
Ex Hex, Spider Bags @ Music Hall of Williamsburg (NORTHSIDE)
Indie rock vet Mary Timony unleashes her inner rock star with power trio Ex Hex, making killer glammy power pop. Tonight is also with their Merge labelmates Spider Bags.
JEFF The Brotherhood, Weird Womb, Ice Balloons @ The Wick
Having been unshackled by Warner Brothers earlier this year, JEFF released their riff-rockin' new album themselves via Infinity Cat. It will be weird not having the option to see them at Death by Audio on this tour, but The Wick should be a fun substitute.
The Holydrug Couple, Hubble, LODRO @ Alphaville (NORTHSIDE)
Chilean psych duo The Holydrug Couple released their new album, Moonlust, in May via Sacred Bones. The new album was recorded in Chile, and then mixed in Brooklyn by The Men's Ben Greenberg and is a somewhat new direction for the band, with Serge Gainsbourg's soundtrack work being an admitted influence.
Fred Thomas, Gun Outfit, Mitski, Dreamcrusher @ Saint Vitus Bar (NORTHSIDE)
Tonight Vitus hosts the first of two Pitchfork Northside showcases, and this one's got the highly lyrical Fred Thomas (of Saturday Looks Good To Me), punk-spirited slowcore band Gun Outfit, artful/powerful songwriter Mitski, and the noisy Dreamcrusher.
Bongzilla, Crypt Sermon, Hasj @ Acheron
Stoner doom greats Bongzilla broke up after their 2005 album, but after a 2008 Wisconsin one-off, the band are finally back for more dates this year including their long-awaited return to NYC. Making this show extra great, it's the first NYC appearance for Philly trad-doomers Crypt Sermon since the release of their excellent debut album on Dark Descent earlier this year.
Beach Fossils, Frankie Cosmos, Jerry Paper, Warehouse @ Rough Trade (NORTHSIDE)
This is the Bayonet Records showcase, featuring Beach Fossils (frontman Dustin Payseur runs the label with his wife, Katie), twee-ish singer Frankie Cosmos, eccentric performer Jerry Paper, and Atlanta indie rockers Warehouse.
Alden Penner (of The Unicorns), Michael Cera, Small Black (DJ Set) @ Knitting Factory (NORTHSIDE)
Unicorns member Alden Penner has another solo release on the way soon, and it features a collaboration with actor/musician Michael Cera, who's already collaborated more than once with another Unicorn, Nick Thorburn. Cera's playing with Alden tonight, and he also recently dropped a solo album and will play some stuff from that too.
Mono, Holly Hunt @ Le Poisson Rouge
Japanese band Mono have been making massive post rock for years, most recently on the two albums, The Last Dawn and Rays of Darkness, which came out on the same day last November.
Sleepies, Clean Girls, Vulture Shit, Mannequin Pussy, Wildhoney, Kindling, Kal Marks, Palm, Washer, Nonsense, DONE @ Aviv (NORTHSIDE)
For a very big bill of indie rock, punk, shoegaze, and more in that general realm, head to Aviv for the Exploding In Sound/Gimme Tinnitus/Ipsum showcase.
Tyler, The Creator, Taco @ Irving Plaza
The always-ridiculous Tyler the Creator returns to NYC tonight with his pal Taco. What kinds of antics will he have in store for us tonight?
The Very Best, Heems, Irie Mafia, Jacco Gardner, Oy, Sevdaliza, St. Grandson @ McCarren Park (NORTHSIDE)
This show is free with RSVP, and there's a lot of cool diverse music from local rapper Heems, UK-based Afro dance pop group The Very Best, Dutch '60s-style psych musician Jacco Gardner, and more.
Ben Nichols & Rick Steff of Lucero @ The Shop
While Lucero aren't hitting NYC on their upcoming tour, Ben & Rick from the band will be here tonight to strip things down as a duo. Their slower acoustic songs are as great as their rowdy songs, so this show should be pretty special.
Prince Rama, Moon Bounce, The Midnight Hollow, Evvy, Teen Girl Scientist Monthly @ Baby's All Right (NORTHSIDE)
Space age / new age duo Prince Rama are out there, but in a totally fun way, bringing lots of interactive elements (and kitschy fun) to their performances. They highlight this FREE Northside show.
Ducktails @ Elvis Guesthouse
Matt Mondanile's solo project, Ducktails, is not too different than his main band, Real Estate, making jangly guitar pop. A new album is out soon via Domino and he'll be touring with the Ducktails band later this year, but tonight is a solo show, and is free.
Drenge, Made Violent @ Knitting Factory (NORTHSIDE)
Falling somewhere between post-Nirvana grunge and early '00s garage revival, UK duo Drenge are adored by the British music press. The US has been slower to woo.
Wild Yaks, Violent Bullshit, Youthquake, Gozer @ Grand Victory (NORTHSIDE)
The Yaks aren't the only Wild on this bill -- the very fun Violent Bullshit play old school hardcore. This will be a sweaty show.
Coliseum, Sex Cross, Psychic Teens @ Asbury Lanes
Coliseum's new album, Anxiety's Kiss, has them expanding upon their consistently great post-hardcore/heavy punk formula, adding in new musical ground like the desolate psychedelia of "Driver At Dusk." They recently played NYC, and tonight are nearby in Asbury Park.
Ryan Hemsworth, Tommy Kruise, Jubilee @ Palisades (NORTHSIDE)
Pop/rap producer Ryan Hemsworth returns to NYC this weekend for two shows, this being the first.
Max Silvestri, Mike Lawrence, Brooke Van Poppelen, Brett Davis, Joseph Pera, host Seth Olenick @ Over The Eight
Seth Olenick, author of comedy photo hook Funny Business, put together free show tonight with a handful of very funny local comedians. 8 PM start.
For all of tonight's shows, and tomorrow's, check out our NYC concert calendar.
For laughs, check out the NYC Comedy calendar too.
-------------
---
Follow @BrooklynVegan on Twitter.
Follow @bvChicago for just Chicago stuff.
Also follow @bvAustin for just Austin stuff.
Be our friend on Facebook too, and BV Austin's friend on Facebook and BV Chicago's friend on Facebook.
Follow BrooklynVegan on instagram.
What else?