What's going on Monday? (Juicy J, Songhoy Blues, Bully, Amy Schumer 'Trainwreck' tour, Heartless Bastards & more)
photo: Juicy J @ Terminal 5, 2014 (more by Chris La Putt)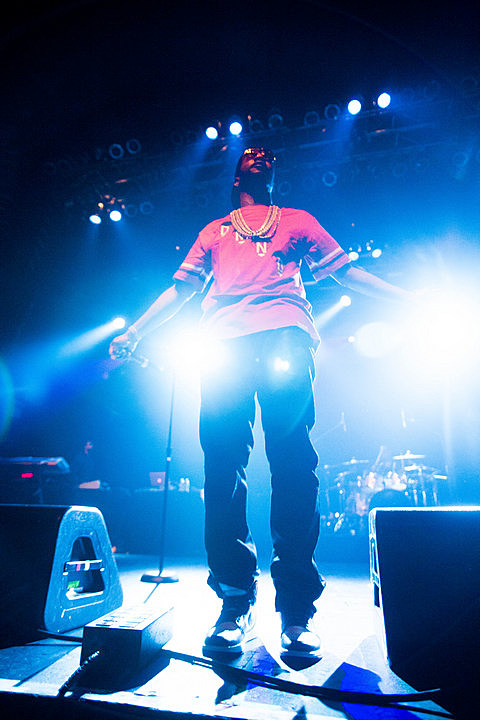 You can browse our full NYC show calendar for all of tonight's shows, but here are some highlights...
Juicy J, Isaiah, Ben James @ Irving Plaza
Juicy J's got a new album called THC: The Hustle Continues on the way, and while we're still waiting for more details on that, we did recently get a new mixtape. He's been crazy prolific lately, and touring a lot too. The hustle does in fact continue.
Songhoy Blues, Las Rosas @ Rough Trade
Songhoy Blues fled their home of Northern Mali when armed Jihadists took control and banned music altogether. In the Southern Mali city of Bamako, they caught the attention of Damon Albarn who was there in 2013 with his traveling "Africa Express" project that brought Western musicians (like Nick Zinner and members of Django Django and Metronomy) to Mali to collaborate with local musicians. Zinner ended up producing and playing on Songhoy Blues' debut album, Music in Exile, and he brings a nice grit to their sound. They are an exuberant live band and definitely worth catching.
Heartless Bastards, Craig Finn @ Webster Hall
Bluesy garage rockers team up with Hold Steady frontman Craig Finn tonight for this quality double bill.
David Liebe Hart, Pocket Hercules, Hiccup @ Shea Stadium
Headlining this show is Tim & Eric affiliate David Liebe Hart, and if you're going we also recommend getting there early for Hiccup, who include two members of The Chris Gethard Show house band.
Chris Gethard, Mal Blum @ Union Hall
Speaking of, it's Chris Gethard's second of two Career Suicide shows at Union Hall, which will have "an hour of stand up focusing on suicide, alcoholism, and all the other funniest parts of life." Singer/songwriter Mal Blum, who's Don Giovanni labelmates with and a collaborator of Chris, is on the bill too.
Lushes, Tropical Trash, Jaye Jayle, Center Divider @ Saint Vitus
Local experimental rockers Lushes headline this show, but most exciting is Jaye Jale, the solo project of Young Widows frontman Evan Patterson.
Small Wonder, Tall Juan, Haybaby, Mykil Love @ Knitting Factory
This is a pretty cool, diverse local bill with Epoch member Small Wonder, garagey folk popsters Tall Juan, and Tiny Engines-signed punky pop band Haybaby.
Bully @ Rough Trade
Bully just played Northside and they're sticking around for this free show at Rough Trade. It's all ages and doors are at 6:30 PM and the show is at 7 PM.
Amy Schumer, Judd Apatow, Colin Quinn, Mike Birbiglia, Vanessa Bayer. Dave Attell @ Beacon Theatre
Amy Schumer's new movie Trainwreck isn't out till July 17 but you can catch her and the film's co-stars (and director, Judd Apatow) as part of this traveling comedy tour.
Night Train w/ Wyatt Cenac @ Littlefield
All aboard Wyatt Cenac's weekly comedy caravan, this time with guests Adam Newman, Alingon Mitra, Kara Klenk, Daniel Simonsen, Cliff Cash, "and more!"
Dean Ween Group @ The Heath at the McKittrick Hotel
While his onetime bandmate Aaron Freeman has reverted to his own name for a solo career, Mickey Melchiondo still goes by Dean Ween and his group maintains of love of the jam.
For all of tonight's shows, and tomorrow's, check out our NYC concert calendar.
For laughs, check out the NYC Comedy calendar too.
-------------
---
Follow @BrooklynVegan on Twitter.
Follow @bvChicago for just Chicago stuff.
Also follow @bvAustin for just Austin stuff.
Be our friend on Facebook too, and BV Austin's friend on Facebook and BV Chicago's friend on Facebook.
Follow BrooklynVegan on instagram.
What else?