What's going on Sunday? (Pride March, Contemporary Color, Two-9, TMBG, Stardust fest, Broken Water, Kal Marks & more)
2014 NYC Gay Pride March (more by Amanda Hatfield)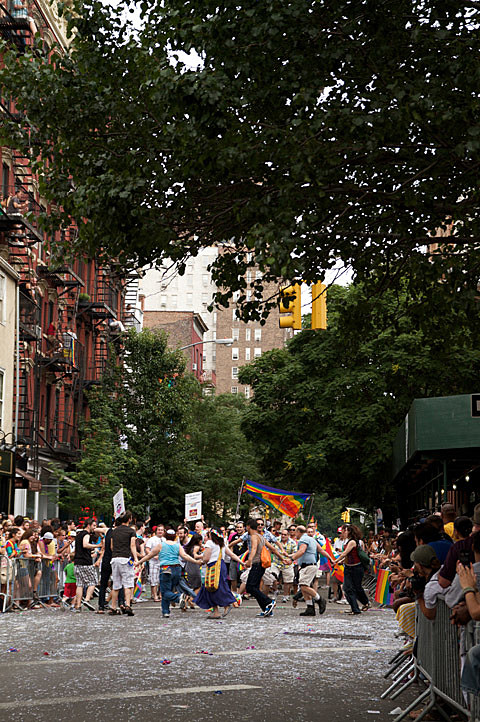 You can browse our full NYC show calendar for all of tonight's shows, but here are some highlights...
NYC Pride March & Dance on the Pier
With Friday's historic Same Sex Marriage ruling, Pride levels are at an all-time high. Expect massive crowds at today's March and Dance on the Pier finale.
Contemporary Color @ Barclays Center
David Byrne's high-concept extravaganza Contemporary Color matches Blood Orange, Nelly Furtado, How To Dress Well, Kelis, St. Vincent, Nico Muhly (and Ira Glass), tUnE-YaRds, Money Mark, Ad Rock and more to high school color guards. It debuted in Toronto earlier this week to rave reviews and this is the second of two nights at Barclays.
They Might Be Giants @ Music Hall of Williamsburg (2 matinees)
TMBG's whimsically odd sense of humor was a natural match for kids and when they finally got around to making actual childrens' records, it was an instant hit. They'll be playing two family-friendly sets today at 12:30 PM and 3:30 PM.
75 Dollar Bill, Bill Orcutt, Tom Carter, Pat Noecker, Excepter DJs @ Trans-Pecos
Since his days in '90s noise band Harry Pussy, Bill Orcutt has been unleashing his frenetic, bluesy/jazzy blast guitar style upon the world. He plays tonight with Other Music-signed 75 Dollar Bill and more.
Tonstartssbandht, Steve JR, Macula Dog, Jerry Paper @ Baby's All Right
Montreal-via-Brooklyn experimental duo Tonstartssbandht headline this night of outsiders that's opened by Brooklyn's eccentric, robe-wearing Jerry Paper.
Broken Water, Katrina Stonehart, Mami @ Elvis Guesthouse
Olympia, WA's Broken Water seem caught between two worlds, though both could've existed in 1993. They have a fuzzy, pop side, as well as an aggressive, grungy punk side. They seem to like the dichotomy, and both sides can be heard on their new album,Wrought.
Porches, Frankie Cosmos @ Storm King Art Center
Storm King's not very far from NYC, and it's a gorgeous place to spend a weekend afternoon out of the city, even when there isn't live music. But today there is: related bands Porches and Frankie Cosmos. Shows are free with admission into the park.
Two-9, HD Been Dope, Depo, Bitches Is Crazy @ Gramercy Theatre
Atlanta rap crew Two-9 return to NYC tonight, and there's great local representation from Brooklyn rapper HD Been Dope and Bronx group Bitches Is Crazy.
D'Angelo, Meg Mac @ Starland Ballroom
Neo-soul great D'Angelo may take a very long time releasing albums, but it's always worth the wait because the three that he has are masterpieces. That includes 2014's Black Messiah.
Wolvserpent, Fell Voices, Svart Crown, Mutilation Rites @ Saint Vitus
It's the third and last night of the three-night Stardust festival at Saint Vitus, which brings a handful of diverse and awesome metal bands together for the weekend.
Mannequin Pussy, Kal Marks, IAN, Dead Tenants @ Palisades
Philly's shoegazy punks Mannequin Pussy and Boston's quirky indie rockers Kal Marks team up for this show, which is a pretty cool pairing.
Red City Radio, Banquets, Royal Psalms, Watermedown @ Riis Park Beach Bazaar
Oklahoma's Red City Radio make gravelly-voiced Hot Water Music-style punk, and despite losing one of their co-frontmen, this year's self-titled album has them remaining in great form.
Foxy Brown, Juliana Huxtable, Joey LaBeija, Cazwell @ The Westway
It's another installment of The Westway's 'Westgay' party, this time with Brooklyn hip hop vet Foxy Brown who has records dating back to the '90s as a solo artist and a member of Nas' group The Firm.
Jon and Josiah (from The Head and the Heart) @ The Surf Lodge
If taking a trip to the Hamptons is in the cards for you this weekend, spice up your stay there with some indie folk from two members of The Head and the Heart.
Justin Vivian Bond: Swallow My Pride @ Joe's Pub
A regular in NYC's drag scene for years, and once a member of the duo Kiki and Herb (with Kenny Mellman, who is now in The Julie Ruin), Justin Vivian Bond wraps up a 2-night stand at Joe's Pub tonight.
FarmBorough Festival @ Randall's Island
Randall's Island's first-ever country music festival wraps up today with Luke Bryan, Randy Hauser, and more.
Del Close Marathon
The Upright Citizens Brigade's annual around-the-clock improv onslaught brings unscripted laughs to a multitude of venues today, the last of the marathon.
For all of tonight's shows, and tomorrow's, check out our NYC concert calendar.
For laughs, check out the NYC Comedy calendar too.
-------------
---
Follow @BrooklynVegan on Twitter.
Follow @bvChicago for just Chicago stuff.
Also follow @bvAustin for just Austin stuff.
Be our friend on Facebook too, and BV Austin's friend on Facebook and BV Chicago's friend on Facebook.
Follow BrooklynVegan on instagram.
What else?