What's going on Wednesday? (Jay Rock, My Morning Jacket, Eddi Front, Beat Connection, Icarus Line & more)
photo: Jay Rock @ Terminal 5 earlier this month (more by PSquared)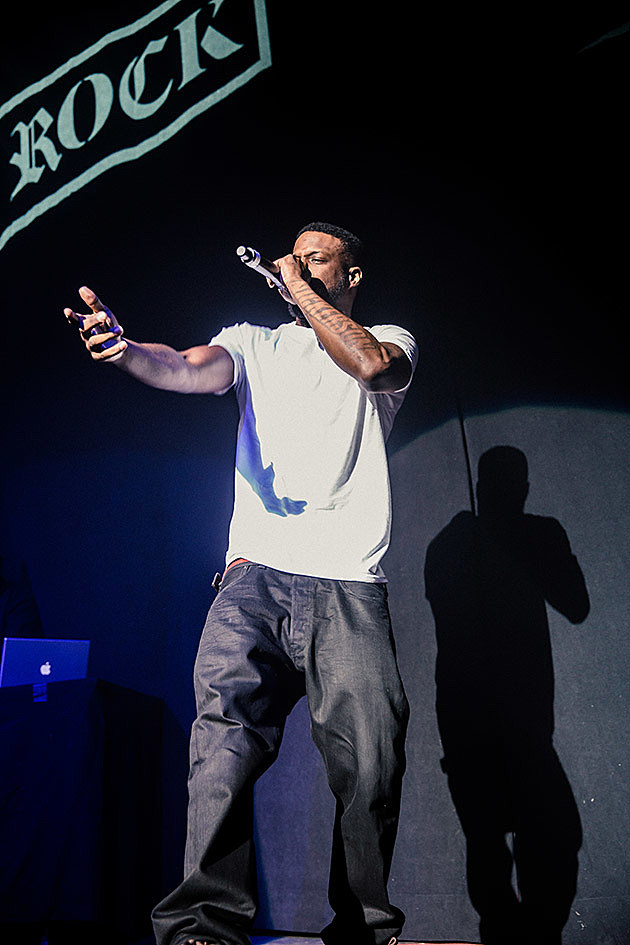 You can browse our full NYC show calendar for all of tonight's shows, but here are some highlights...
Jay Rock @ S.O.B.'s
While the rest of Black Hippy has been pretty prolific over the past few years, Jay Rock stuck mostly to guest features until he finally got his second album out this year. It's called 90059 and it proves the long gap between albums didn't hurt the quality of his work at all. He was just in NYC opening for Kendrick Lamar, but now he's back on his own tour.
My Morning Jacket, Strand of Oaks @ Beacon Theater
My Morning Jacket returned this year with their very solid seventh album, The Waterfall. They always shine as a live band too, and their four-night run at The Beacon continues tonight with opener Strand of Oaks.
Eddi Front, Rachel Angel, Family Lumber, Beach Moon/Peach Moon @ Palisades
With a spooky, spare piano style, Eddi Front made her debut in 2012 with a self-titled EP. She's now set to release her debut album, Marina, in March. Get an early taste tonight.
Beat Connection, Phantoms, My Body, Psychic Twin @ Mercury Lounge
Seattle's Beat Connection began life as more of a DFA style dancerock but have shifted into more soulful, R&B-flavored territory on new album Product 3.
Scott Weiland, The Icarus Line, Ten Ton Mojo @ Gramercy Theatre
Former Stone Temple Pilots singer Scott Weiland headlines this show, and if you're going we also think it's worth catching the Nick Cave-ish band The Icarus Line.
For all of tonight's shows, and tomorrow's, check out our NYC concert calendar.
For laughs, check out the NYC Comedy calendar too.
-------------
---
Follow @BrooklynVegan on Twitter.
Follow @bvChicago for just Chicago stuff.
Also follow @bvAustin for just Austin stuff.
Be our friend on Facebook too, and BV Austin's friend on Facebook and BV Chicago's friend on Facebook.
Follow BrooklynVegan on instagram.
What else?