Explosions in the Sky @ Sasquatch 2009 (more by Chris Graham)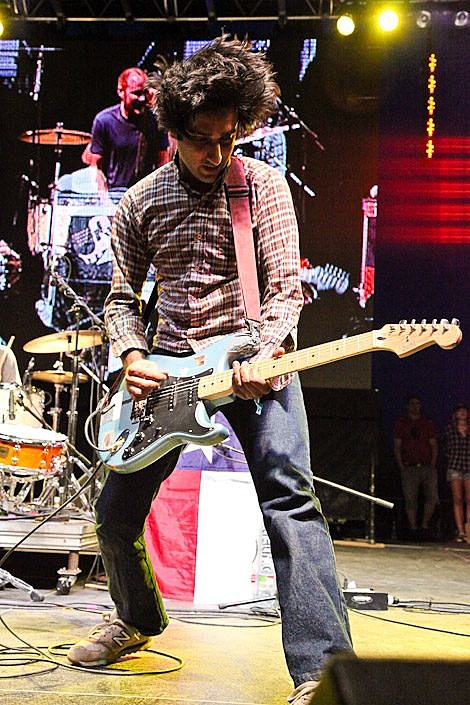 tonight in NYC
* Cam'ron @ BB King's
* Marc Ribot @ The Stone
* City Grass @ Hudson Square
* Phosphorescent @ Bruar Falls
* Caithlin De Marrais @ Joe's Pub
* Michael Jackson Tribute @ Apollo Theater
* As Tall As Lions, The Dig, Afuche @ Bowery Ballroom
* Beloved Rogue, Borrowed Eyes, Bonnie Baxter @ Glasslands
* Ezra Furman & The Harpoons, Yellowbirds, Hezekiah Jones @ Pianos
* Sessions w/ Gary War, Demonlover, Coconuts, U.S. Girls @ Santos Party House
* Explosions in the Sky, Constantines, Castanets @ Central Park Summerstage
Pixies plan 'Doolittle' tour.
Tonight, local bluegrass band City Grass plays for free at the weekly Hudson Square series.
Wilco the album came out today. They're celebrating at the Bell House.
Explosions in the Sky, Constantines and Castanets play a ticketed, sold-out show at Central Park Summerstage.
The regular Sessions at Santa's party at Santos hosts Gary War, Demonlover, Coconuts and U.S. Girls.
As Tall As Lions headline a show at the Bowery Ballroom. Their latest, You Can't Take It With You, comes out August 18th on Triple Crown Records. The show is sold out, but, you can try for tickets at the door and the band writes, "We will be having an after party at Home Sweet Home right across the street [also where Sonic Youth had their CD release party] starting at midnight."
The Stone's June programming, the second half of which was curated by City Winery's Michael Dorf, closes tonight with performances a solo performance by guitarist Marc Ribot (8pm) and a set by Diwon and Dugans (10pm).
There's a Michael Jackson Tribute at the Apollo Theater tonight.
Zs celebrated the release of their Music Of The Modern White 12" (on Social Registry) at a Secret Project Robot show on June 24th. A video of "MMWI (Part II)" from that record is below. The band, currently on a short tour, returns to play a show at Brooklyn's Death By Audio on July 3rd.
What else?

Zs - Music Of The Modern White - MMWI - PART II - Live