White Fence, Jonathan Rado & Dead Stars @ Glasslands (pics, streams & setlists)
photos by P Squared Photography
White Fence, Jonathan Rado @ Glasslands - 9/23/2013

White Fence continues to churn out kinetic proto-psych with confidence and abundant energy. Tim Presley's supporting band seems to be the same group that he had at SXSW '12, and at Glasslands they were tight and in perfect sync -- certainly necessary to keep up with the quick chord and tempo changes in the music. For instance, we're streaming "Baxter Corner", a song that is two minutes on record but live is stretched out to almost seven -- a lengthy high-tempo jam that features the talents of each member of the quartet. The setlist contained quite a number of older songs, but also featured a heavy dose of the newest White Fence album Cyclops Reap (Castle Face Records). After this outstanding show, we hope it won't be another eighteen months before we see White Fence again. - [NYC Taper]
White Fence headlined a garage/psych oriented Converse Rubber Tracks show at Glasslands last week (9/18) with Foxygen's Jonathan Rado and an opening set from '90s-style indie rock trio Dead Stars. Pictures from that free show, including ones of White Fence and Rado's setlists, are in this post.
NYC Taper was on hand to record White Fence's set and you can stream a song from that below and download the whole thing over his way.
As we just mentioned, Dead Stars will be Nirvana for Halloween at 285 Kent on 10/30.
More pictures from Glasslands below...

--
Dead Stars
Jonathan Rado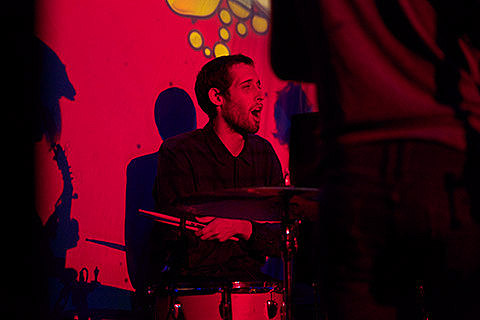 White Fence
SETLIST: White Fence @ Glasslands, 9/18/2013
Ring Around a Square
Mr Adams
Who Feels Right
Pink Gorilla
Tildas
Baxter Corner
The Pool
And By Always
She Relief
To the Boy I Jumped in the Hemlock Alley
White Cat
Chairs in the Dark
Swagger Vets and Double Moon
Breathe Again
Got That Heart
Harness