White Lung, Power Trip & Sick Feeling played the BV-RBSS show at Palisades (pics & full set videos)
Ryan Muir
White Lung / Power Trip / Sick Feeling

After the earlier Shannon & the Clams show emptied out of the venue, doors opened for the late show around 12:30 AM and Sick Feeling went on some time after 1. The new-ish Brooklyn band features current and former members of Ink & Dagger, Trail of Dead, Trash Talk and others, and they were a great primer for the two bands to come. All they've got out at the moment are a few tracks on Soundcloud, but they've got a full length coming this fall on Geoff Rickly's Collect Records and Ethan Silverman & Chris Taylor's Terrible Records, and assuming they played a lot of that, it's a record to look forward to. It was frenetic hardcore with a fittingly wild frontman, but they stayed melodic too.
Power Trip followed with their killer take on crossover and early thrash, and while their sounds are rooted in two or three-decade old bands, they're no nostalgia trip. Their crowds go apeshit crazy pretty much every time, and the Palisades show was no exception. The whole front half of the room was a circle pit the entire set and at one point a fan jumped off the 10-ish foot high PA speaker. It was a mess (in the best way). Power Trip did it again late the next night at an even more last minute show at Acheron. Anyone catch that?
this is the dude speaker jumping

Finally White Lung came on around 2:50 AM to a crowd that seemed a bit smaller than Power Trip's, but still packed in pretty well considering the sun would be up in about three hours. They were on fire as always, with Mish Way failing to be anything less than a powerhouse, Kenny William's dizzying fretwork and their relentless rhythm section. Earlier that day, bassist Hether Fortune (who fronts Wax Idols) had tweeted it'd be her "last NYC appearance with White Lung for who knows how long". We hope it won't be too long, but they've left us for now on a high note.
Though their set was great, it unfortunately wasn't all high notes. There was a guy in the audience who Mish said was flipping her the bird and calling her a cunt. She responded by pulling him over and they ended up grabbing at each other while she was still on stage. She eventually pushed him off and yelled "Get the fuck out!" during the song and a few seconds later she went in the crowd, singled him out, and started throwing punches. When the song ended, Hether and another crowd member rushed him toward the back of the room where he quickly exited the venue as Mish yelled into the mic, "Get the fuck out of here! Don't you dare lay a finger on me, motherfucker! Get out of here, motherfucker! Oh man, you know what? As a woman, I have fucked enough shitty dudes, I have put my way, FUCK OFF! FUCK YOU!"
You can watch the whole upsetting thing go down in the full set video below. Full set videos of Power Trip and Sick Feeling and more pictures of all three bands are below as well.
Thanks to all the bands, Red Bull, Palisades, Alice, Ric, poster designer Jay Morris, and everyone who came out.
White Lung also just premiered a new live video filmed in LA for Urban Outfitters' 'UO Live' series today. The black and white footage is of them playing "I Believe You" off the new album. You can check that out below as well.

---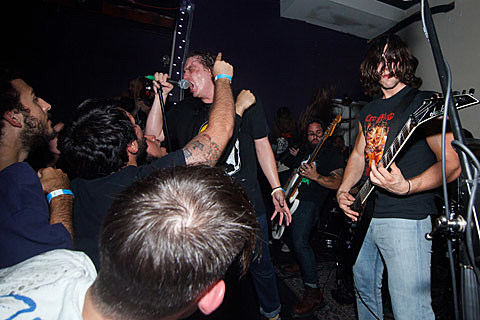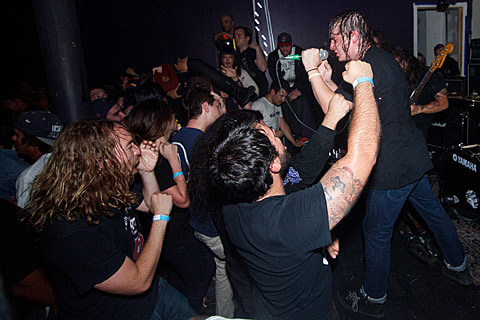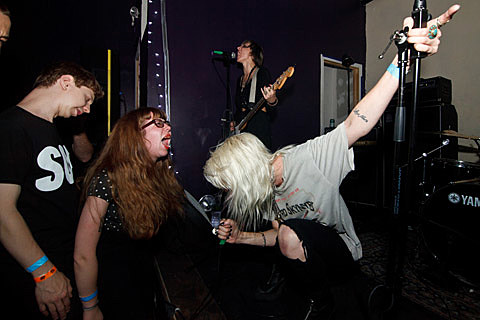 White Lung - "I Believe You" for UO Live

White Lung -- 2014 tour dates
11/2: Paradiso - Amsterdam, Netherlands
11/3: Shacklewell Arms - London, UK
11/4: Green Door Store - Brighton, UK
11/5: Soup Kitchen - Manchester, UK
11/6: Stereo - Glasgow, UK
11/7: DaDa - St Petersberg, Russia
11/9: Teatr - Moscow, Russia
11/10: Revolver - Oslo, Norway
11/11: Kuudes Linja - Helsinki, Finland
11/12: Lilla Hotellbaren - Stockholm, Sweden
11/13: Loppen - Copenhagen, Denmark
11/14: Vera - Groningen, Netherlands
11/15: West Germany - Berlin, Germany
11/16: Stadtwekstatt - Linz, Austria
11/17: Le Romandie - Lausanne, Switzerland
11/18: De Kreun, Autumn Falls Festival - Courtrai, Belgium
11/19: Barfly - London, UK
11/20: Point Ephemere - Paris, France
11/21: Tivoli, Guess Who Festival - Utrecht, Netherlands
12/3: Doug Fir Lounge - Portland, OR
12/4: Chop Suey - Seattle, WA
12/5: Electric Owl - Vancouver, BC
12/6: Lucky Bar - Victoria, BC