Widowspeak, Big Audio Dynamite, Hoop Dreams, Crinkles, VHS or Beta & more This Week in Indie
Widowspeak

After last week's crazy abundance of sonic riches, this week is nicely slim on choices (at least for thing's that interest me.) But even a fallow week has plenty to do.
Tonight (8/2) at Glasslands is the record release party for Widowspeak's self-titled debut, which is out on Captured Tracks. This local trio gets compared to Mazzy Star a lot -- and I am as guilty as anybody -- which is to say singer Molly Hamilton has the same smoky vocal quality as Hope Sandoval. And the band make vaguely '60s-ish pop, dreamy and twangy with lots of vibrato.
I pulled out She Hangs Brightly last night and, really... Widowspeak doesn't really sound all that much like Mazzy Star. Hamilton's voice is more breathy and effervescent than Sandoval's (and an undeniably powerful weapon live, a subtle knife), and their music isn't nearly as drowsy or patchouli-soaked. Beyond that, the band are good songwriters and performers -- the album is quite good. Though I still say their cover of "Wicked Game" is a little too on-the-nose.
Hoop Dreams

The Glasslands show also is NYC live debut of new Captured Tracks signing Hoop Dreams. The six-piece are from Blacksburg, VA, same as fellow C/T band Wild Nothing. (The label has a stronghold on Southwest Virginia talent it seems.) The A-side to their Captured Tracks single, all two minutes of it, is hook-filled in a Spencer Krug kind of way, and you can download it at the top of this post. (The b-side is a little more dour.) It doesn't sound like six people made it, so I'm curious to see them play tonight.
You can also catch the shoegazy sounds of Burlington, VT's Crinkles (check out "I'm a Dog" at the top of this post) and Excops (new band from Hymns frontman Brian Harding).
Big Audio Dynamite @ Coachella 2011 (more by David Andrako)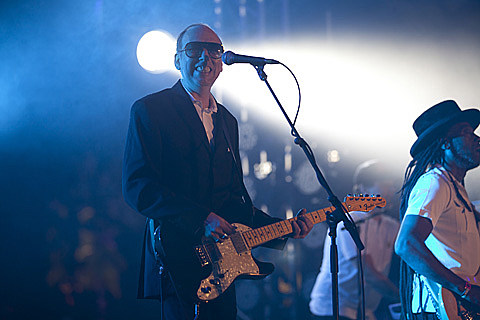 The newly reformed Big Audio Dynamite, who last played a somewhat prohibitively expensive (but awesome) show at Roseland back in April, are back in town to play Brooklyn Bowl tomorrow night (8/3). Tickets, a more reasonable $35, are sold out but there will be "limited admission" at the door, which will open at 6PM. Here's some of what I wrote about the Roseland show:
Getting nearly every single the band released plus some choice album cuts, the NYC show was a pretty perfect showcase for what made B.A.D. so great: killer dance songs ("C'mon Every Beatbox," "E=MC²," "Just Play Music"), hip hop and reggae-influenced jams ("Sightsee MC," "BAD"), the band's love of film ("Medicine Show"), and genuinely affecting pop ("The Other 99," "V. Thirteen"). We also got "Beyond the Pale," one of the best songs Jones has ever written, dedicated last night to Joe Strummer (who cowrote much of No. 10 Upping St.).

Apart from the tip of the hat to Strummer, Jones didn't do a whole lot of "remember when" talk and kept things mostly free of drippy nostalgia. He was, however, jovial and chatty, joking with the audience between songs or when things went askew, like a false start to encore number "E=MC²."

Band co-founder Don Letts is just one of the coolest dudes on the planet, and B.A.D. really came alive on any song that featured him, of which there was a fair amount: foreign war critique "A Party," the hard-hitting London travelogue that is "Sightsee MC!" and the band's theme tune, "BAD." (Also the reggae hoedown "Battle of All Saints Road," though I would've prefered No. 10 Upping St.'s "Ticket.") Letts, who's inching towards 60, jumped around the stage, dreads hitting the ground, like it was 25 years ago.
Also playing is Bad Brains frontman HR, and onetime Smiths bassist Andy Rourke will DJ in between sets.
And that's the big stuff for this week in the TWIIverse. (Told you it was a quiet week.) As usual, some more daily picks, starting at Wednesday, are below.
Though it's been a while since they've been in the spotlight, Fountains of Wayne continue to write winning powerpop about everday minutae. That includes their just-released Sky Full of Holes. Hear songs from that -- as well as probably "Stacy's Mom" and "Radiation Vibe" -- tonight at Bowery Ballroom with Nicole Atkins opening. It's sold out, as is their acoustic show on Friday (8/5) at City Winery.
This week's Summerscreen in McCarren Park is '90s classic Clueless, with the sultry and danceable Zambri opening the show.
Music streaming service Spotify is sponsoring a free show at Mercury Lounge with Suckers and Headless Horseman at Mercury Lounge. First come first served, no RSVP necessary.
VHS or Beta

A nice show at Bruar Falls, with the charming Anni Rossi, Dinowalrus, the mae shi's Ezra Buchla, and Yvette.
It's been a while since we've heard from VHS or Beta. The band have a new album, Diamonds and Death, which'll be out Sept. 27 and you can download the very housey "I Found a Reason" at the top of this post. They play Cameo tonight with Megafortress.