WIFE (not to be confused w/ WIFE) releasing debut LP on Tri Angle, making NYC debut w/ Planning for Burial & Psalm Zero
James Kelly with Altar of Plagues at Saint Vitus in 2012 (more by Fred Pessaro)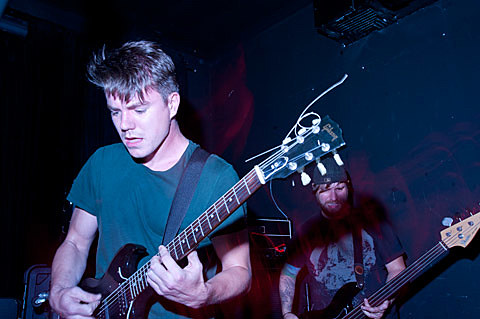 In 2013, Irish experimental black metal stalwarts Altar of Plagues broke up, an event that understandably left fans bummed out -- they turned out some of the most interesting and heavy hitting black metal out there for the better part of a decade. As you may know, some members went on to form Malthusian, and guitarist/vocalist James Kelly went on to start an electronic project, WIFE.
WIFE will finally come to NYC to play a show on Saint Vitus on April 16. It's a full night of outer sound with gloomed-out one-man experimentalist Planning for Burial, avant-metal band Psalm Zero and experimentalist Greg Fox (ex-Liturgy). Tickets are on sale now. Planning for Burial is the headliner on this one, and though it's his only date at the moment, he's planning a summer tour.
WIFE is releasing his debut album, What's Between, on June 9 via Tri Angle Records (Evian Christ, Forest Swords, Balam Acab). Listen to a clip of the new LP below.
Also, James Kelly's WIFE is not to be confused with California duo WIFE (aka Nick Steinhardt of Touche Amore and Andrew Thomas of Vow). To make matters more confusing, neither WIFE has played many shows, but both have shared bills with Deafheaven, Nick Steinhardt's in LA, and James Kelly's in London.
Stream the new James Kelly WIFE clip, plus some recent Planning for Burial, below...

---
WIFE - "What's Between" clip