Wilco and Lee Fields played Prospect Park (pics, setlist)
Dominick Mastrangelo
Wilco at Prospect Park - 7/23/12

Wilco brought their tour, three NYC shows included, to Prospect Park last night (7/23). It was their first of two at the outdoor Celebrate Brooklyn venue and with their first of two Lees (Lee Fields and the Expressions opened last night, Lee Ranaldo Band opens tonight).
It was pouring rain and there were a few moments of big lightning above and behind the stage, but the show went on and Wilco played for over two hours. They opened their show with "Dawned on Me," one of the standouts on their 2011 (comeback?) record, The Whole Love. The band then continued with a solid mix of new ones and old favorites (and a good deal of Yankee Hotel Foxtrot). The set also included, "California Stars," one of the songs from the 1998 Mermaid Avenue album with Billy Bragg, which saw Wilco and Bragg putting unheard Woody Guthrie lyrics to original music. They play that one a lot but nonetheless, it was an appropriate time to honor the folk legend who would have turned 100 earlier this month.
During the show, Jeff Tweedy made a comment that we (Brooklyn) smelled like bacon, calling us the most bacon smelling show that he'd ever experienced. A commenter on a Wilco message board also noted that "at one point between songs he started singing a song called 'Bacon Rain.' He also made sure the rain wasn't causing anybody to chafe, and asked if anybody needed gold bond in the crowd." We're pretty sure he was smelling the fries being cooked stage right at The Farm on Adderley concession stand.
The tour continues in Prospect Park tonight (7/24). Last night, Jeff mentioned that for the people who are coming back for a second night, they'll be mixing up the setlist a bit, only playing repeats of certain songs (though it's hard to know exactly how serious he was being). After that, they'll play Terminal 5 on Wednesday (7/25) with Cibo Matto.
More pictures and the setlist from last night's show are below...

---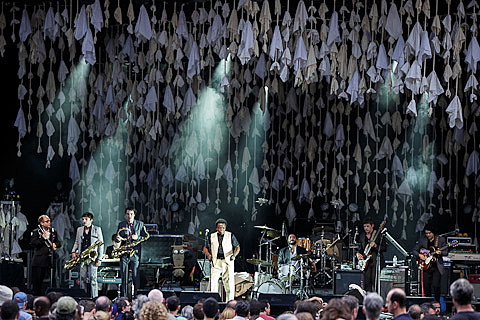 Wilco - Prospect Park 7/23 Setlist;
Dawned On Me
War On War
I Might
I Am Trying to Break Your Heart
Muzzle of Bees
Born Alone
You Are My Face
Impossible Germany
Sunken Treasure
I'm Always In Love
Jesus, Etc.
Handshake Drugs
Whole Love
Box Full Of Letters
Hate It Here
Heavy Metal Drummer
I'm the Man Who Loves You
A Shot in the Arm
Encore:
Poor Places
Art Of Almost
Standing O
California Stars
Encore 2:
The Late Greats
Red-Eyed and Blue
I Got You
Outta Mind (Outta Sight)
I'm A Wheel