Wilco, The Autumn Defense, Nels Cline & Jay Farrar shows
Wilco at Sasquatch (more by Josh Darr)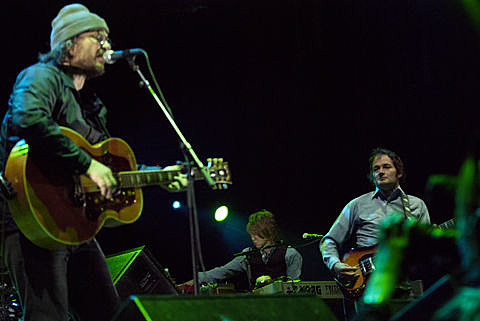 The Autumn Defense (John Stirratt and Pat Sansone of Wilco) have announced a NYC show before they play WIlco's Solid Sound Festival later this month. The band will play The Living Room on June 18 at 9 PM, before Joseph Arthur, who Sansone collaborated with in Holding the Void, plays one of his ten shows at the same venue.
John Stirratt and Jeff Tweedy's ex-Uncle Tupelo bandmate Jay Farrar also has a few shows coming up. Those include October 14 and 15 at City Winery in NYC. Tickets are on sale.
Nels Cline of Wilco plays Le Poisson Rouge with Marc RIbot tonight (6/15). Tickets are still available. Nels also plays Blue Note on Friday (6/17) as part of the Spontaneous Construction series. The show is part of the Blue Note Jazz Festival. Tickets are on sale. He will also play with The Les Paul Trio at The Iridium on July 11 as part of their Les Paul Guitar Tribute Mondays. Nels plays Solid Sound with Thurston Moore under their Pillow Wand moniker.
Jeff Tweedy has no NYC dates but you can catch him at Winnipeg Folk Festival with Mountain Man, Dawes, Lucinda Williams and others on July 6-10.
All tour dates, Wilco included, below...

--
The Autumn Defense 2011 Tour Dates
June 18 The Living Room NYC
June 26 Sold Sound Festival North Adams, MA
-
Jay Farrar 2011 Tour Dates
September 24 - Gram Parsons Guitar Pull and Tribute Festival Waycross, GA
October 14-15 - @ City Winery, NYC
--
Nels Cline 2011 Tour Dates
06/15 NYC | Le Poisson Rouge Nels Cline & Marc Ribot
06/17 NYC | Blue Note "Spontaneous Construction" (w/ Nels Cline, Billy Martin, Jacob Sacks & Oren Bloedow)
06/24 - 06/26 North Adams, MA | Solid Sound - Curated by Wilco
07/11 NYC The Iridium Jazz Club: Les Paul Guitar Tribute Mondays (feat. Nels Cline w/ The Les Paul Trio) 8PM & 10PM
08/26 Switzerland Jazz Festival Willisau (The Nels Cline Singers feat. Yuka C Honda)
08/28 Austria Jazzfestival Saafelden (The Nels Cline Singers feat. Yuka C Honda)
--
Jeff Tweedy 2011 Tour Dates
JUL-08 FISH CREEK, WI DOOR COMMUNITY AUDITORIUM
JUL-09 FARGO, ND FARGO THEATRE
JUL-10 WINNIPEG, CA WINNIPEG FOLK FESTIVAL
--
Wilco 2011 Tour Dates
JUN-24 THRU JUN-26 NORTH ADAMS, MASOLID SOUND FESTIVAL @ MASS MOCA
JUL-31 NIIGATA, JP FUJI ROCK FESTIVAL
OCT-24 GLASGOW, UK GLASGOW ROYAL CONCERT HALL
OCT-25 MANCHESTER, UK MANCHESTER ACADEMY (MAIN ROOM)
OCT-27 BRISTOL, UK COLSTON HALL
OCT-28 LONDON, UK ROUNDHOUSE
OCT-29 LONDON, UK ROUNDHOUSE
NOV-01 MADRID, SP TEATRO CIRCO PRICE
NOV-02 BARCELONA, SP PALAU DE LA MUSICA CATALANA
NOV-03 DONOSTIA, SP KURSAAL
NOV-07 BASEL, SW KASERNE BASEL
NOV-08 FRANKFURT, DE ALTE OPER
NOV-09 MUNICH, DE CIRCUS KRONE
NOV-11 WEISSENH, DE ROLLING STONE WEEKENDER
NOV-12 BERLIN, DE TEMPODROM
NOV-13 UTRECHT, NLVREDENBURG LEIDSCHE RIJN
NOV-14 TILBURG, NL013