Wild Nothing & Abe Vigoda played Bowery w/ MINKS (pics), playing 285 Kent w/ Fergus & Geronimo (tonight)
For a sold-out show, the audience was oddly quiet and subdued for much the evening, but the laid back atmosphere was a perfect match for the first band of the evening, MINKS. As the members of MINKS walked on stage, they casually surveyed the crowd and began to play without uttering a single word. At their posts, they stood as still as stick figures, virtually motionless.
For such pleasantly upbeat music, the surprisingly lively "Cemetery Rain" aside, their performance was surprisingly deadpan - even with additional musicians helping out. (Are you really 'happy' to be playing, Sean Kilfoyle? Really?) They were a morose version of the Crayon Fields (but with female vocals added to the mix). Singer Amalie Bruun may be the most listless tambourine player I've ever witnessed, but I found myself oddly drawn to her. (Would she start to dance? Maybe smile a little? Open up between songs? No. Not so much.)
Up next was Abe Vigoda who immediately imbued the room with a bit of life, thanks largely to the poppy keyboard solo in their opening number, "Dream of My Love." Throughout their set, the LA group kept things interesting by switching instruments - often mid song. The drummer was especially good at jumping around on stage from instrument to instrument. The audience, however, remained largely reserved. "What? Are you scared to dance?" asked the keyboard player after a few songs. "It's fun."
As if responding to the challenge, one audience member tried half-heartedly to get a mosh pit going, but the movement didn't catch on. People did at least loosen up a bit though - especially by the time Wild Nothing began to play.
Like MINKS, Wild Nothing is a fun blend of sunny pop and subdued shoegaze, but they were definitely peppier than their opener. They even had girls dancing on stage for the beginning of their set.
"You're very polite and quiet and it freaks me out," admitted front man Jack Tatum. He was right. It was kind of weird. Much of the room seemed to be under a trance. (Maybe it was the combination of it being a Sunday and the night before Valentine's Day.)
After playing a few newer songs and a brief cover (Primal Scream's "Velocity Girl"), Wild Nothing closed their initial set with "Summer Holiday," which actually got more than a few people dancing. Following the warm applause from the crowd, they returned for a quick encore - the song "Bored Game," which seemed appropriate, given the lyrics ("I don't feel right without you") and the number of couples in the room.
Abe Vigoda played in Manhattan again last night (Valentine's Day) at Le Poisson Rouge as part of the venue's "Radio Happy Hour" series. Abe and Wild Nothing play a recently-added Brooklyn show at 285 Kent tonight (2/15). Fergus & Geronimo has been added as opener and advanced tickets are on sale at Desert Island Books (540 Metropolitan Ave | 718.388.5087). MINKS' next NYC show is with Dirty Beaches and Dum Dum Girls who they head out on tour with this month. After Brooklyn, Abe and Wild Nothing continue on tour together. All remaining dates and more pictures from Bowery Ballroom, below...

--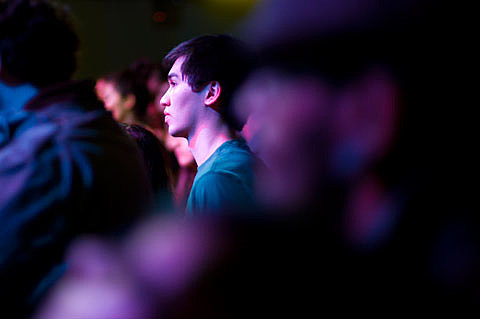 Abe Vigoda - 2011 Tour Dates
Tue 02.15.11 Brooklyn, NY 285 Kent *
Wed 02.16.11 Montreal, QC La Sala Rossa *
Thu 02.17.11 Toronto, ON Wrongbar *
Fri 02.18.11 Chicago, IL Lincoln Hall *
Sat 02.19.11 Grinnell, IA Grinnell College * FREE
Mon 02.21.11 Madison, WI Der Rathskeller / U of W * FREE
Tue 02.22.11 St. Paul, MN Turf Club * and Claps
Wed 02.23.11 Lawrence, KS Jackpot Music Hall *
Thu 02.24.11 Denver, CO Hi-Dive *
Fri 02.25.11 Salt Lake City, UT Kilby Court *
Sat 02.26.11 Boise, ID Neurolux *
Sun 02.27.11 Seattle, WA Vera Project *
Mon 02.28.11 Vancouver, BC Biltmore Cabaret *
Tue 03.01.11 Portland, OR Holocene *
Thu 03.03.11 San Francisco, CA Rickshaw Stop / Popscene *
Fri 03.04.11 Los Angeles, CA Natural History Museum *
* w/ Wild Nothing
--
Dum Dum Girls - 2011 Tour Dates
ue 02.15.11 Las Vegas, NV Pooltradeshow Party / Foundation Room @ Mandalay
Wed 02.16.11 San Francisco, CA Bottom of the Hill *
Thu 02.17.11 Los Angeles, CA Skybar at the Mondrian Hotel * FREE/RSVP
Fri 02.18.11 San Diego, CA The Casbah *
Mon 02.21.11 Denver, CO Hi Dive *
Wed 02.23.11 St. Louis, MO Billiken Club * FREE
Thu 02.24.11 Chicago, IL Empty Bottle *
Fri 02.25.11 Detroit, MI Magic Stick *
Sat 02.26.11 Toronto, ONT El Mocambo *
Sun 02.27.11 Montreal, QUE Il Motore *
Tue 03.01.11 Burlington, VT Metronome *
Wed 03.02.11 Boston, MA Brighton Music Hall *
Thu 03.03.11 Brooklyn, NY Glasslands (DJ SET)
Fri 03.04.11 New York, NY Bowery Ballroom **
Sat 03.05.11 Philadelphia, PA Johnny Brenda's ***
Sun 03.06.11 Washington, DC Black Cat *
Tue 03.08.11 Chapel Hill, NC Local 506 +
Wed 03.09.11 Charlotte, NC Milestone +
Thu 03.10.11 Atlanta, GA The Earl +
Fri 03.11.11 Jacksonville, FL Jackrabbits +
Sat 03.12.11 Orlando, FL The Social ++
Sun 03.13.11 Tampa, FL The Orpheum ++
* w/ MINKS, Dirty Beaches
** w/ Frankie Rose & the Outs, MINKS, Dirty Beaches
*** w/ MINKS, Party Photographers, Dirty Beaches
+ w/ Reading Rainbow, Dirty Beaches
++ w/ Tennis, La Sera, Dirty Beaches