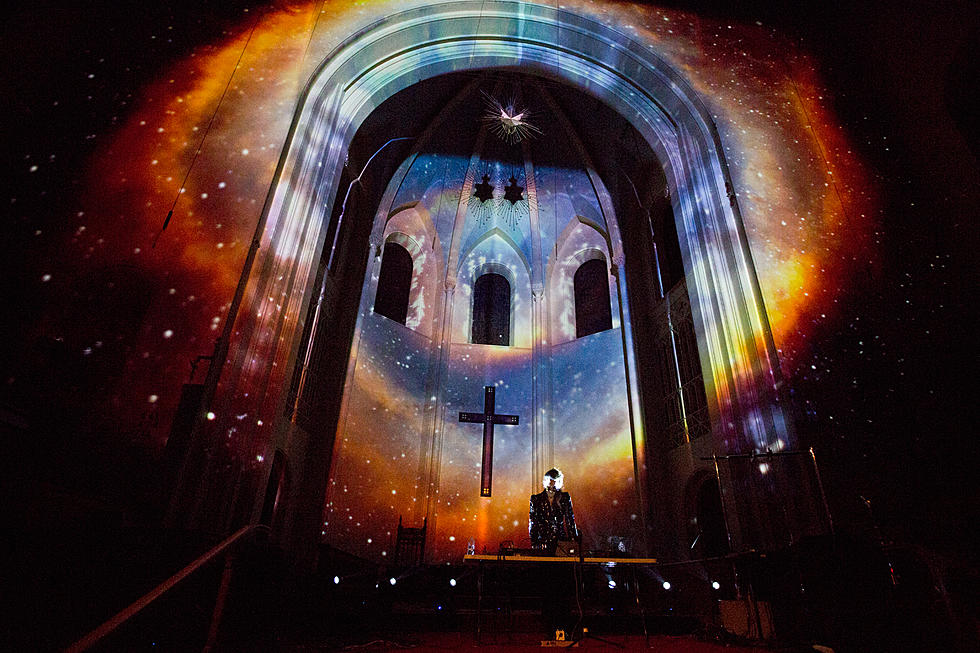 William Basinski brought 'On Time Out of Time' to Ambient Church (review, pics)
Photo by Greg Cristman
"Look at all the beautiful New Yorkers," William Basinski said in his strange, Brooklyn-by-way-of-Texas lilt. He addressed a crowd of hundreds, stacked in the pews and spilling into the aisles, as he stood at the center of the altar of St. George Episcopal Church on Saturday night. He was about to begin a performance of his upcoming record, On Time Out of Time, for the New York half of his bi-coastal Ambient Church residency. Following a performance from New York-based composer Britton Powell featuring cellist Leila Bordreuil, an earth-shaking opener that used gongs and bells to create a hypnotic, low-frequency movement, Basinski approached the altar quietly to raucous applause and cheers from the audience, and began to humbly set up his equipment.
Basinski is known for his fascination with the physical world, drawing subtle beauty from the processes of destruction and decay, as on his most famous work, The Disintegration Loops, which manifested the sound of old tapes literally deteriorating each time they passed through a tape head. On his latest record, he scales his ambitions to using the decay of our universe as his muse: working with LIGO (the Laser Interferometer Gravitational-Wave Observatory, operated by MIT and Caltech), he derived On Time Out of Time from the sound of two black holes colliding 1.3 billion years ago. The record also includes a movement he composed for the art collective Domnitch Gelfand, which also deals with gravity, quantum mechanics, and the nature of dying stars. Needless to say, the gravitas of the cavernous cathedral only amplified the intensity of Basinski's lofty, intergalactic experiment.
For a project that could seem overly scientific or abstract, Basinski had a charming way of bringing it down to earth: "Let's take a nice long trip to the beginning of time," he said, with the calm inflection of a stoner Mr. Rogers, "and see how long it takes us to get back." All told, the "journey" lasted an hour, and was filled with slow, sustained tones, at times recalling the low groan of a church organ or the resonant frequencies of Gregorian chants. With surprising moments of dynamism, the piece built over time to incorporate higher frequencies and sharper tonality.
As with all Ambient Church performances, Basinski was shrouded behind a massive, site-mapped light performance, designed by Eric Epstein and Martin Tzonev, that utilized the high ceilings and gothic curvatures of the historic cathedral to shape its colorful projections. The piece in a vacuum is a stunning work of ambient tonality, but the projections amplified its astronomical significance. It began with large orbs that split in half, recalling the life-forming process of cell duplication, before leading into beautiful projections of glowing orbs reminiscent of the solar system. The swirling galaxies eventually led into other shapes, like a grasshopper, or a field of grass. If not a bit on the nose, the visualizations were a poignant reminder of the impact that the cosmos has on our everyday life.
The crowd at the show was hard to pin down – there were groups of friends in their 20s dressed up for a night out next to Baby Boomers on a quiet date night. The thunderous applause from the sold out performance proved that Basinski's ideas resonate with generations of listeners, from those who grew up with the minimalist avant-garde that inspired his early music to those who discovered experimental music from his Disintegration Loops. His show on Saturday solidified his reputation as a charming, high-minded innovator, even as he enters his sixty-first year.
Check out photos from the evening in the gallery above and a stream of one of the new LP's tracks, below.