Willis Earl Beal making animated film, going on tour (dates)
Willis Earl Beal at MHOW, May 2012 (more by Amanda Hatfield)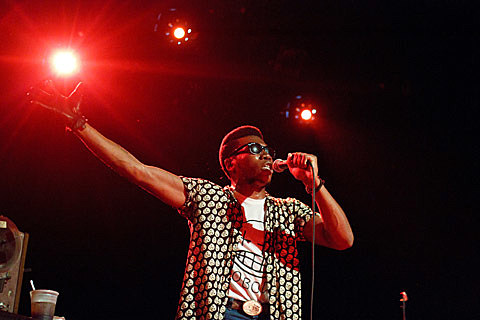 Willis Earl Beal has just announced a fall tour that includes a NYC stop on October 9 at Bowery Ballroom. Tickets are not on sale yet but you can keep checking Ticketmaster. All WEB tour dates are listed at the bottom of this post.
Meanwhile, Beal has made an animated short film based on his Principals of a Protagonist novella he made back in 2010. The film uses illustrations by Beal and recordings of songs from his Acousmatic Sorcery album as the soundtrack. Says the artist:
I envisioned it becoming a film. If you don't envision something as actually happening and being in action then there's no motivation to do it. Everything I do is cinematic. Everything I do I imagine what it would look like in the context of cinema- whether writing a song, writing a story or watching a movie and imagining myself in the role of the protagonist walking down the street. The movie for me is amniotic fluid.
Look for Principals of a Protagonist in September when it will stream on Beal's new website. In the meantime get a feel for what it may look like via his "Evening's Kiss" video which is watchable below, along with a list of his upcoming tour dates.

Willis Earl Beal - "Evening's Kiss"

Willis Earl Beal - 2012 Tour Dates
9/28 Cincinnati, OH Mid Point Music Festival
9/29 Champaign, IL Pygmalio Music Festival
10/01 Toronto, ONT The Drake
10/02 Montreal, QUE Il Motore
10/03 Cambridge, MA TT the Bears
10/05 Philadelphia, PA Milkboy
10/06 Washington, DC Red Palace
10/09 New York, NY Bowery Ballroom
10/13 Austin, TX Lamberts
10/14 Austin, TX Austin City Limits Festival
10/17 San Diego, CA Casbah
10/18 Los Angeles, CA The Echo
10/20 San Francisco, CA Bottom of the Hill
10/22 Portland, OR Mississippi Studios
10/23 Seattle, WA Barboza
10/24 Vancouver, BC Electric Owl