WITTR & Thou add all-ages 2nd NYC show (updated dates)
WITTR at NYU (more by Meghan McInnis)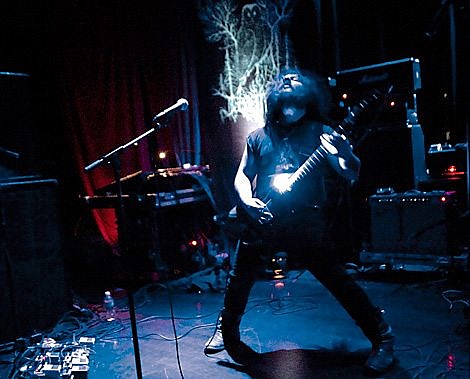 As I said in July, "Thou's appearance at The Bell House comes as a bit of a surprise, considering the band's staunch stance at playing only all ages establishments." At the time Wolves in The Throne Room and Thou's only NYC show was scheduled to take place on 9/12 at the 21+ The Bell House. Well, now comes word that the pair have added a second show happening on 9/14 at the always all-ages Death By Audio!
No advance tickets for Death By Audio, but tickets for The Bell House are still on sale. Updated WITTR dates are below.

--
Wolves In The Throne Room-Live at the Che Cafe 7/11/09

Wolves in the Throne Room - "Cleansing"

WOLVES IN THE THRONE ROOM - 2011 TOUR DATES
8/28/2011 Olympia, WA [check wittr.com for location]
8/31/2011 The Medusa - Minneapolis, MN
9/01/2011 Reggie's Rock Club - Chicago, IL
9/02/2011 Rudyard Kippling - Louisville, KY
9/03/2011 The Mockbee - Cincinnati, OH
9/05/2011 Jamestowne Hall - Saginaw, MI
9/06/2011 Soybomb HQ - Toronto, ON
9/08/2011 Death Church - Montreal, QC
9/10/2011 The Kave - Bucksport, ME
9/11/2011 Providence, RI [check wittr.com for location]
9/12/2011 The Bell House - Brooklyn, NY
9/14/2011 Death By Audio - Brooklyn, NY
9/15/2011 Broad Street Ministries - Philadelphia, PA
9/16/2011 TBA - Bethlehem, PA
9/17/2011 Strange Matter - Richmond, VA
9/18/2011 Legitimate Business - Greensboro NC
9/20/2011 JD's - Sheffield, AL
9/21/2011 The Little Hamilton - Nashville, TN
9/22/2011 Magnetic Theater - Atlanta, GA
9/23/2011 The Chop Shop - St Petersburg, FL
9/24/2011 The Farside Collective - Tallahassee, FL
9/25/2011 New Orleans, LA [check wittr.com for location]
9/27/2011 Austin, TX [check wittr.com for location]
10/22/11 Birmingham UK, Supersonic Festival