Wolf Eyes played Saint Vitus with Hubble (pics); Foreplay & Soren, Nate Young playing Nothing Changes
Gregory R. Cristman
photos by Greg Cristman
Wolf Eyes @ Saint Vitus, 7/6/2013

Antagonistic noise gang Wolf Eyes headlined a sold-out show at Saint Vitus on Saturday (7/6), joined by Hubble (Ben Greenberg, also of The Men), Foreplay (mem Warthog) and Soren (mem Rosenkopf) for a night of experimentalism and noise. Pictures from the show are in this post.
If you missed Saint Vitus, you can still get your Wolf Eyes fix by heading to Nothing Changes on Wednesday (July 10) when Nate Young (Wolf Eyes) hits Home Sweet Home for a late night appearance. The party will also host upcoming appearances from Bestial Mouths / Bootblacks on July 17th, La Urss / Sad Boys on July 24th and last but certainly not least, Lost Tribe / Anasazi on July 31st.
Wolf Eyes will again be back in NYC at Issue Project Room in late August as part on an ongoing celebration of their new LP No Answer: Lower Floors.
More pictures from a packed out (and superbly air-conditioned!) Saint Vitus on Saturday are below.

---
Soren
Foreplay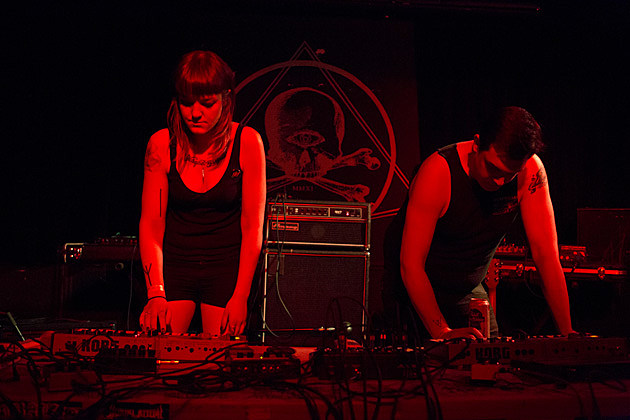 Hubble
Wolf Eyes