Wolf Eyes playing 3 nights Union Pool w/ augmented lineup before tour w/ Timmy's Organism & Video (tix on sale)
Gregory R. Cristman
photo: Wolf Eyes at Knockdown Center in 2014 (more by Greg Cristman)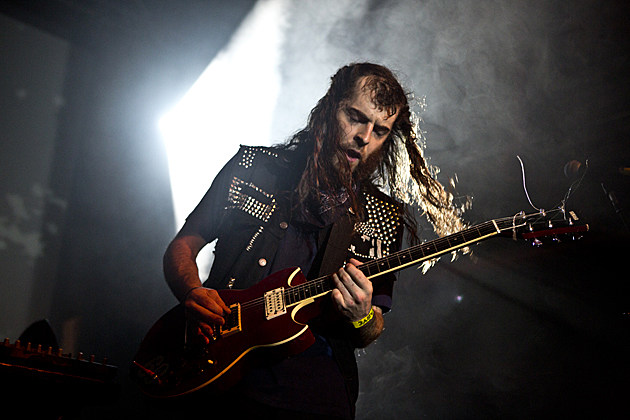 Kings of American noise/trip-metal band Wolf Eyes, who released I Am a Problem: Mind in Pieces last year, are gearing up for a tour with Third Man Records labelmates Timmy's Organism and Video. Wolf Eyes won't be on the NYC dates of that tour but they have just announced a three-night run at Brooklyn's Union Pool February 4-6. Joining them will be member of  Michigan Underground Group who will be helping with Wolf Eyes performances in various capacities:
Joining them every night will be APE TECHNOLOGY on automated & specifically tuned machinery from their vast assemblage of self-playing audio varmint-sculptures, Sam Hookers' TARPIT project playing tapes, strings, and synth, and rounding out Michigan squad is newcomer Tyler Hicks, aka THANKS USA on all things strange, homemade. VIKI VIKTORIA brings a quadrophonic process to the mix and general Midwestern ghastly audio compositions.
Tickets for all three shows are on sale now.
In addition to I Am a Problem, Wolf Eyes John "Inzane" Olson is readying a new book of record reviews via Third Man Books (which is apparently a thing). It's called Life is a Rip Off Part One, and it arrives sometime soon, limited to 250 copies and only available via Third Man. So keep an eye out.
All Wolf Eyes tour dates are listed, along with a stream of "T.O.D.D." from last year's LP, below.

---
Wolf Eyes -- 2016 Tour Dates
2/4 - 2/6 Union Pool New York, NY
2/23 Cleveland, OH - Now That's Class Lounge^
2/24 Detroit, MI - Marble Bar^
2/25 Chicago, IL - Empty Bottle^
2/26 Milwaukee, WI - The Cactus Club^
2/27 Minneapolis, MN - 7th Street Entry^
2/28 Omaha, NE - Reverb Lounge^
3/01 Denver, CO - Larimer Lounge^
3/02 Salt Lake City, UT - Urban Lounge^
3/04 Seattle, WA - Barboza^
3/05 Portland, OR - Mississippi Studios^
3/07 San Francisco, CA - The Independent^
3/09 Bakersfield, CA - Babylon BKFD^
3/10 Los Angeles, CA - The Echo^
3/11 Santa Ana, CA - Constellation Room^
3/12 San Diego, CA - The Hideout^
3/13 Phoenix, AZ - The Rebel Lounge^
^ w/ Timmy's Organism & Video