Woods, Cassie Ramone, Weyes Blood and The Woolen Men played the BV-curated RBSS show at Baby's All Right (pics)
Woods / Cassie Ramone / Weyes Blood / Woolen Men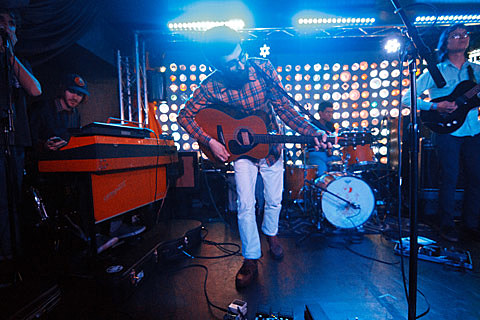 It had been a while since I'd seen Woods, a few years probably. The last time, whenever that was, was when the band still had Kevin Morby and that guy who spent most of his time on all-fours messing with a cassette deck and yelling into an old pair of headphones repurposed as a mic.  The Woods that played Baby's All Right last night (4/22) as part of our latest BrooklynVegan-curated installment of the Red Bull Sound Select series was a much different creature, a more "proper" band and all the better for it.
The was the record release show for Woods' new album, With Light and Love, which is a good example of how Woods operate these days: song-focused, poppy, tight, and when they do stretch things out, there is purpose and direction (and serious chops) to the jams. The whole band is accomplished, but singer/guitars Jeremy Earl and guitarist/producer Jarvis Taveniere's interplay in the instrumental portions was seriously impressive. The band also have enough records at this point where the set pretty full of "hits." If you had prviously decided that Woods were not your thing, maybe it's time to revisit.
Portland, OR's The Woolen Men flew in special for this show and I was pretty taken by their set too, though as a big fan of last year's debut which came out on Woodsist, I was expecting to. The trio make no-nonsense, semi-sludgy, hook-filled indie rock indebted to '80s Flying Nun (The Bats, The Clean), certain strains of UK postpunk (The Fall, Wire), and Pacific Northwest foreathers (Wipers, Beat Happening). All three members write and sing -- there was some instrument switching at the end -- which keeps things interesting. Good set!
Weyes Blood, the project of former Jackie-O Motherfucker member Natalie Mering, played a short but sweet 5-song set including a cover of Harry Nilsson's "Everybody's Talkin'." She switched between acoustic guitar-led psychedelic folk songs and piano ballads (with the piano coming through her sampler as she just sang), and though her songs can be spacey and trippy, her voice is huge. She delivers like a trained, classic pop star and certainly captivates the crowd like someone who could be on a much bigger stage than Baby's All Right. She started her set with a warning that she was about to take it down a notch, but we'd say she did just the opposite.
A line at the door when we opened ensured that Cassie Ramone would play to a full room despite being first of four on the bill (congrats to the first 100 people there who got one of the black light ink posters). After an introduction by our host Shirley Braha (with instagram doglebrity Marnie the Dog in hand), Cassie walked on stage quietly (with just her guitar in hand). She asked the room to sit and like people did when she opened for Mac Demarco in the same venue recently, everyone standing in the floor area complied. Cassie, who also plays in The Babies, proceeded to play a solid and seated 20 minute solo set on the same Baby's All Right stage she recently played as a Vivian Girl for the last time. Her set of mostly originals included her cover of "Do You Wanna Dance." With minimal pauses, almost no stage banter, pedals to fill the silence with reverb and looping effects, and a super focused and monotone delivery, Cassie successfully put us in a lo-fi trance.
In between sets (or all night if you were in the outer portions of Baby's) BV editor Bill Pearis spun a set of psych pop. If you came we hope you had a good time. NYC Red Bull Sound Select shows happen almost every month and this year are curated by either BrooklynVegan, Afropunk, or Giant Step. The same happens in other cities, like the upcoming Mr. Little Jeans, Avid Dancer and Breakfast show in Los Angeles. Stay tuned for our next BV one which is coming in September.
Woods is about to head out on a tour with Quilt that brings them back to NYC for a show with Frankie Cosmos at Bowery Ballroom. More pictures from the Baby's show below...

---
Our hosts Shirley Braha and Marnie the Dog