Woods releasing 'Sun and Shade', annnounce summer tour, played Culture Shock (2 new songs, dates & pics)
Woods @ Culture Shock

If you aren't making the trek up to B.O.M.B. Fest to see Woods over Memorial Day Weekend, no worries. Woods will be back as part of a month-long North American tour that kicks off in middle July. All dates are listed below.
But first, you can also catch Woods in June in a Brooklyn church as part of the Northside Festival. The previously announced show also now includes Ed Askew and Magik Markers on the bill and is still on sale (flyer below). On August 13th look for the band at Bowery Ballroom with Ducktails (mem Real Estate) and White Fence (their second recent show together). Tickets for the NYC show go on AmEx presale today at noon (5/18), and regular sale on Friday.
Woods are welcoming their new LP Sun and Shade via their own Woodsist imprint on June 14th. Look for it then or preorder it now. Stream new track "Pushing Onlys" below, and 7+minute psychedlic jam "Out of The Eye" at Pitchfork.
Like the Feelies, Woods recently played Culture Shock 2011 at SUNY Purchase. Pictures from that show and all tour dates, below...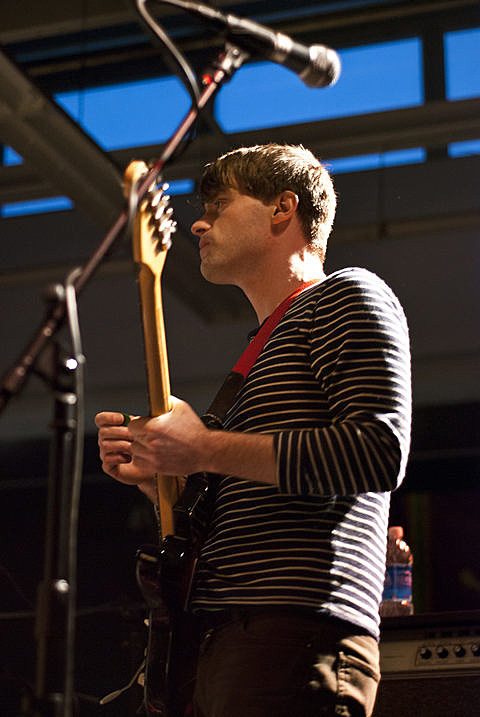 WOODS - 2011 TOUR DATES
05-28 Hartford, CT - Comcast Theatre (BOMB Fest)
06-17 Brooklyn, NY - St Cecilia's Church (Northside Fest) !
07-11 Boston, MA - Brighton Music Hall *
07-12 Montreal, Quebec - La Sala Rossa *
07-13 Toronto, Ontario - Lee's Palace *
07-14 Cleveland, OH - Grog Shop *
07-15 Bloomington, IN - Russian Recording *
07-16 Chicago, IL - Pitchfork Music Festival
07-18 Minneapolis, MN - 7th Street Entry ^
07-19 Fargo, ND - The Aquarium ^
07-23 Vancouver, British Columbia - Electric Owl ^
07-24 Bellingham, WA - The Shakedown ^
07-25 Portland, OR - Doug Fir ^
07-27 Sacramento, CA - Sol Collective ^
07-29 San Francisco, CA - The Independent ^
07-30-31 Big Sur, CA - Woodsist Festival
08-02 Los Angeles, CA - Echoplex ^#
08-03 Phoenix, AZ - Rhythm Room #
08-05 Austin, TX - The Mohawk #
08-07 Oxford, MS - Cats Purring Dude Ranch #
08-08 Atlanta, GA - The Earl #
08-09 Asheville, NC - Grey Eagle #
08-13 New York, NY - bowery2 Ballroom #%
09-02 Dorset, England - End of the Road Festival
09-05 Manchester, England - Manchester Sound Control *
09-06 Glasgow, Scotland - Stereo *
09-07 Bristol, England - The Fleece *
09-08 London, England - The Scala *
* with Kurt Vile and the Violators
^ with the Fresh and Onlys
# with White Fence
% with Ducktails
! with Ed Askew, Magik Markers