Worried Noodles party @ Knitting Factory, NYC – pics
Islands

R. Stevie Moore

Worried Noddles had a party at Knitting Factory. Leia Jospe took some pictures.....


----- MAIN ROOM (top floor)
6:10-6:25 Christopher Francis
6:40-7:15 R. Stevie Moore
7:30-8:05 Phil Elverum & Nick Krgovich (P:ANO, No Kids)
8:20-9:00 Islands (special pared down line-up)
----- party moves to TAP BAR (2nd floor)
9:15-9:50 Tussle
10:05-10:40 YACHT
10:40-? DJ Jan Lankisch afterparty
Nick Krgovich & Phil Elverum....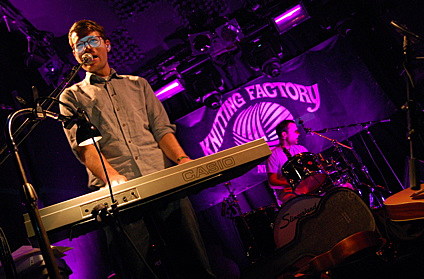 David Byrne: not pictured, but he is on the cover of the new Filter....
(the show was Feb 5, 2007 in NYC.)