Wu Lyf & Willis Earl Beal @ Music Hall of Williamsburg (pics)
WU LYF @ MHOW

Manchester's WU LYF stormed Brooklyn for rousing renditions of highlights from their excellent debut Go Tell Fire to the Mountain... While the band was limited to brief material (this is why bands with one album get overplayed and burnt out too fast), they still poured endless energy into each track and believe it or not, the growling vocals from a visceral Ellery Roberts continued beyond the songs and into the chatter setting an even deep tone to the show. "Spitting Blood" and "Concrete Gold" were delivered without a hitch, and a stellar "Heavy Pop" brought the main set to a close before the band returned for a laid back "Brooklyn Girls" and a night ending thunderous execution of "We Bros". -[omg-nyc]
Wu Lyf played one of two NYC shows at Music Hall of Williamsburg on 4/26, where the UK band was joined by Chicago native Willis Earl Beal. Wu Lyf, who were on their way back from Coachella, completed their US run and are back in the UK . The band haven't announced any new dates yet -- North America, UK, or anywhere else..
As for opener Willis, Amanda Hatfield says:
Willis Earl Beal is incredible - he alternately sat and played a guitar on his lap or sang over tape reels, and even with the sort of silly affectations - one black glove, dark glasses indoors - he blew me away. Dynamic performer + amazing voice. Plus, I'm totally down with anyone who starts a set by reading a line of Bukowski.
Beal is off to Europe this week, but hopefully he'll have some more stateside dates for us soon (not that there's been any lack of them in NYC lately). Pictures of Beal and Wu Lyf at Music Hall, plus Beal's European tour dates, are below.

--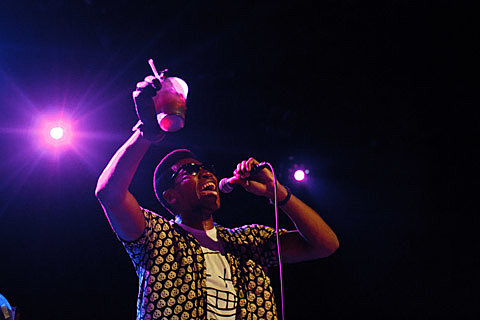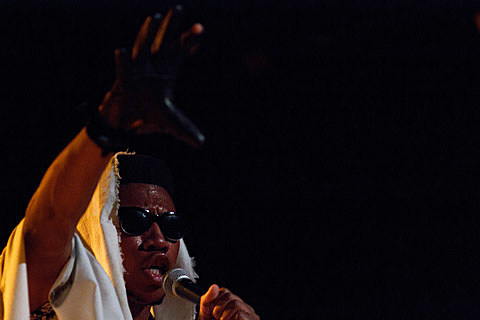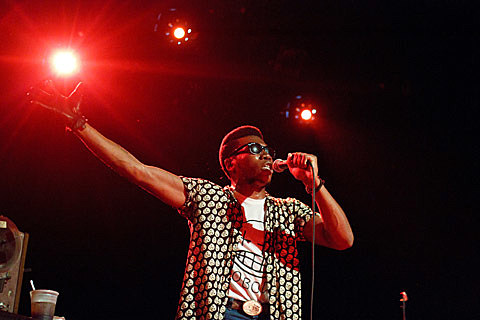 WILLIS EARL BEAL - 2012 TOUR DATES
12-May @ Life - Brighton (The Great Escape Festival)
13-May @ Hare & Hounds - Birmingham, UK
16-May @ Tabernacle - London
17-May @ Liverpool Sound City - Liverpool
19-May @ Paradiso - Amsterdam (London Calling Festival)
20-May @ Nuits Botanique - Brussels
22-May @ Ideal Bar - Copenhagen
23-May @ Debaser (outdoor stage) - Malmo
25-May @ Monarch - Berlin
26-May @ Le Guess Who - Utrecht
29-May @ Dok Kantine - Ghent
30-May @ Boule Noire- Paris
01-June @ Captain Rest - Glasgow
02-June @ Dot 2 Dot- Bristol
03-June @ Dot 2 Dot- Nottinghan
04-June @ Dot 2 Dot- Manchester
13-15-July @ Union Park - Chicago (Pitchfork Music Festival)
11-August @ Sant-Malo, France (La Route du Rock Festival)
19-August @ Funkirk Estate - Skipton, North Yorkshire (Beacons Festival)
2-September @ Larmer Tree Gardens, North Dorset (End of the Road Festival)