YACHT 'is on fire', played Coachella, now on tour, releasing 'Shangri-La' (new MP3, pics, dates)
YACHT @ Coachella - 4/15/2011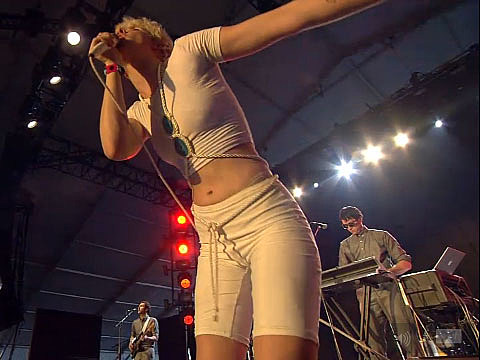 As the song says, "the Yacht is on fire" (they actually see "the Earth is on fire - see below) (download new track "Dystopia" above). YACHT, long past the days of Jona running around the stage by himself with an iPod, gave an explosive performance on Friday in Coachella's Mojave Tent. Duo Jona Bechtolt and Claire L. Evans look and sound like pros as they trade off vocals and instruments while backed by a very able band. Jona jams on guitar and even sometimes sits on the drums as Claire keeps the front rows hypnotized with her dancing, outfit and vocals. YACHT the dance band prove that DFA ("Long Live LCD Soundsystem," Jona proclaimed from the Coachella stage) is right where they belong. Their new album Shangri-La will be released by the label on June 21st ("Dystopia" included).
UPDATE: Despite it at first sounding like like they are singing "the yacht is on fire" in "Dystopia" (lyrics sites agree), it actually says "the Earth is on fire" (as the title of the song implies it would, and now that I know that, it actually does sound like "Earth").
Meanwhile, YACHT will be out on the road through May 14th. Light Asylum joins the tour as opener on April 25th. Both bands play Webster Hall in NYC on April 27th. YACHT band member and collaborator Bobby Birdman also plays an opening set at that show. Tickets for what might be YACHT's biggest NYC headlining show yet (or maybe the Seaport was), are on sale.
All tour dates and some more pictures from YACHT's set at Coachella, below...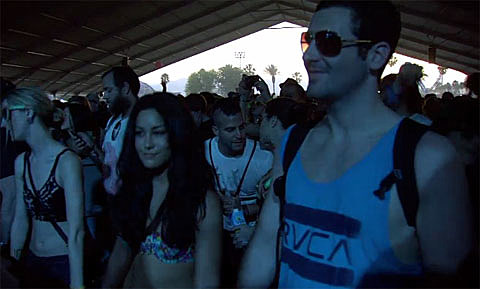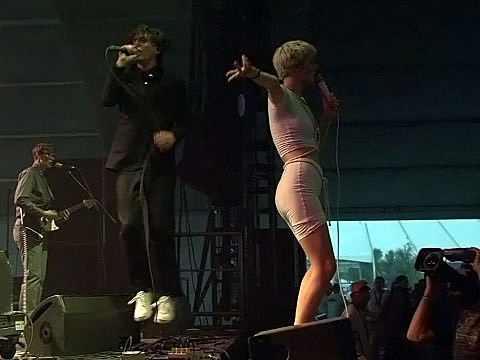 YACHT - 2011 Tour Dates
04/17/11 Marfa, TX - Padre's
04/19/11 Austin, TX - Emo's
04/20/11 Houston, TX - Fitzgerald's Downstairs
04/22/11 Atlanta, GA - The Masquerade
04/23/11 Carrboro, NC - Cat's Cradle
04/24/11 Richmond, VA - The National
04/25/11 Washington, DC - Black Cat
04/26/11 Philadelphia, PA - First Unitarian Church
04/27/11 New York, NY - Webster Hall
04/29/11 Providence, RI - The Met Cafe
04/30/11 Boston, MA - Paradise Rock Club
05/01/11 Montreal, QC - Cabaret Du Mile End
05/02/11 Toronto, ON - Lee's Palace
05/04/11 Columbus, OH - Wexner Center
05/05/11 Chicago, IL - Metro
05/06/11 Milwaukee, WI - Turner Hall
05/07/11 Minneapolis, MN - Triple Rock Social Club
05/09/11 Denver, CO - Bluebird Theater
05/10/11 Salt Lake City, UT - Urban Lounge
05/12/11 Seattle, WA - Neumo's
05/13/11 Vancouver, BC - Rickshaw Theatre
05/14/11 Portland, OR - Wonder Ballroom