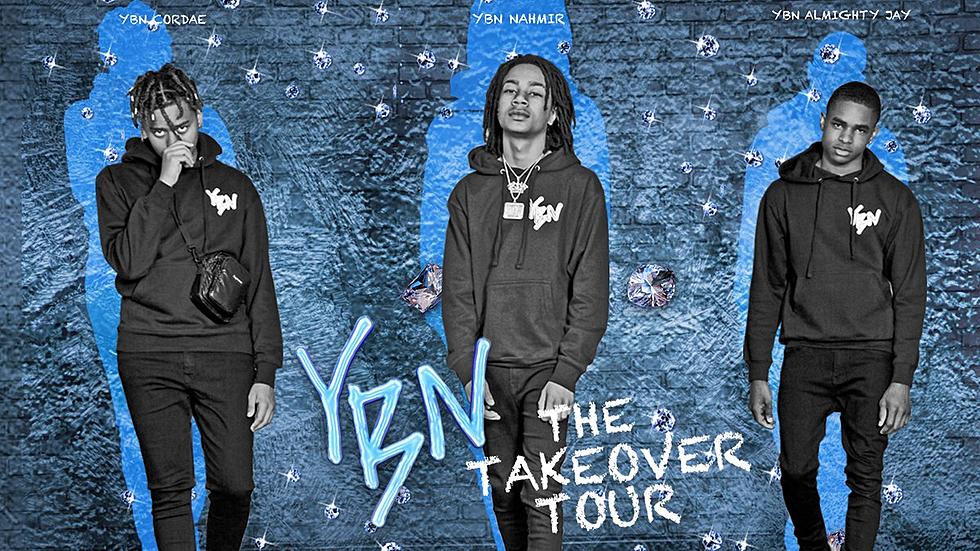 YBN Takeover Tour dates announced with YBN Nahmir, Cordae & Almighty Jay
Show update: Due to recording schedule conflicts, the YBN Takeover Tour has been postponed while each member focuses on their individual projects all coming out in 2019. Refunds available at point of purchase. Please keep up to date on socials for future touring announcements.
YBN Nahmir, YBN Cordae and YBN Almighty Jay released released their debut YBN crew mixtape, YBN: The Mixtape, which has a bunch of the individual rappers' breakthrough hits and tons of other worthy material. Now, this exciting young rap crew has announced that they'll take their show on the road with the YBN Takeover Tour.
The tour starts and ends on the West Coast, and hits tons of other US cities in between, including NYC on December 12 at Irving Plaza. Tickets for that show are on various presales now (passwords = VOCALS, MUSICGEEKS), and the public on-sale begins Friday (10/5) at 10 AM. All dates are listed below.
Watch YBN Cordae's recently-released video for "Target," and a couple slightly older videos, below.
YBN Takeover Tour Dates
11/2 Fresno, CA @ Azteca
11/6 San Diego, CA @ HOB
11/7 Los Angeles, CA @ Belasco
11/8 Phoenix, AZ @ Van Buren
11/9 Tucson, AZ @ Rialto *No Cordae*
11/10 Albuquerque, NM @ Sunshine Theater
11/12 Denver, CO @ Summit Music Hall
11/16 Austin, TX @ Emo's
11/18 Dallas, TX @ HOB
11/19 Houston, TX @ HOB
11/26 Atlanta, GA @ Masquerade
11/28 Baltimore, MD @ Soundstage
11/29 Washington, DC @ The Fillmore
12/1 Cincinnati, OH @ Madison Theater
12/3 Detroit, MI @ St. Andrew's Hall
12/5 Cleveland, OH @ HOB
12/6 Grand Rapids, MI @ The Intersection
12/9 Philadelphia, PA @ Fillmore
12/10 Boston, MA @ HOB
12/12 New York, NY @ Irving Plaza
12/14 Sacramento, CA @ Ace of Spades
12/15 Reno, NV @ Jub Jubs
12/16 Las Vegas, NV @ HOB
12/17 Anaheim, CA @ HOB
12/18 San Francisco, CA @ Regency Ballroom
12/20 Seattle, WA @ Neptune Theater