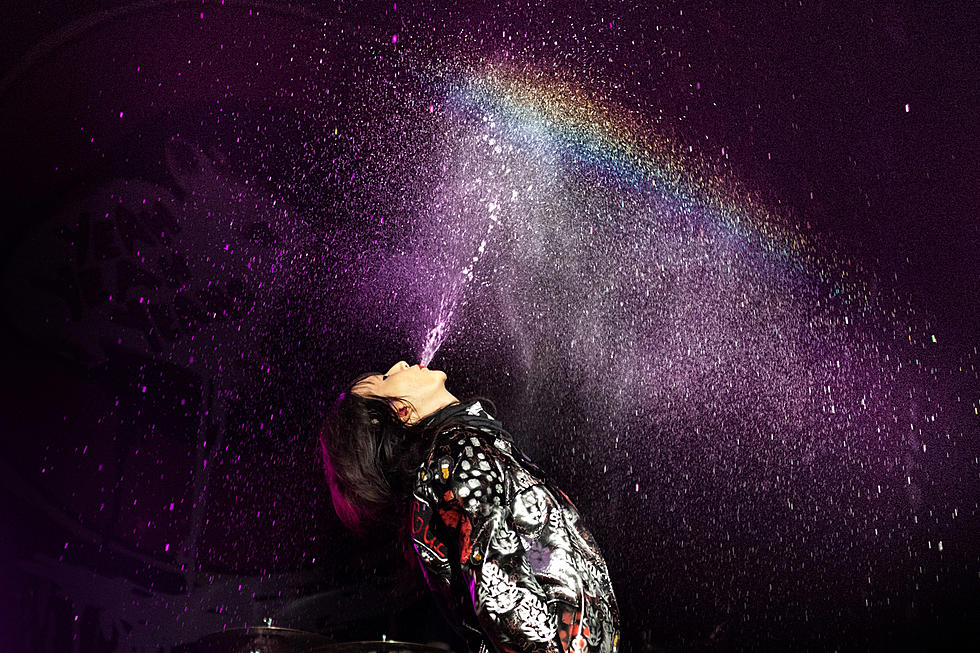 Yeah Yeah Yeahs played most of 'Fever To Tell' at first hometown show in 4 years (review, pics)
photo by Ebru Yildiz
Before the Yeah Yeah Yeahs took the stage at Kings Theatre Tuesday night (11/7) for their first proper hometown show since Barclays Center in 2013, they were introduced by Lizzy Goodman, whose new oral history on NYC's early-2000s rock revival Meet Me in the Bathroom features interviews with all three members of the Yeah Yeah Yeahs. After Lizzy's introduction, the Brooklyn theater screened the band's new documentary There Is No Modern Romance, which came with the recently-released expanded reissue of their classic debut album Fever To Tell. The documentary showed behind-the-scenes footage of the recording of Fever To Tell and the band's 2003 UK tour, and, to paraphrase Lizzy Goodman, it showed a grimier version of the Yeah Yeah Yeahs compared to the generation-defining rock band they would become. As the end credits rolled, the song that the doc is named after (Fever To Tell closer "Modern Romance") played, and then behind the screen, Nick Zinner and Brian Chase assumed their positions and started playing along with the song. The screen lifted, Karen O came out, and the band proceeded to play all of "Modern Romance" to open the show.
Throughout the rest of the night, they played all but one song from Fever To Tell ("Man" was not played), along with some other favorites, and they still had all the energy, spirit, and precision that they had back when the songs were new. Having just watched a documentary that showed some unrest within the band even around the release of their debut album, it's even more impressive to think that these three members have stayed together for 17 years. The Fever To Tell-heavy set was also a reminder of how much musical synergy this trio had off the bat, and how brilliantly they worked together to create such full-sounding music with just guitar, drums, and vocals. Nick Zinner doesn't only write the kind of riffs that assume the role of bassist, lead guitar, and rhythm guitarist at once, but he and Brian Chase's unique song structures also work so closely with Karen O's singing. The Fever To Tell songs don't feel like the kind of songs that Nick and Brian could've written for any other singer, or that Karen could've brought to a different group of musicians. They're designed to specifically to fit YYYs' atypical band setup, and that's part of what makes them still sound unmatched all these years later. At the Kings Theatre show, they were still proving how massive they sound as just the three of them, not bringing an additional member on stage until their fifth song of the night, Show Your Bones opener "Gold Lion."
There was of course some nostalgia factor involved with an almost-full-album show, but YYYs didn't play up on that much, save for a little stage banter about how long it's been. Mostly they just played their hearts out. "Rich" (which came right after "Modern Romance") and "Date with the Night" (which was in the second encore) completely crushed at the Kings Theatre show. "Pin" and "Tick" had all the untamed punk energy you'd hope for. "Maps," "Modern Romance" and Fever To Tell's hidden track "Poor Song" were as tender as you'd hope. Karen O remains the wild frontwoman she always was, running all over the stage and spitting water up into the air and always having the adoring crowd in the palm of her hand. Nick still makes his guitar scream and Brian still attacks his kit with absurd levels of talent. Given how natural they looked and sounded, it's almost hard to believe that this was just the fourth show back after a four-year hiatus, and that it's their last scheduled show for now. Let's hope for a full tour in 2018. If the Yeah Yeah Yeahs are still this powerful, the world deserves it.
Pictures of the Kings Theatre show are in the gallery above. Some videos and the setlist below.
Yeah Yeah Yeahs @ Kings Theatre - 11/7/17 Setlist
Modern Romance
Rich
Cold Light
Black Tongue
Gold Lion
No No No
Under the Earth
Zero
Sacrilege
Pin
Soft Shock
Maps
Cheated Hearts
Heads Will Roll
Encore:
Poor Song
Y Control
Tick
Encore 2:
Date With The Night