Yeasayer played Terminal 5 w/ Hush Hush & Smith Westerns (pics & setlists)
Yeasayer @ Terminal 5

Yeasayer ended their tour with Smith Westerns and Hush Hush back home at Terminal 5 on Saturday (6/18).
If the pictures below don't speak for themselves, Toby describes opener Hush Hush as very "entertaining. Filthy lyrics over heavy R&B beats from a skinny, tattooed redhead with a beard clearly off his face." (see below).
Yeasayer's 13 song set (with encore) included the three new songs they've been playing on tour, "Henrietta," "The Devil and the Deed," and "Demon Road." They debuted "The Devil and the Deed" on Conan last month. Check that video out below. The rest of Yeasayer's set was pretty hits-heavy with a slightly greater emphasis on the Odd Blood material.
You can catch Yeasayer at a much larger show in late July when they play PNC Bank Arts Center (7/28) and Nikon at Jones Beach (7/29) with The Flaming Lips and Weezer. Tickets are still on sale for both shows.
--
Smith Westerns @ Terminal 5

More pictures from the T5 show, with both the Yeasayer & Smith Westerns setlists, below...

--
Yeasayer - "The Devil and the Deed" on Conan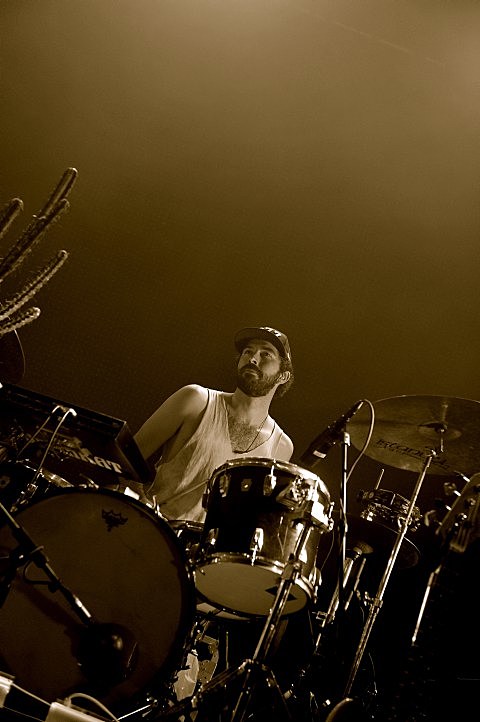 Yeasayer Setlist:
Madder Red
Tightrope
Rome
Henrietta
Strange Reunions
O.N.E.
Mondegreen
The Devil and The Deed
2080
Wait For The Summer
Ambling Alp
Encore:
Demon Road
Sunrise
---