Yeasayer, Sleigh Bells & Seagull @ Webster Hall, NYC – pics
Benjamin Lozovsky
Yeasayer made a much deserved homecoming Tuesday night at Webster Hall in NYC. Chris Keating pronounced during the show, "There isn't any place in the world we'd rather play." Three months after cautiously debuting material off their latest album Odd Blood, they returned savvier and sassier; even with so many miles behind them, they performed leagues ahead of their February dates.
The band was brimming was confidence throughout the night, with tapered bravado and an improved, fluid grasp of the instrumentation. From the creeping, sinister Children to the redemptive bounce of closer Ambling Alp, Yeasayer championed the nuanced nature of their music as they steadily raised their intensity throughout their performance.
It was a distinct atmospheric shift after the grinding barrage of the opening acts. Sleigh Bells continued their rise and transformation from austere noisy beginnings to full on performance act; part MIA (whose label recently co-signed the act) part Crystal Castles, the duo never let up their potency, even as their newer numbers bled into one another with a hint of monochromatism.
The most intriguing surprise of the night was Seagull's opening performance. Positioned in the middle of the floor, with Webster Hall's gigantic disco ball lowered and looming just overhead, they smothered the venue with sound tantrums and momentary semblances of glitchy beats. Ranging somewhere between sound exploration and outright music, the inexplicably soothing abrasiveness of their performance was topped off by a ground slamming. ski-masked member sitting agitated in a chair.
Sleigh Bells play two more NYC shows this month before heading to Europe. Yeasayer's tour ends tonight in Philly, but after a short break they head to Europe too. All of those dates and more pictures from Webster Hall below...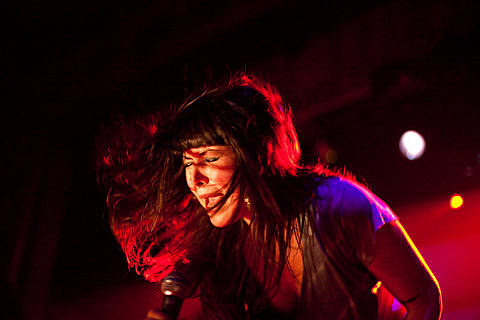 Yeasayer - 2010 Tour Dates
May 26 - Koko London, UK
May 28 - Primavera Barcelona, ES
May 29 - Bad Bonn Kilbi Festival Dudingen, CH
May 30 - PinkPop Festival Landgraaf, Holland, NL
Jun 11 - Larimer Lounge (DJ Set) New York, New York , US
Jul 1 - Heineken Open Air Festival Gdynia, PL
Jul 3 - Rock Werchter Pyramid Marquee Werchter, BE
Jul 4 - Main Square Festival (Main Stage) Arras, FR
Jul 5 - Junction Cambridge, UK
Jul 6 - Plug Sheffield, UK
Jul 8 - Exit Festival Novi Sad Petrovaradin Fortress, RS
Jul 12 - Concorde 2 Brighton, UK
Jul 14 - Voxhall Aahus, DK
Jul 15 - Arvikafestivalen (Apollo Stage) Arvika, SE
Jul 16 - Melt Festival Ferropolis, DE
Jul 17 - Lovebox Victoria Park (Gaymers Stage) London, GB
Jul 18 - Latitude Festival Suffolk, GB
Jul 30 - Splendour in the Grass Brisbane, AU
Aug 1 - FujiRock Festival Niigata, JP
Aug 14 - Haldern Festival Haldern, DE
Aug 15 - SZIGET FESTIVAL Budapest, HU
Aug 16 - Lucerna Music Bar Prague, CZ
Aug 20 - Frequency Festival St. Polten Green Park, AT
Aug 21 - Pukkelpop Hasselt-Kiewit, BE
Aug 27 - Reading Festival (NME/Radio 1 Stage) Reading, GB
Aug 29 - Leeds Festival (NME/Radio 1 Stage) Leeds, GB