Yo Gabba Gabba joined MGMT @ Radio City Music Hall in NYC (pics, video, setlists)
"HOLY SHIT O M G I KNOW IM A BIT LATE BUT YO GABBA GABBA & MGMT, OMG, I CAN'T HANDLE THIS. I LOVE LIFE." - Charlotte J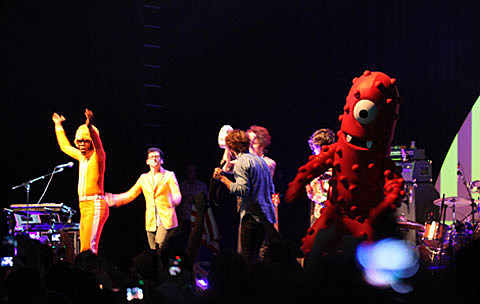 " On a stage lit mostly by an abstract, curling, wave-shaped screen, singer Andrew VanWyngarden of Brooklyn's MGMT stared up at the top balcony of Radio City Music Hall.

He was silent at first, more overwhelmed than scared. Finally, he blurted out, "Nobody's more surprised about us being here than me."

His astonishment seemed shared by the hipsters in the house not used to seeing their band with such a large crowd, many of whom don't know their Greenpoint from their Bushwick." [NY Post]
The masterminds behind Yo Gabba Gabba realized that MGMT's new demographic is all kids (pun intended), so the group from the children's TV show stopped by Radio City Music Hall last night, Wednesday, August 18th, to make a surprise appearance on stage with MGMT who were headlining their second night in row at the fancy venue. And actually, it was during "Kids" that DJ Lance Rock and his army of multi-colored living sex toys ran on stage. Videos below.
MGMT friends Amazing Baby opened the show. Francis & the Lights opened the night before.
The costumed characters' appearance (I mean Yo Gabba Gabba) is far from random. MGMT have been on the TV show, and Yo Gabba have FIVE shows of their own coming up at the same NYC venue. Tickets are still on sale.
More pictures from Wednesday night, the setlist from both shows, and Yo Gabba Gabba/MGMT videos, below..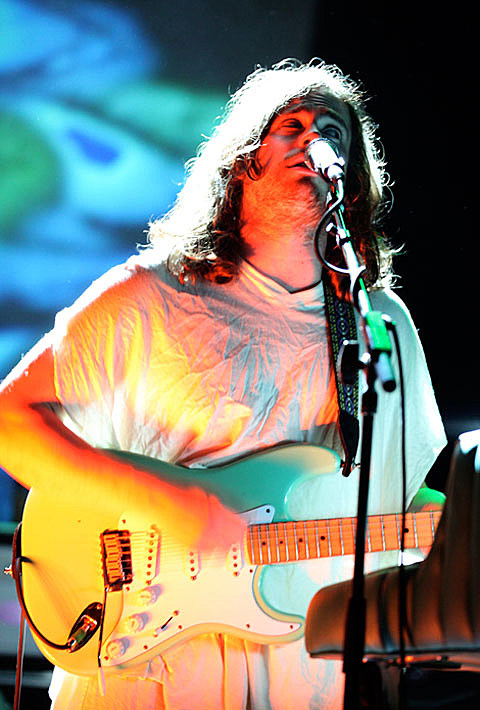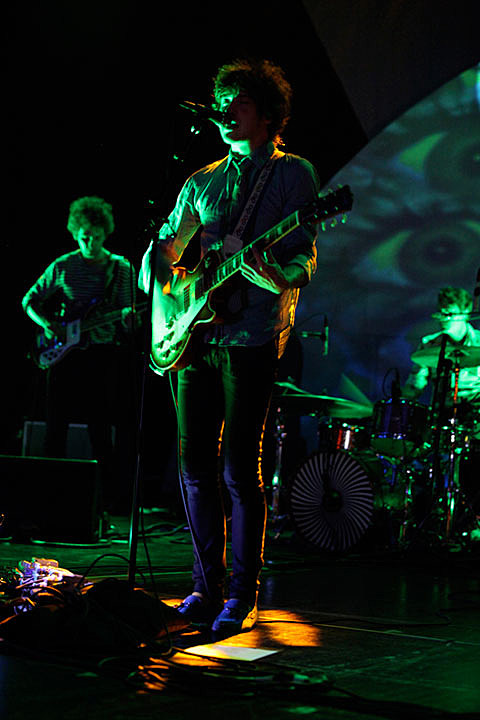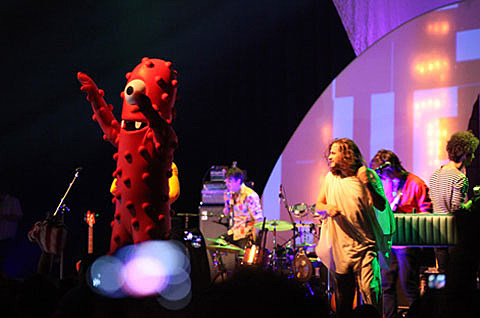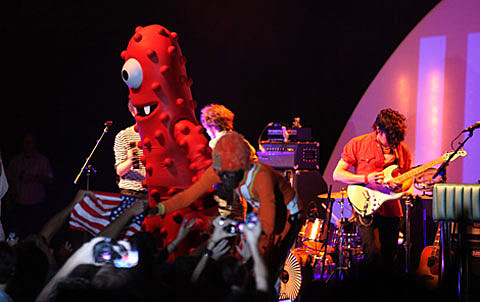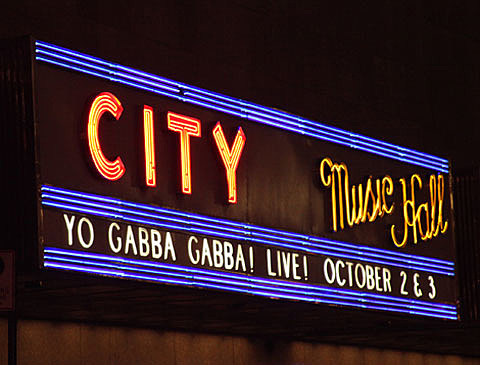 MGMT - Kids @ Radio City Music Hall 8.18.10

MGMT Concert at Radio City Music Hall, New York, NY, USA Setlist on August 17, 2010
1. Pieces Of What
2. Brian Eno
3. Electric Feel
4. Destrokk
5. Flash Delirium
6. Of Moons, Birds & Monsters
7. It's Working
8. The Youth
9. Weekend Wars
10. Song For Dan Treacy
11. Time to Pretend
12. Siberian Breaks
13. Kids
14. Congratulations
Encore:
15. Future Reflections
16. Someone's Missing
17. The Handshake
18. I Found A Whistle
MGMT Concert at Radio City Music Hall, New York, NY, USA Setlist on August 18, 2010
1. Flash Delerium
2. The Youth
3. 4th Dimensional
4. Weekend Wars
5. It's Working
6. Of Moons, Birds & Monsters
7. Electric Feel
8. Song For Dan Treacy
9. Anything Could Happen (The Clean)
10. Time to Pretend
11. Siberian Breaks
12. Destrokk
13. The Handshake
14. Kids w/Yo Gabba Gabba
Encore:
15. Someone's Missing
16. Congratulations
17. Brian Eno