Yo La Tengo, Jeff Tweedy, Eugene Mirman & Kid Congo Powers @ Maxwell's (Hanukkah night 3 pics & video)
Each Yo La Tengo Hanukkah show has an associated charity, and this night's was the Elsyian Charter School of Hoboken, so the show started with twenty or so children taking the stage to perform some Yo La classics. I almost felt bad laughing (as did everyone else) when they began singing "Stockholm Syndrome", but only because it was just so adorable. After performing "Sugarcube" and "Mr. Tough", the children parted the crowd to make their exit (they really did sound great by the way), and shortly after we were treated to an intimate and absolutely beautiful set from Jeff Tweedy.
Playing Wilco classics like "I Am Trying to Break Your Heart", and rotating through Uncle Tupelo songs and covers, Tweedy's voice sounded as great as ever. The crowd was clearly filled with his fans as well; many of them were singing along throughout. After closing with a stellar and, well I'll just say it, mind-blowing rendition of "A Shot in the Arm", Tweedy thanked the crowd and promised we would see him later. And that would definitely happen...
Eugene Mirman, who has always been one of my favorite standup comics, was the comedian guest of the night. The highlight of his set included revealing his fascination with the Tea Party, his subsequent registering on a Tea Party social networking site, and his printouts of legitimate Tea Party members profile pictures from that site. My favorite being simply a photo of a machine gun laying on a carpeted floor, the owner's toes only barely visible on the bottom of the photo. Wow. Eugene's reading of his favorite tweets, accompanied with a theremin, was also a great and hilarious way to end his set.
Eugene didn't join Yo La Tengo on the stage during the show like Tweedy would, but I'm not sure many people were expecting that anyway. Tweedy in fact performed nearly the entire initial set with Yo La, pleasing the crowd with a version of Wilco's "Jesus, Etc.", Bob Dylan's "One Of Us Must Know (Sooner or Later)" and quite a few of my favorite songs from Yo La Tengo's prolific catalogue such as "Can't Forget", "The Race Is On Again", and "I Should Have Known Better". For such a small room, they really get quite a big sound.
Yo La Tengo's encore was mostly a tribute to the late Alex Chilton, who has joined them on Hanukkah in the past. After Ira Kaplan stated that some of Chilton's most notable work was with legendary punk band the Cramps, he invited Cramps' guitarist Kid Congo Powers for a couple covers of his band. Ending the night on a particularly loud note, though I probably should stop standing right next to those gigantic speakers, Yo La Tengo said "we'll see you tomorrow!" and left the stage through the crowd.
Jeff Tweedy headlined Bowery Ballroom one night later, and Yo La Tengo continue playing Hanukkah shows at Maxwell's through 12/8 (the final night of Hanukkah). More pictures and some videos from the third night, below...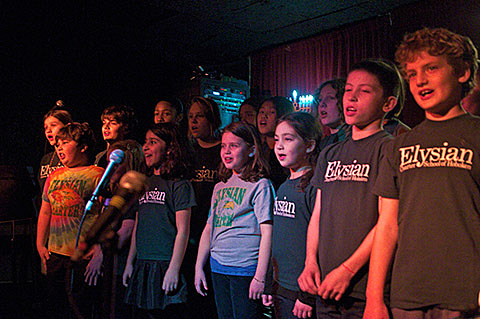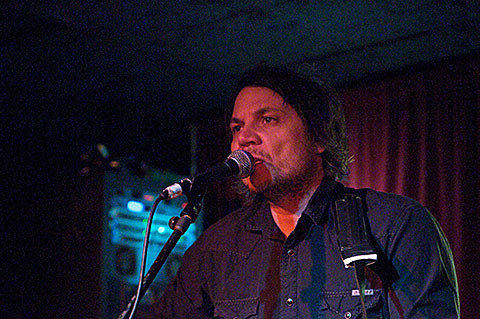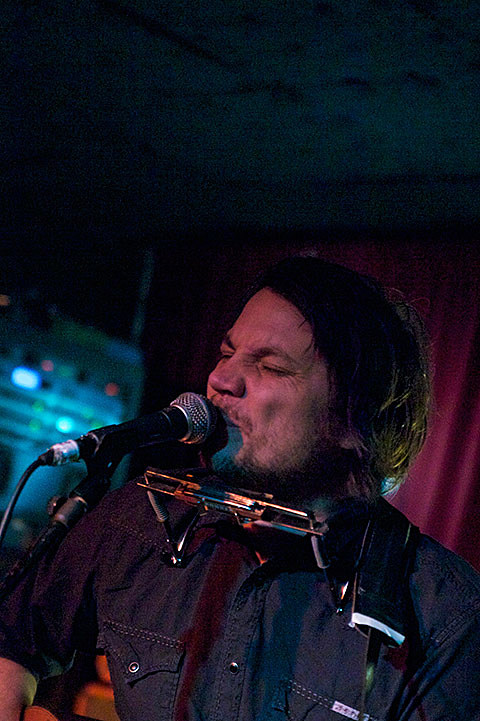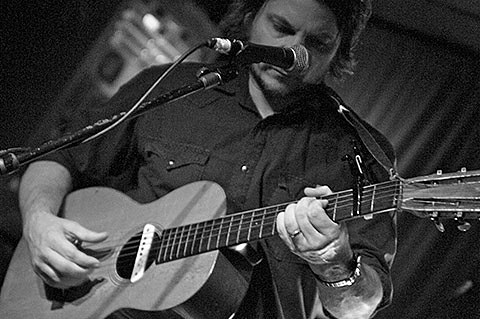 Sugarcube---Elysian Charter School Chorus

Stockholm Syndrome--Elysian Charter School Chorus

Shot in the Arm--Jeff Tweedy

I am trying to break your heart--Jeff Tweedy

Jeff Tweedy/Yo La Tengo - Jesus, Etc

Yo La Tengo/Jeff Tweedy - Eight Day Weekend

Yo La Tengo at Maxwell's
3 December 2010 (via)
*(Hanukkah, night 3)*
Elysian Charter School of Hoboken Chorus, Jeff Tweedy, and Eugene Mirman opened.
benefit for Elysian Charter School of Hoboken.

Elysian Charter School of Hoboken Chorus:
Stockholm Syndrome
Sugarcube
Mr. Tough

Mix disc by Brian Turner.
Eight Day Weekend ("Seven Day Weekend" by Doc Pomus, performed by Gary "U.S." Bonds) (with Jeff Tweedy on guitar and vocals)
From A Motel 6 (with JT)
Jesus Etc. (Wilco) (with JT)
Can't Forget (with JT)
Chords of Fame (Phil Ochs) (with JT)
The Race Is On Again (with JT)
One Of Us Must Know (Sooner or Later) (Bob Dylan) (with JT)
Shoppin' For Clothes (Doc Pomus, performed by the Coasters) (with JT)
I Should Have Known Better (with JT)
Tom Courtenay (Georgia version)
Watch Out For Me, Ronnie
Big Day Coming (fast)
Today Is The Day
Nothing To Hide
Pass the Hatchet, I Think I'm Goodkind

*(encore)*
Windows Hotel (Alex Chilton)
Strychnine (The Sonics) (with Kid Congo Powers of the Cramps)
Drug Train (The Cramps) (with KCP)
I'm Cramped (The Cramps) (with KCP)
For the Love Of Ivy (Jeffrey Lee Pierce) (with KCP)