Yo La Tengo, Jennifer O'Connor & Jon Benjamin @ Maxwell's (Hanukkah night 4) – pics & setlist
photos by Toby Tenenbaum
As previously noted, Jennifer O'Connor and comedian Jon Benjamin were the openers for Yo La Tengo Hanukkah night four. Jon went by the name Mark Levinsky. According to the show poster, "Jon Glassner" (not to be confused with Jon Glaser) was also supposed to be on the comedy part of the bill, but according to "Mark", Jon had to call out sick. "Mark" then "read out a VERY funny letter from Glassner accompanied by numerous props including a foot long subway hero, a photo of Jon on a jet ski, and randomly distributed free samples of a well known pharmaceutical product." Mixtapes for the evening were provided by Russell Mael of the band Sparks. In honor of the mixtape Yo La Tengo played a Sparks cover. The whole setlist and more pictures below...


Jennifer O'Connor...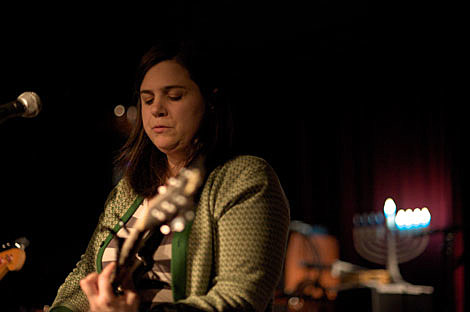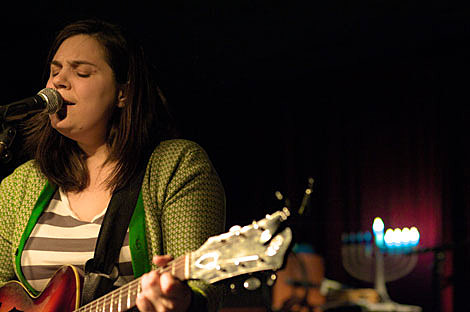 Jon Benjamin...
Yo La Tengo...
As always, all proceeds from this Hanukkah show went to a worthwhle cause. Setlist:
Yo La Tengo at Maxwell's
24 December 2008
*(Hanukkah, night 4)*
Jennifer O'Connor and Jon Benjamin opened.

Mix disc by Russell Maer.
Benefit for Mercy Corps.

Big Day Coming (slow)
Beanbag Chair
Pass the Hatchet, I Think I'm Goodkind
Drug Test
The Weakest Part
Mr. Tough
Tiny Birds
Paul Is Dead
Shadows
Angst In My Pants (Sparks)
Upside Down
Autumn Sweater
I Heard Her Call My Name > (Velvet Underground)
Blue Line Swinger

*(encore)*
(I Gotta) Dream On (Herman's Hermits)
Detouring America With Horns
Cherry Chapstick (slow)
Rock and Roll Santa (Jan Terri)
Setlist via Jesse Jarnow. More Yo La Tengo coverage HERE.