Yo La Tengo, Syl Johnson, Jon Glaser, Peter Wolf & Ira's Mom @ Maxwell's (Hanukkah night 4 pics & setlist)
photos by Andrew St. Clair
Peter Wolf & Ira

As someone promised, Syl Johnson was the opener for Yo La Tengo at Maxwell's on Saturday night (12/4). Syl was also in town to play Southpaw on Friday which was the night Jeff Tweedy opened for Yo La Tengo at Maxwell's. Saturday night's comedian was 'Rabbi Attitude' aka Jon Glaser. The special guests were Peter Wolf and Ira's mom who made an appearance in 2008 as well. The mixtape was by Numero Group. Full setlist and more pictures from the fourth night of Hanukkah, below...


Syl Johnson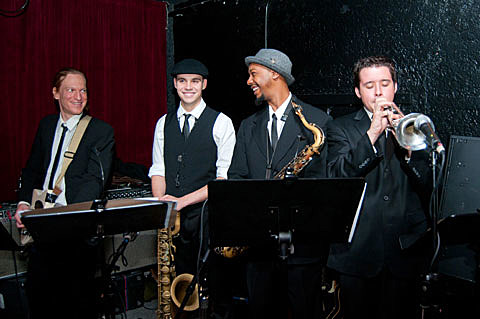 Jon Glaser
Yo La Tengo
Yo La Tengo at Maxwell's
4 December 2010 (via)
*(Hanukkah, night 4)*

Syl Johnson and Jon Glaser (as 'Rabbi Attitude') opened.
benefit for Physician's Reproductive Choice and Health
Mix disc by the Numero Group.
Everyday
We're An American Band
Cone of Silence
She's My Best Friend (Velvet Underground)
A Little Bit Me, A Little Bit You (Neil Diamond)
Beanbag Chair
Winter A Go Go
Here To Fall
I'm On My Way
Decora (quiet)
Sudden Organ
Get Down (Half Life)
Out the Window
Tom Courtenay
The Story of Yo La Tango
*(encore)*
Autumn Sweater (with Jon Glaser as 'Jon' on vocals)
Ain't Nothin' But A House Party (The Show Stoppers) (with Peter Wolf on vocals)
I've Had It (The Bell-Notes) (with PW)
Pack Fair and Square (Big Walter Price) (with PW)
My Little Corner of the World (Bob Hilliard, Lee Pockriss) (with Ira's mom on vocals)
Everyday
We're An American Band
Cone of Silence
She's My Best Friend (Velvet Underground)
A Little Bit Me, A Little Bit You (Neil Diamond)
Beanbag Chair
Winter A Go Go
Here To Fall
I'm On My Way
Decora (quiet)
Sudden Organ
Get Down (Half Life)
Out the Window
Tom Courtenay
The Story of Yo La Tango
*(encore)*
Autumn Sweater (with Jon Glaser as 'Jon' on vocals)
Ain't Nothin' But A House Party (The Show Stoppers) (with Peter Wolf on vocals)
I've Had It (The Bell-Notes) (with PW)
??? (John Lee Hooker) (with PW)
My Little Corner of the World (Bob Hilliard, Lee Pockriss) (with Ira's mom on vocals)
--