Yummy Fur, Cribs, Grant Hart, Adam Green, Zee Avi, Big Troubles, Joe Pernice, Beardo & more in This Week in Indie
by Bill Pearis
DOWNLOAD: The Yummy Fur - Policeman (MP3)
DOWNLOAD: Big Troubles - Freudian Slips (MP3)
DOWNLOAD: Adam Green - What Makes Him Act So Bad (MP3)
DOWNLOAD: Total Slacker - Demos (mediafire zip)
The Yummy Fur

There's a lot of great shows this weekend, but top of the list for me is Scottish cult indie rockers The Yummy Fur who have reformed to play a few shows surrounding a new best-of compilation, titled Piggy Wings, due out sometime soon on What's Your Rupture. They play 171 Lombardy Market Hotel Friday night. More influential than popular, The Yummy Fur started their life making scratchy, scrappy indiepop a la early Fall but got more glammy and synthy as they went on. Frontman John McKeown took the glam part further with his current band, 1990s. And former members Paul Thompson (who'll be part of tomorrow's show) and Alex Kapranos (who probably won't) have done okay for themselves since in Franz Ferdinand.
You can download one of my favorite Yummy Fur songs -- the 1999 single "Police Man" -- at the top of this post. This is the first, and likely last, time they've ever played the States, so miss this gig at your peril. What to expect? McKeown tells the NY Press:
Nothing. I'm never even really sure there will be people there, but I'm happy to play for whoever shows up. It's not like the band is our life anymore, so it doesn't mean anything to us except that we have affection for it. We do take it seriously, we play the gig straight, but we want to have fun. When 1990s plays the States and same with Franz Ferdinand, there are always people who come out and say they loved The Yummy Fur but we never made it over. This is their one chance.
Also playing the 171 Lombardy show are Bishop Allen, German Measles and Mcdonalds. There's some YouTube video of Yummy Fur's first reunion show in Glasgow at the bottom of this post, as well as all other U.S. Yummy Fur dates.
Grant Hart is back in town for two shows -- tonight (1/14) at Cake Shop and Friday at Knitting Factory. For a man whose previous band put out eight albums in six years (two of which were double LPs), Hart has slowed down a lot since -- Hot Wax is Grant's first album in ten years, and only his fourth since Husker Du split. He talked about his current Quality Over Quantity policy with the The AV Club.
AVC: Why the 10-year hiatus between Good News For Modern Man and Hot Wax?

GH: I've delved into a lot of non-musical projects. Learning new things and accomplishing things with my hands that I put aside as an adult to devote all my time to music. As I've gotten older, I've been concentrating on quality and no filler, and spending more time constructing all of the parts of music, rather than going into the studio with one or two parts and then letting the rest work itself out. The first song, "You're The Reflection Of The Moon On The Water," I took a year to come up with what I thought was an appropriate third verse. That's a long time to hold back on a song that you're excited about in order to make it more of a fulfilling experience. Would I have taken that opportunity in 1985? Hell no.
Tonight's Cake Shop show is good all around, with Drink Up Buttercup and Sisters opening. Tomorrow's Knitting Factory show, Grant is actually opening for Gary Lucas' Gods & Monsters. And you can also catch up with the other half of Husker Du's songwriting force -- Bob Mould, when he plays City Winery next week.
More things to do this weekend:
Zee Avi

Tonight (Thursday, 1/14)
Les Savvy Fav's Tim Harrington hosts a night of comedy and music at The Bell House, featuring charming Malaysian singer-songwriter Zee Avi, and one of my favorite comedians of the moment, Kumail Nanjiani. Plus Stardweller, Rory Scovel, Kevin Barker and screenings of Harrington's Beardo shorts. Plus other shenanigans.
Another chance to see Hot Rats, Danny and Gaz of Supergrass in cover band mode at Bowery Ballroom. Their take on The Beastie Boys' "Fight for Your Right" is pretty great. I'm told Tuesday's show at MHoW was a blast. The Heavy open (and then play 92YTribeca on Saturday).
At Silent Barn is a night of hazy indiepop, headlined by fine new local band Big Troubles whose debut 7" just came out and is well worth picking up. You can download "Freudian Slips" from it at the top of this post. I doubt they've ever heard '90s shoegazers The Boo Radleys, but "Freudian Slips" bears more than a little resemblance to the Boos' single "Lazy Day," dontcha think? Also playing: next generation twee poppers Dream Diary, the experimental noise of Blissed Out and dreamy New Haven band Procedure Club.
Real Estate @ Brooklyn Bowl - 1/5 (more by Andrew Frisicano)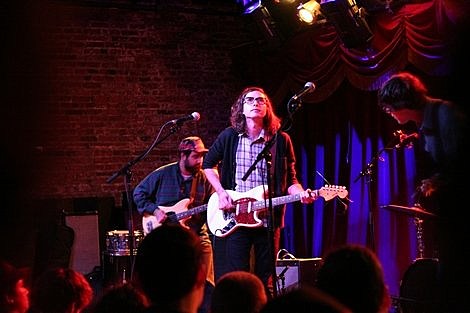 Friday (1/15)
Not tired from playing every day last week, Real Estate headline a killer Less Artists More Condos show at new venue St James Church. There's open bar from 8 - 9, which is my kind of religion. Real Estate just put out a new EP on Mexican Summer which is, I think, the band's 78th release in just under a year. Also playing are The Tony Castles, The Beets, and two of my favorite new(ish) local bands: Beach Fossils and Total Slacker. You can download Total Slacker's five-song demo (via a Mediafire link) at the top of this post.
The Bell House has a fun show of new sound for now: Brooklyn chamber pop band Miracles of Modern Science (download their EP for free here), the raucous pop of Philadelphia's Drink Up Buttercup, Ravens & Chimes' folk pop and Milagres (maybe you remember them when they were called The Secret Life of Sophia).
Joe Pernice plays a solo show at Mercury Lounge where he'll likely talk as much as he will sing, which is fine -- he's a great banterer. A pretty good writer too, as read in his first novel, It Feels So Good When I Stop which he'll read from I'm told. Joe just finished his next album, which is apparently not a Pernice Brothers or Chappaquiddick Skyline or solo record. I hope he hasn't gone synthpop. Something entirely new for 2010 sounds good.
The Cribs @ Bowery Ballroom in 2008 (more by Vincent Cornelli)

Saturday (1/16)
If you can't make the St. James Church show on Friday, you can catch Beach Fossils again on Saturday night where they're playing a show at Monster Island put on by blog Chocolate Bobka. This looks to be a good show, as it also boasts Alex Bleeker & The Freaks, Cleveland's Cloud Nothings and the druggy sounds of New Hope, Pennsylvania's Nude Beach. It's where I'll be Saturday night.
The Cribs (still with Johnny Marr) are at Irving Plaza where they'll play with our (well someone's) generation's Jim Morrison, the always entertaining Adam Green. "What Makes Him Act So Bad," the first MP3 off of Adam's upcoming album, Minor Love (out 2/16 on Fat Possum), is at the top of this post. The Cribs were just great when they played Bowery Ballroom in November.
Videos, flyers and tour dates follow...


The Yummy Fur - Glasgow, January 8, 2010

The Yummy Fur - 2010 Tour Dates
Jan 14 Kung Fu Neck Tie (England Belongs to Twee) Philadelphia, Pennsylvania
Jan 15 171 Lombardy St New York, New York
Jan 17 The Echo (Part Time Punks) Los Angeles, California
Jan 18 Cafe du Nord San Francisco, California
Jan 20 Suicide club Portland, Oregon
Grant Hart - "It's Not Funny Anymore" @ Cake Shop, May 2009

Grant Hart - 2010 Tour Dates
Jan 14 Cake Shop New York, New York
Jan 15 Knitting Factory Brooklyn, New York
Jan 16 The Record Collector Bordentown, New Jersey
Jan 20 Frankie's Inner City Toledo, Ohio
Jan 21 Ronny's Chicago, Illinois
Jan 22 Baba Louie's De Pere, Wisconsin
Jan 23 Club Garibaldi's Milwaukee, Wisconsin
Feb 3 Kings Arms Tavern Newton, Auckland
Feb 4 The Cabana Napier
Feb 5 San Francisco Bath House Te Aro, Wellington
Feb 6 Al's Bar Christchurch, Canterbury
Feb 7 Chicks Hotel Dunedin, Otago
Feb 10 The Troubadour Fortitude Valley, Queensland
Feb 11 The Annandale Annandale, New South Wales
Feb 12 Norfolk Basement Fremantle, Western Australia
Feb 13 Northcote Social Club Northcote, Victoria
Feb 14 Northcote Social Club Northcote, Victoria
Mar 5 St. Paul's Cultural Center Chicago, Illinois
Joe Pernice - "How Can I Compare" live on KEXP

Joe Pernice - 2010 Tour Dates
Jan 15 Mercury Lounge New York, New York
Jan 16 Tin Angel Philadelphia, Pennsylvania
Jan 17 Iota Arlington, Virginia
Jan 26 The Union Chapel London
Jan 27 Oran Mor (Celtic Connections Festival) Glasgow