Zeus, Broken Social Scene, New Numbers, Penguin Prison, The Primitives, Alex Bleeker & more in This Week in Indie
Broken Social Scene @ SXSW (more by Bryan Bruchman)

Aquarian Weekly: Where does Broken Social Scene go from here? Are there any cinematic soundtracks on the horizon?

Brendan Canning: We've got a lot of cinematic music in the can. There's a few movies we're working on while we do a month of touring and festivals to promote the record. We're involved with Daydream Nation, It's Kind Of A Funny Story, and This Movie Is Broken, which mixes Broken Social Scene live concert footage with a plot line that's half fiction thrown in. Now's the time to work hard, stay on top of things, and know this is our moment.
This weekend boasts an insane amount of awesome shows: Broken Social Scene, Beach House, The Clean, Caribou, Local Natives, Jonsi... of course they're all sold out. So I'm gonna try and suggest things to do that the more lackadaisical music fan can still get into. It's broken up by day...

New Numbers

Thursday, May 6th (TONIGHT)
If you missed Toronto's Zeus opening for Jason Collett a couple weeks ago, they play tonight at Union Hall (back in town to open for Broken Social Scene). As I've written previously, they're got a nice late '60s Brit feel to them -- a little Zombies, a dash of Kinks, some White Album in there too. They're good. Also playing are Robbers on High Street -- remember them? -- who are still cranking out well-crafted, catchy, Spoon-esque pop.
Also also playing the Union Hall show: New Numbers which is the new-ish thing from Josh Abbott and Mike Fadem who were in Jealous Girlfriends. Former Sam Champion singer Noah Chernin is also in the band, at least some of the time. I think some people forget JG weren't just a Holly Miranda vehicle -- Josh was essential to their sound as singer and guitarist. He's a good songwriter too. You can download their debut EP for free from their website...it's quite good and at times reminds me a bit of the Meat Puppets.
Tonight at Bruar Falls is the record release party for Loose Limbs debut 7" which is the first release on Seaport Music Records. You can download a remix of the track by Martin Clancy (who did Seaport's download-only Christmas single last year). Loose Limbs are like hi-fi garage -- they can really play and aren't afraid to let you hear it. There's only 250 copies of the single printed, so snap it up while you can.
Fans of dreamy, druggy low fi pop will want to head to Cake Shop for a night of just that. Alex Bleeker and the Freaks headline, but it's also Sore Eros' record release party for their new 7" single. While at the merch table, you should also pick up the Big Troubles' excellent "Freudian Slips" EP which is in constant rotation on my turntable. Also playing are New Haven, CT's noisy Procedure Club. Go early, stay late, kill time between bands trying to figure out which guy is Chocolate Bobka.
Penguin Prison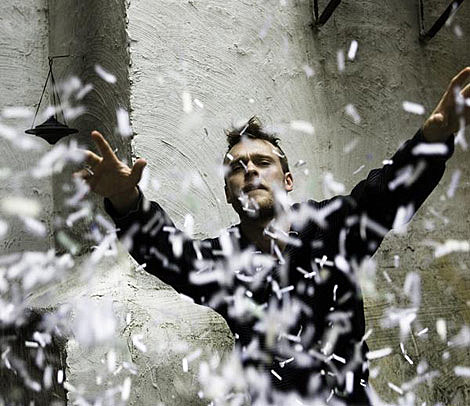 Penguin Prison played their first-ever show at Mercury Lounge a month ago. It was sold out. You might be saying "who?", but the name's been known to clued-in dance types for some time, for both remixes of other (Marina & the Diamonds, Golden Silvers) and original tracks like "Animal" and "A Funny Thing." Or maybe you just know him as Chris Glover. PP makes effervescent '80s synthpop, so shiny you'd half expect to find out he's Swedish. (He's from NYC.) If you're a fan of Alphabeat and Sound of Arrows, well, you've probably already heard of him but if not, check it out. Penguin Prison, full band,  play for the second time ever (I think) Saturday at Brooklyn Bowl. It's a free show but you do need to RSVP. 'Sup Magazine raved about the Mercury show, and there's video they shot from it at the bottom of this post.
Reminder that '80s indie band The Primitives, of the ubiquitous hit "Crash," play the Bell House on Saturday. Tickets are still available. This is the band's first US show since the early '90s. Opening are Frankie & the Outs who are fresh from finishing their debut album which will hopefully be out this summer. She's put up four tracks from the album on the 'Outs MySpace page -- they all sound pretty good. I'm told they're adding projections to this show, which should only enhance their harmonic acid pop. Also play are Palomar, one of Brooklyn's longest-running, underheard indie bands.
And Bruar Falls is throwing an all-day Prince party on Saturday. From noon to 8PM the place is turned into Cape Shok indie record mart, full of vinyl and CDs that need to be bought...cheap. Then from 6PM - 9PM there's free BBQ and a drawing party for the next issue of in-house mini-zine TOOT (it fits inside a gumball capsule), which will be Glyph-centric.The DJ for this portion of the evening will be yours truly. I know when you think of Prince you think me. I do. I'll be spinning Prince covers, and "paisley jams" of all sorts. (Anyone got a copy of The Three O'Clock's Vermillion they can lend me?) Then starting at nine, it's My Teenage Stride, Moonmen on the Moon, Man and other bands doing all-Prince sets. Should be fun. No cover.
If that's not enough, there's  always Iron Man 2.
Penguin Prison - "Millionaire" @ Mercury Lounge 4/8/2010

Penguin Prison - "The Worse it Gets" @ Mercury Lounge 4/08/2010