ZZ Top, Perry Farrell, Alice Cooper & many more played John Varvatos' 10th Anniversary @ the Bowery store (pics & video)
words & photos by Benjamin Lozovsky
ZZ Top

While many designers tagged trendier (see younger) performers to appear at their Fashion Week soirees, many of which happened the day before for Fashion's Night Out, John Varvatos and show curator/drummer Matt Sorum (Velvet Revolver, Guns N' Roses) stayed true to the spirit of the Bowery store located where CBGB once stood, picking a lineup that would make Wayne and Garth tremble with a lack of self worth (Mike Meyers sitting on the side of the stage with a giddy grin would seem to confirm that).
Alejandro Escovedo performed first on Saturday night (9/11), churning out garage crunch with no less than 4 guitarists blazing on the Varvatos store's small stage. Ian Hunter (lead singer of Mott the Hopple) followed and was joined by Escovedo for a performance of glam cornerstone anthem "All The Young Dudes."
To break up the boys club, former Runaways singer Cherie Currie, one of rock's more underappreciated female frontwomen, came on next. Currie performed "Cherry Bomb," the Runaways' ode to young female rebellion, with a still palpable sense of angst, proving at the same time you're never too old to stop flaunting sex appeal (and to fit into leather corsets).
The Darling Stilettos

Taking a cue from the icon that preceded them, the night's youngest performers, The Darling Stilettos (think rock's answer to the Pussycat Dolls), danced and felt each other up in all the right places while screaming classic rock covers (and one original tune) like over-sexualized banshees.
There were new groups from established rockers as well. New York icon Jessie Malin performed with his latest musical collective The St. Marks Social, and recently formed rock super group Black Country Communion, consisting of former Deep Purple frontman/bassist Glenn Hughes, blues guitar god Joe Bonamassa, and prodigal son Jason Bonham (Led Zeppelin, Foreigner) gave a sneak preview of some of the heavy tracks from their upcoming self-titled debut.
After a brief pause, Los Angeles superstar cover band Camp Freddy settled in as the house band for the remainder of the show, welcoming on stage a revolving door of Rock and Roll Hall of Fame alumni as the evening catapulted upward in intensity. Some played covers, like ZZ Top (who were in town to play two nights at Beacon Theatre) evoking the spirit of Hendrix with "Foxy Lady" and Perry Farrell aggressively launching into the audience during "Sympathy for the Devil." Others did their own songs, like MC5's outspoken guitarist Wayne Kramer urging the crowd on during "Kick Out the Jams" with help from Handsome Dick Manitoba, or Alice Cooper being diabolically stylish while performing "I'm 18" and "School's Out."
By the time Farrell ended the night with Jane's Addiction's "Mountain Song," the Varvatos store crowd had finally reached the feverish level of turbulence one would expect for such a night. In fact the performers throughout the night consistently displayed more energy than the predominantly younger audience. For an event full of aging rockers, it really just felt like a riotous gathering of all the young dudes.
The crowd was full of familiar faces as well. Chris Brown, Jimmy Kimmel, Rachael Ray, and Matt Pinfield were among those getting their picture taken on the red carpet and mingling with the fashioned-out crowd. Iggy Pop (who played Don Hill's the night before) and Robert Plant (who played Bowery Ballroom the next day) were nowhere in sight though. More pictures and some videos from the whole night below...

--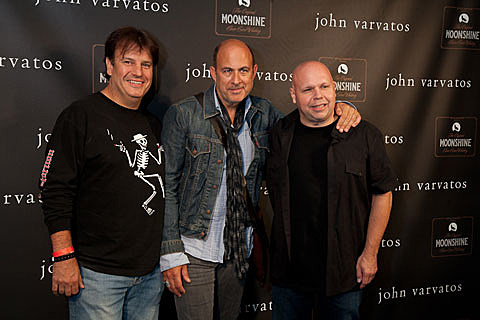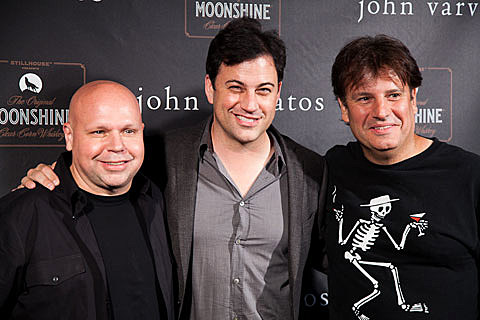 Wayne Kramer and Handsome Dick Manitoba
ZZ Top Covers 'Foxy Lady' at John Varvatos Anniversary Party

Alice Cooper Covers 'You Really Got Me' at John Varvatos Anniversary Party

Alice Cooper Does 'School's Out for Summer" at John Varvatos Anniversary Party